Travis repeats leadoff homer feat against KC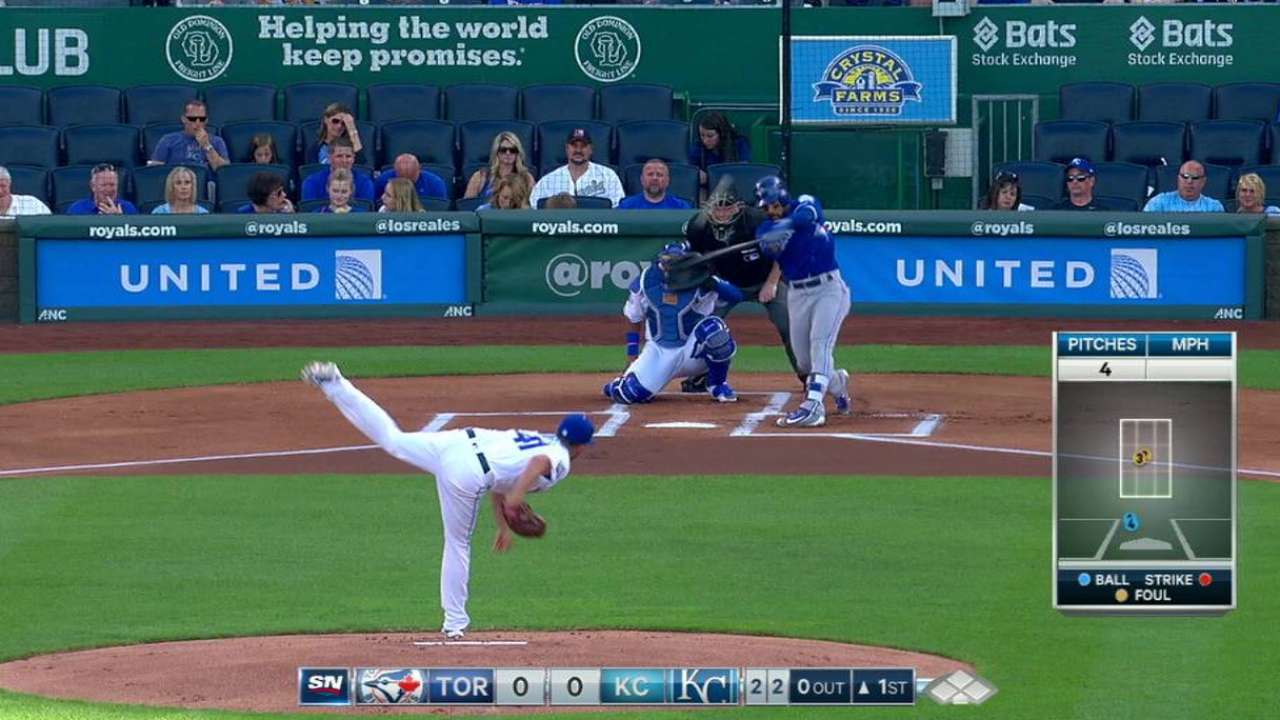 KANSAS CITY -- The Blue Jays moved second baseman Devon Travis back to the leadoff spot on Aug. 1. He's wasted little time in validating that decision.
For the second straight game, Travis belted a leadoff homer, smashing the fifth pitch he saw from Royals lefty Danny Duffy over the wall in left-center in Saturday night's 4-2 loss at Kauffman Stadium. It was Travis' third home run in the series and second straight game with a leadoff homer.
Travis also hit a go-ahead shot in the ninth on Friday night to give the Blue Jays a 4-3 win -- his first career multi-homer game.
"We really didn't have a leadoff hitter at the beginning of the year. We thought ... when he came back [from the DL] maybe he hits his way into that spot," manager John Gibbons said. "He's doing a nice job. That's for sure."
Travis' blast traveled an estimated 407 feet with an exit velocity of 102 mph, according to Statcast™. It also put him in the record books, as he became the first Blue Jays slugger with back-to-back leadoff home runs since Jose Cruz Jr. on April 22-23, 2000 vs. the Yankees.
Travis added an RBI single in the fifth inning to put the Blue Jays up 2-0, recording his third straight multi-hit game. In going 2-for-4, Travis improved his batting average to .385 (9-for-24) while atop the batting order in August. The only game he did not bat leadoff since the start of the month was against the Astros on Aug. 2.
"I just feel healthy now. My shoulder feels strong. My body feels good," Travis said. "I'm just looking forward to keeping it going."
However, the rest of the Blue Jays' offense was not able to mirror Travis' production against Duffy. Gibbons and Travis were extremely complimentary of Duffy, who gave up just two runs and five hits in the win.
"He made a mistake," Travis said of Duffy's pitch that resulted in his home run. "He didn't make many tonight though."
And while Travis lauded Duffy, Royals first baseman Eric Hosmer noted he'd previously crossed paths with Travis, although he said he didn't realize it at first.
"I played against him in Little League and he was the smallest guy on the field, hitting ninth ... We got to know each other," Hosmer said. "He's playing the game the right way. He's a great player."
Hosmer may have had an ulterior motive for the praise.
"It's really cool to see someone else representing South Florida," he said with a smile, "because as we all know, that's where the best players come from."
Scott Chasen is a reporter for MLB.com based in Kansas City and covered the Blue Jays on Saturday. This story was not subject to the approval of Major League Baseball or its clubs.