Moylan spot on with relief work against Jays
Royals lefty records huge strikeout in 7th inning to help even series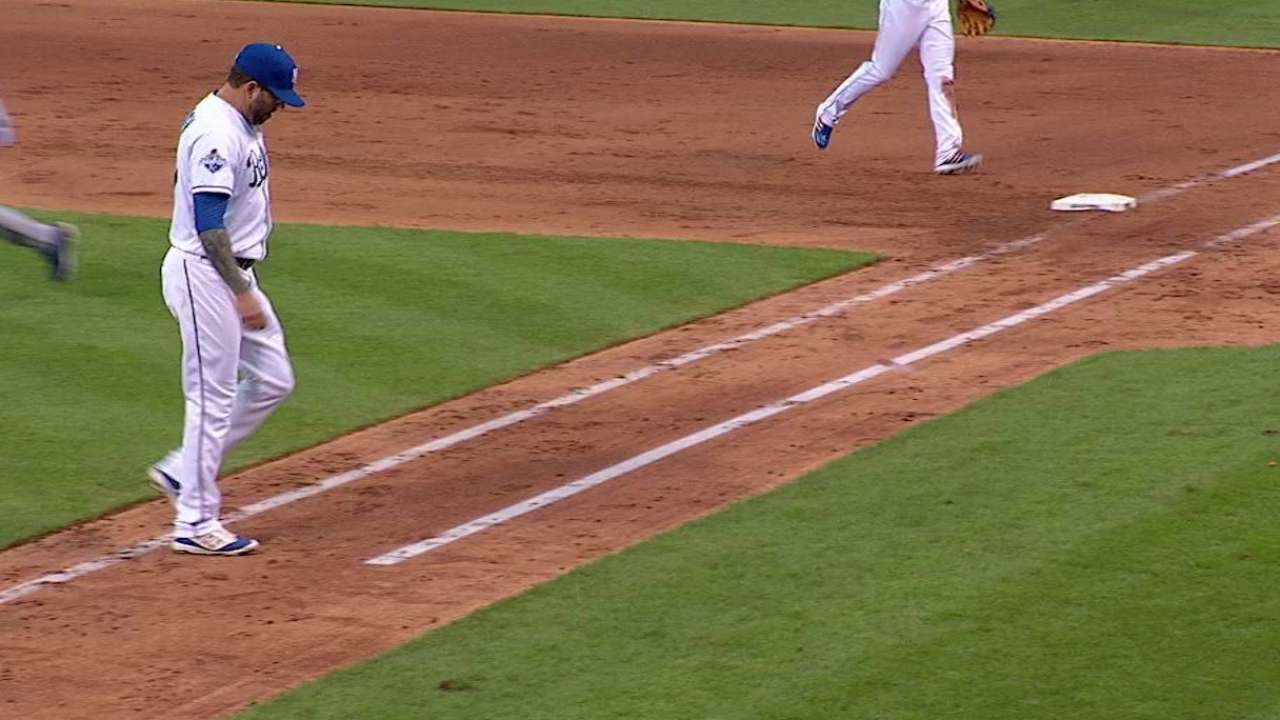 KANSAS CITY -- Danger lurked when reliever Peter Moylan entered the Royals' 4-2 win over the Blue Jays on Saturday night with two out in the seventh inning and his team clinging to a two-run lead.
Moylan, who came into the game with a 4.02 ERA and having not been in many high-leverage situations, had to face Devon Travis, who already had homered three times in the series and driven in another run with a single.
No problem. Moylan calmly struck out Travis with a sweeping slider. And that was key in the series-evening win.
"He's a beast," Moylan said of Travis. "I don't know what he's been eating the last few days. But he's a beast. I just tried to do what I always do: Keep the ball out of the middle of the plate and hope he hits it on the ground."
Moylan came back out for the eighth -- manager Ned Yost said Joakim Soria was unavailable after back-to-back outings. Moylan pitched a scoreless inning, striking out two more.
Moyan relished the opportunity.
"With the injuries we've had, it's certainly an opportunity for the other guys in the 'pen to get some high-leverage situations like that," Moylan said. "That's what you play for. That's the reason you put on the uniform. To have it come out like tonight was great."
Moylan said both his sinker and slider were spot on.
"It was a good combo of both," he said. "I felt like I had their timing off a little bit. The times I got them to swing at the sinker, it was down. My slider was moving a heap. Very nice."
A heap?
"Is that not a word you guys use here? OK, it moved 'a lot,'" joked Moylan, who is from Australia.
Yost couldn't have been more relieved by Moylan's effort.
"He came in and went right through the heart of their order," Yost said. "Great stuff tonight."
Jeffrey Flanagan has covered the Royals since 1991, and for MLB.com since 2015. Follow him on Twitter @FlannyMLB. This story was not subject to the approval of Major League Baseball or its clubs.