Darvish piling up strikeouts post TJ surgery
Rangers right-hander has posted best K/9 rate of his career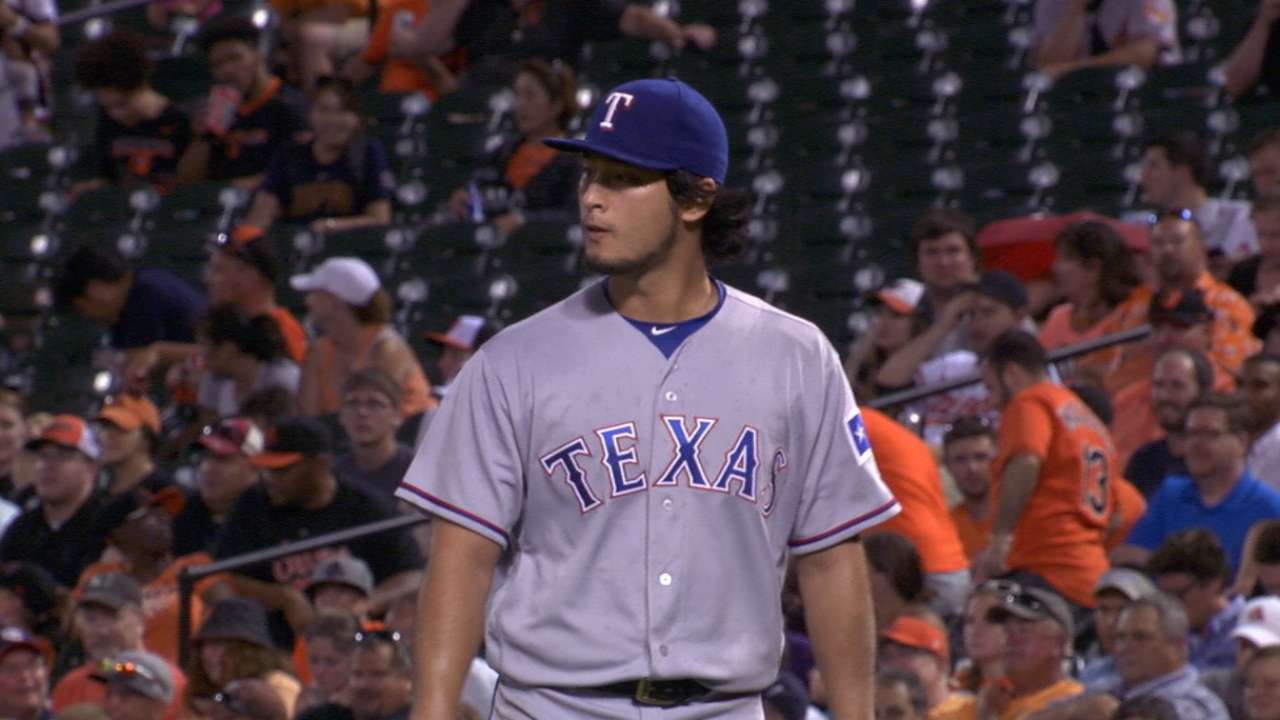 HOUSTON -- Yu Darvish will start on Sunday against the Astros. Look for big strikeout numbers once again for the Rangers right-hander.
Darvish has made 10 career starts against the Astros and has struck out 94 batters in 66 innings. That comes out to an average of 12.82 strikeouts per nine innings.
That's the third-highest ratio by a pitcher against any opponent with a minimum of 10 starts in the last 50 years. Hall of Famer Randy Johnson has the highest with 13.24 strikeouts per nine innings against the Braves and 13.09 against the Reds.
Darvish had seven in five innings in a start against the Astros on June 8. That was his third start after returning from Tommy John surgery and his last before being sidelined for five weeks with discomfort in his right shoulder.
Darvish's career high for one game is 15 strikeouts, coming against the Astros on Aug. 12, 2013. He also had a 14-strikeout performance against them on April 2, 2013, when he came within one out of a perfect game.
"Every game is as important as every other game," Darvish said. "I'll just do as much as I can to help us win."
Darvish has made just seven starts this season while dealing with his physical issues, but it hasn't impaired his ability to strike hitters out. Darvish is averaging 12.68 strikeouts per nine innings, the highest ratio in his four Major League seasons. His previous best was 11.89 in 2013, which is also the highest ever for a Rangers pitcher.
The all-time Major League record is 13.41 by Johnson in 2001, when he struck out 372 in 249 2/3 innings for the D-backs. Johnson has six of the top nine all-time, while Darvish's 2013 season ranks 10th all-time. Nolan Ryan's best was 11.48 with the Astros in 1987. Ryan struck out 10.57 batters per nine innings when he set the record for most strikeouts in a season with 383 in 1973.
There was the usual talk in Spring Training of Darvish trying to be more economical with his pitches, getting quicker outs and not being obsessed with the strikeouts. But they keep coming.
"Sometimes the hitters aren't playing along if they are not pushing the ball forward," Rangers manager Jeff Banister said. "If you get two strikes, wipe them out. I don't see him falling behind hitters. If so, that would be a point of concern.
"I'm not concerned with his approach. The last few starts, he has had a solid approach. He is still pitching with his fastball."
Darvish's strikeout pitch has always been his slider, but he said he is "getting more confidence" in his fastball and sinker.
Darvish is coming off the longest of his seven starts. He threw 94 pitches and went 6 1/3 innings against the Orioles in a 5-1 loss last Tuesday. He could start pushing over the 100-pitch count, but the Rangers aren't ready to lift all pitch restrictions.
"We're still within the build-up window of protection," Banister said.
Darvish also understands the need for caution, having been on the disabled list once already this season. The Rangers don't need him on there a second time, not with a reinforced bullpen and fellow starters Derek Holland and Colby Lewis already on the DL.
"I feel like I want to go as long as I can," Darvish said. "But at the same time, I know I came back from TJ surgery …110-120 if I'm pushing it, it doesn't make sense to me. I feel like I want to go, that's for sure."
T.R. Sullivan has covered the Rangers since 1989, and for MLB.com since 2006. Follow him on Twitter @Sullivan_Ranger and listen to his podcast. This story was not subject to the approval of Major League Baseball or its clubs.