Command issues derail Sabathia's day
After cruising through first three frames, southpaw began to struggle vs. Tribe's lineup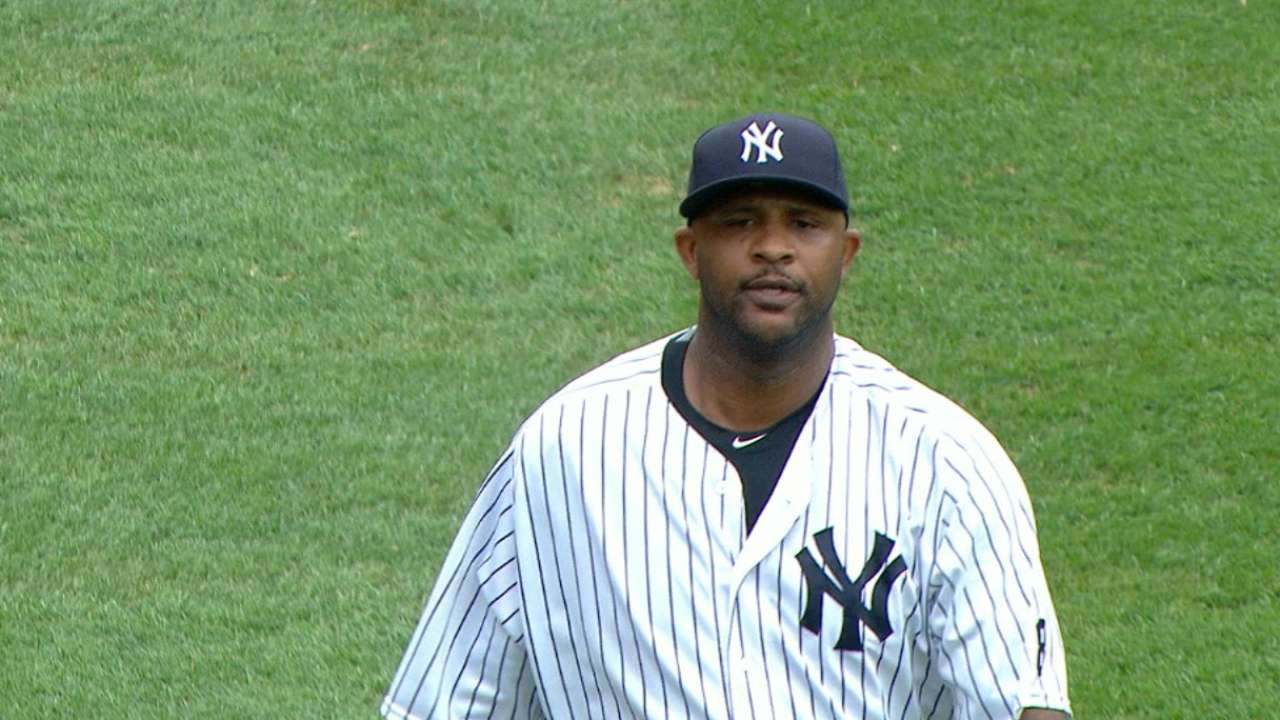 NEW YORK -- Even when CC Sabathia was pitching with a lead on Saturday, he was working from behind.
Sabathia allowed three runs in 5 2/3 innings of work in the Yankees' 5-2 loss to the Indians on Saturday at Yankee Stadium. Sabathia zoomed through the Indians' lineup in the first three innings, beginning the fourth frame with a no-hitter intact. But the next two times through the order were far more difficult for the big lefty, who allowed solo home runs in the fourth and sixth innings to Jason Kipnis and Mike Napoli, respectively, both of which happened in nearly the exact same manner.
The veteran started Kipnis off with a slider. It missed the zone. He tried another slider. Missed again. Then, he switched to the fastball. He missed with that one, too. On 3-0, he tossed a fastball down the middle and Kipnis took it. But on 3-1, with Sabathia in a position where he either had to throw a strike or put the leadoff man on base, Kipnis had Sabathia right where he wanted him and turned on a fastball for a home run.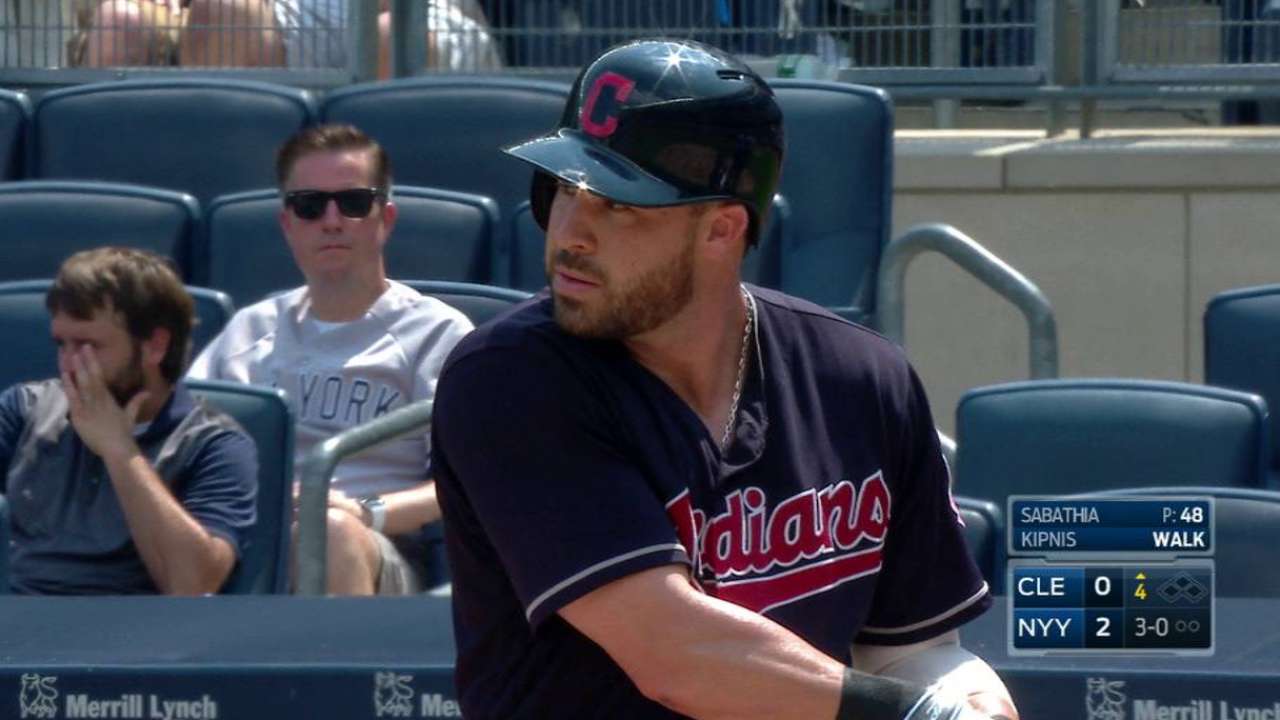 The Napoli at-bat was almost identical. Sabathia couldn't convert on a slider for strike one, tried and couldn't recover on his second and third pitches, threw a strike on a get-me-over fastball on a 3-0 count and then left a strike in an advantageous position for Napoli to pounce on.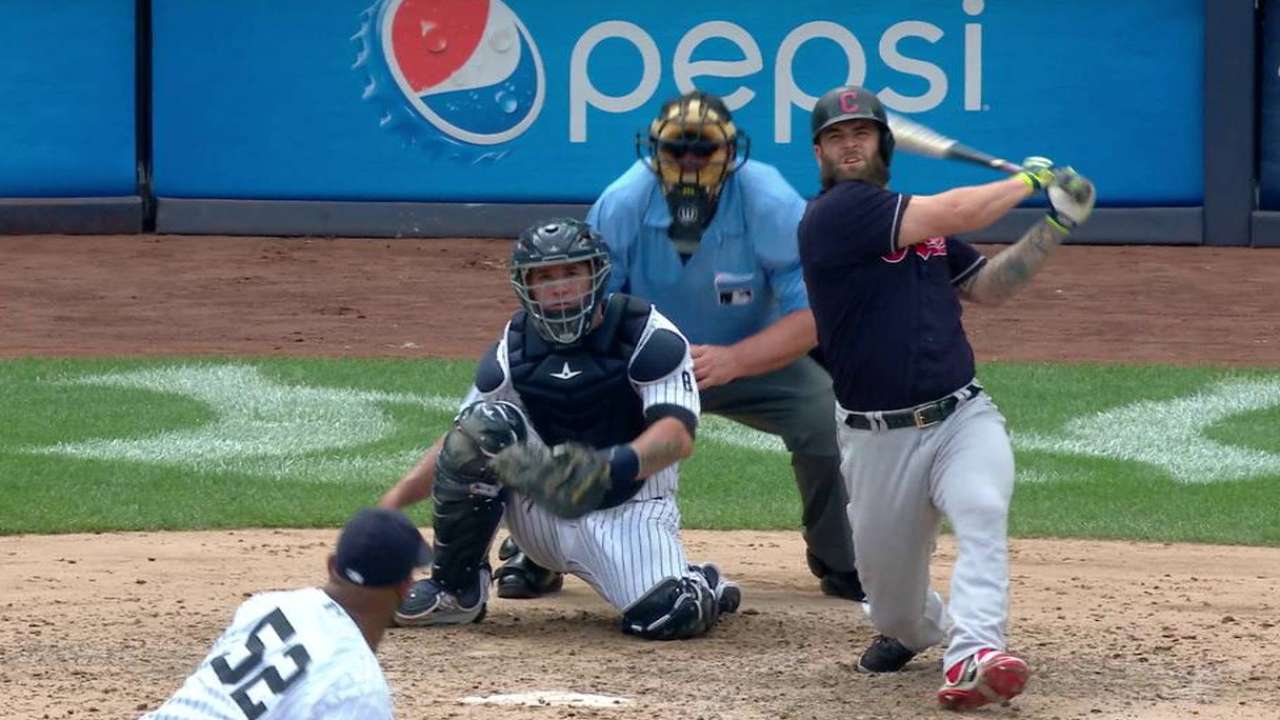 The problem in pitching from behind, at least for Sabathia, is it limits what he can do. Sabathia said that getting behind in counts prevents him from using his cutter, as he prefers to throw that in neutral or positive situations. That made him both predictable and backed him into a corner, a place a pitcher doesn't want to be.
"He was in bad counts a lot today and figured out how to get out of a lot ... with some double-play balls. But, eventually it kind of caught up to him," Yankees manager Joe Girardi said. "I think Kipnis was 3-1, Napoli might've gone 3-1. His command was a little off today, but he still gave us a chance to win."
Sabathia agreed with Girardi's summation, saying that problems with command have been his main point of concern over his last nine starts, a span over which Sabathia is 1-4 with a 6.62 ERA.
"Just getting myself into bad counts, I guess," Sabathia said. "I'd like to see myself get ahead a little more and work that way."
Nick Suss is a reporter for MLB.com based in New York. This story was not subject to the approval of Major League Baseball or its clubs.