Improved 'feel' behind Avisail's recent tear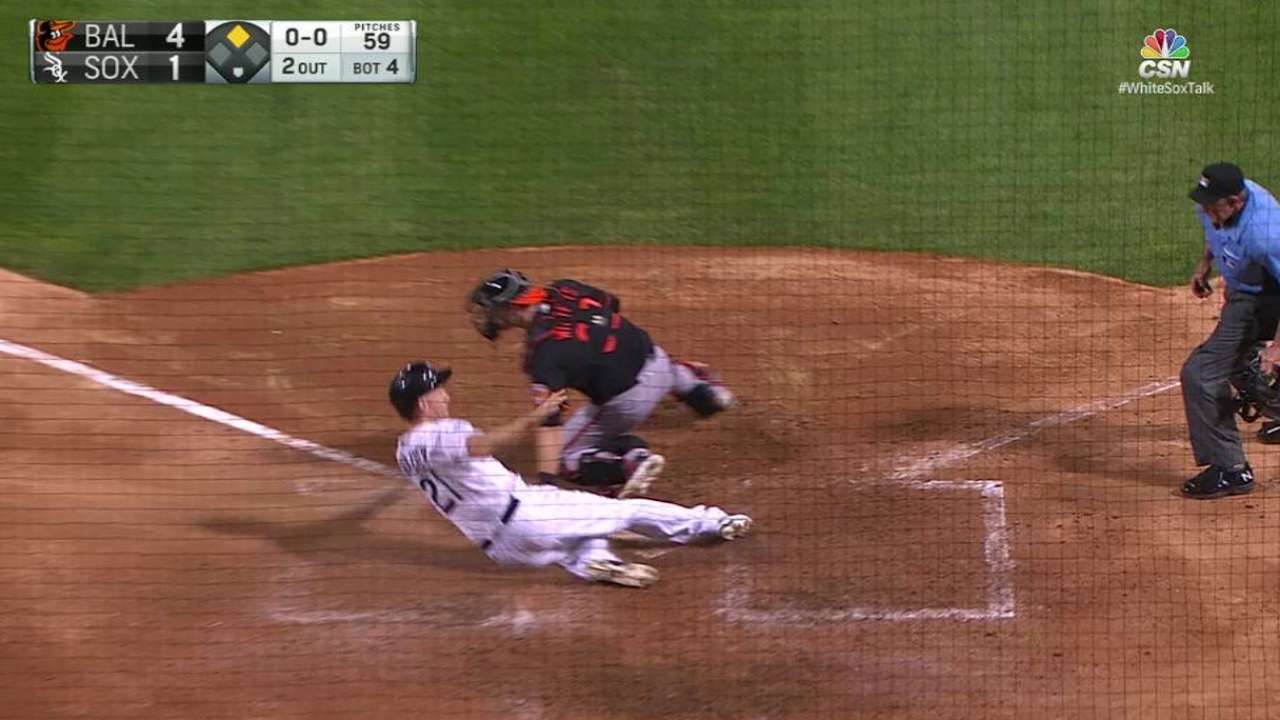 CHICAGO -- The countless hours of work with and by White Sox right fielder Avisail Garcia already have been executed and well documented.
There have been changes made to the swing and offensive approach of a player pegged as a five-tool talent when he was acquired from Detroit in a three-team deal back in 2013. But this recent hot stretch for the 25-year-old Garcia, who has a .303 average with three doubles, four home runs, eight RBIs, four walks and eight runs in his last 13 games, is all about him just going out and playing.
"Try to find a feel. Hitting is a feel," hitting coach Todd Steverson said. "And I never wanted his feeling to be my feeling or anybody else's feeling. The search was for him to find his own feeling. And in my opinion, he's starting to find his own feeling through talks and work and stuff like that.
"It comes to a point in everybody's career where you have to throw the book down and say, 'All right. I know what I can do. I know what I need to do. I just need to feel it.' But to go out and feel it, you have to go out and do it. You have to trust it and throw caution to the wind and say, 'This is it.'
"Somebody asked me the other day, and I almost don't really want to answer the question," Steverson added of Garcia's change. "There comes a time where, for lack of a better term, in your career you need to stand up for yourself and put it in perspective and really try to execute something with the clearest of mind-set that you can. Right or wrong, more of a definitive 'I'm going to do this and die trying' kind of thing."
Garcia's overall 2016 numbers have been disappointing -- a .239 average, nine homers and 36 RBIs. He lost his outfield spot to the strong defensive trio of Melky Cabrera, Austin Jackson and Adam Eaton at the season's outset, and he didn't produce consistent enough offense at designated hitter.
Given a recent chance to get steady at-bats due to Charlie Tilson's season-ending hamstring injury, Garcia has been driving and lifting the baseball to the tune of three homers in three games in Detroit. As Steverson pointed out, Garcia is at a point where he has to do what he needs to do to make things work.
"Now it's going to be up to him, because once you release your guys out of this dugout, you trust that they have a clue of what they want to go up there and do and try to execute," Steverson said. "Even the best of the best of the hitters come back frustrated 70 percent of the time. But if you are going to come back frustrated, at least go up there and do what you want to do.
"My perfect thought process of teaching hitting is for the players to be able to teach themselves. It shouldn't always have to be my idea. I just help them along the way to find themselves, and hopefully, he's getting closer."
Scott Merkin has covered the White Sox for MLB.com since 2003. Read his blog, Merk's Works, follow him on Twitter @scottmerkin, on Facebook and listen to his podcast. This story was not subject to the approval of Major League Baseball or its clubs.