Berrios still 'learning' to hone skills, limit walks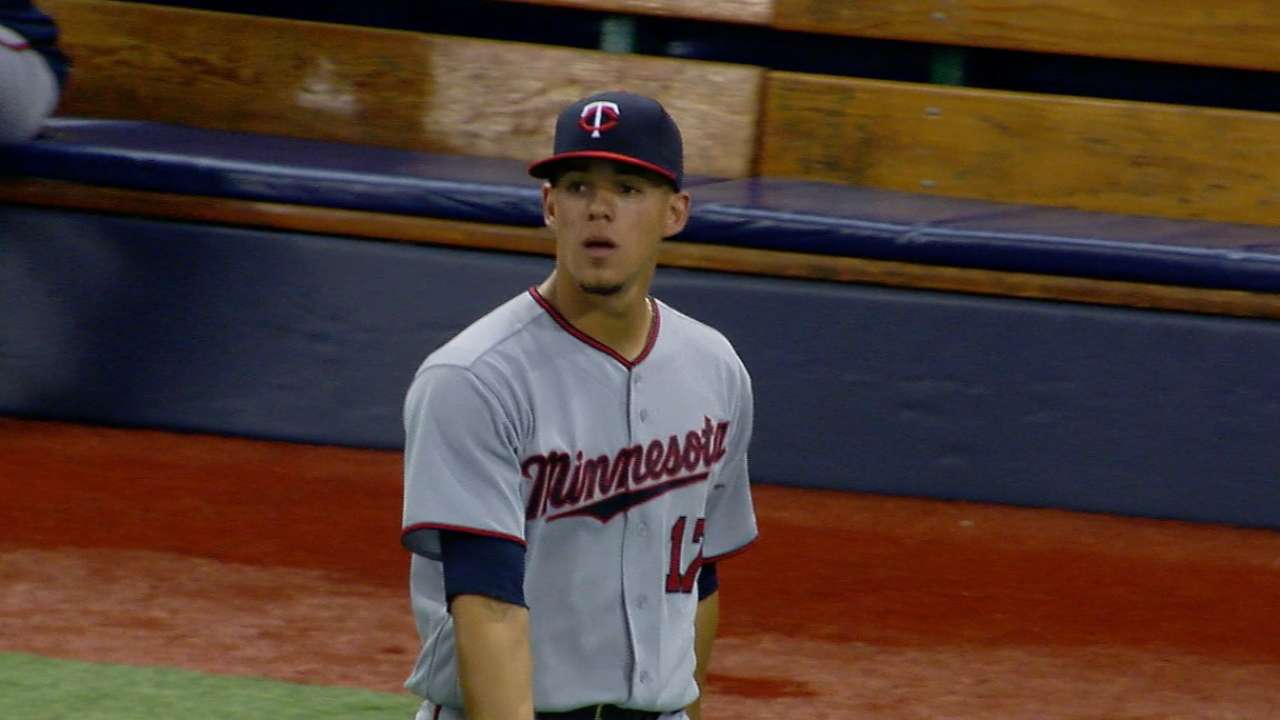 ST. PETERSBURG -- Jose Berrios had options for the pitch he sent to Evan Longoria during the third inning, which eventually wound up in the left-field bleachers. He could've bounced a pitch with an 0-2 count. He could've thrown something far enough outside for it to be unhittable. Instead, he tried to paint.
The Twins righty eyed the inside part of the plate, trying to squeeze a slider between the right-handed batter and the black. The ball hovered a moment too long and an inch too far toward the plate. Longoria turned and fired a line drive to left to pad an early lead for the Rays on their way to a 7-3 win.
"I wanted to not throw in the dirt, but the ball became a strike, so he hit the ball well," Berrios said. "He's got power."
Berrios followed up the best and longest start of his career earlier this week against the Indians with a step backward in St. Petersburg. Manager Paul Molitor judged the rookie's five-plus-inning outing as "fair" as he conceded only one walk while allowing four earned runs. The mistakes weren't as frequent as they were during duds like his four-inning, five-run debut against Cleveland in April or his seven runs in two-thirds of an inning against the Tigers in May, although they were still glaring.
The mistake Longoria turned into a solo home run and a 2-0 lead was the most obvious. Longoria's home run was only his sixth on an 0-2 count of 229 career homers. It takes a rare sort of error to set up Longoria for a home run in that particular situation. A first-year Major Leaguer making only his sixth career start presented the perfect storm.
Berrios has struggled with command during his brief big league career. He walked 12 batters during his first 15 innings in the Majors before beating Cleveland on Tuesday. His command was still good Saturday -- he only walked one batter and threw 60 of his 97 pitches for strikes -- but not yet consistent. Two innings later, he fell behind 3-1 to catcher Bobby Wilson, Tampa Bay's No. 9 hitter, and gave up another solo home run. In six starts and 26 innings, Berrios has given up seven homers.
"Command's still something that he needs to improve on," Molitor said. "He gave up a 3-1 homer, and he gave up an 0-2 homer, so just kind of learning. It's part of the process of getting up here and trying to figure things out."
The other two runs, though, didn't discourage the young pitcher or his manager. Berrios said he focused on Tampa Bay's first inning Friday night, trying to learn from the way fellow starting pitcher Ervin Santana handled the Rays' approach. He saw Tampa Bay swing aggressively and altered his strategy to match.
Berrios opened by getting outfielder Corey Dickerson to fly out before a double and a walk got him in trouble. A run eventually scored when Brad Miller slapped a grounder to the right side for an infield single. Second baseman Brian Dozier and Joe Mauer got crossed up, neither able to field the ball cleanly, and Logan Forsythe rounded third to score. The frame was far from flawless, but it was, as Minnesota sees it, progress.
"I saw that guys were pretty aggressive going after pitches, so they were swinging," Berrios said. "I tried to do my best work. I feel good. I feel strong, healthy. I threw my pitches, I just had a few mistakes tonight."
David Wilson is a contributor to MLB.com based in St. Petersburg. This story was not subject to the approval of Major League Baseball or its clubs.