Gray pulled from start with right forearm injury
A's ace allowed two runs over five frames; five starting pitchers already on DL
OAKLAND -- Sonny Gray lost his career-high 11th game of the year, his ERA sits at 5.74 and the A's fell to a season-high 14 games below .500. But none of that was the biggest news that came out of Oakland's 4-0 loss to the Cubs on Saturday at the Coliseum.
Gray left his start after five innings with a sore extensor muscle in the top of his right forearm, cutting short a promising outing after 72 pitches. Gray is unsure whether he'll make his next start, saying he hopes to learn more Sunday, but he said he hasn't felt pain in his forearm prior to Saturday.
A's manager Bob Melvin said the team hopes the injury is minor.
"We decided to shut it down [after five innings] instead of risking anything else," Gray said. "I lobbied to go back out there, but it just seemed like it obviously wasn't going to happen."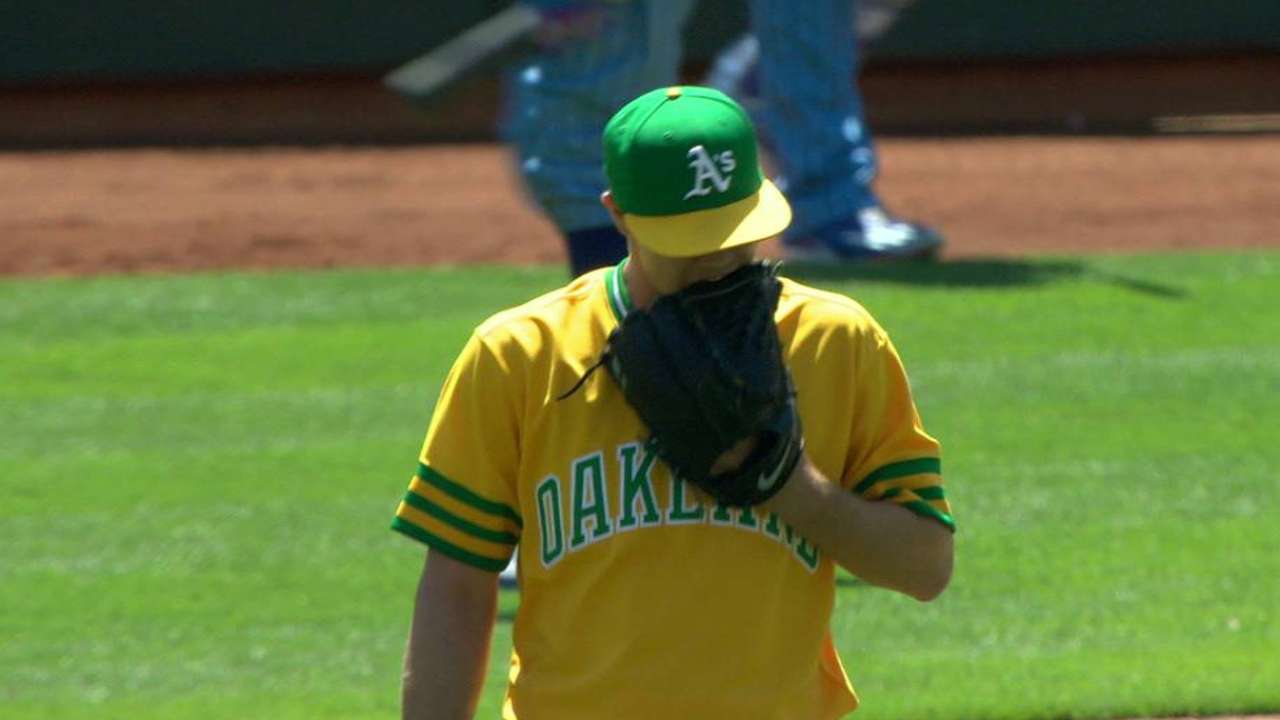 Gray first felt discomfort in the fourth inning, and again in the fifth after throwing a curveball to Dexter Fowler. He finished the inning, retiring the last seven batters he faced, but the team noticed the issue during the Fowler at-bat.
Gray was on the disabled list from May 22 to June 5 with a strained right trapezius, and he was 2-5 with a 5.57 ERA in 11 starts since then entering Saturday. He struggled in July, allowing seven runs in three separate outings and posting a 7.79 ERA in six total starts, but he was in the midst of a promising performance against the Cubs.
Gray allowed two runs, both coming on a single to center by Ben Zobrist in the third inning, and he gave up five hits over the first three frames before settling down. He said his stuff was as strong as it's been all year, especially his curveball, which he said has been "missing" for the majority of the year. His catcher, Stephen Vogt, echoed that sentiment.
"Even the inning they scored two runs, it was not like it was solid contact," Vogt said. "That's kind of the way his year has been going. He made some really, really good pitches. The pitch Zobrist hit out to center, not many people are hitting that pitch. He jammed him pretty good, and [Zobrist] just kind of flicked it out there. He had good stuff today."
"That's the most frustrating thing," Gray said. "Feeling good out there, being able to make some pitches. My stuff was very sharp. For it to get cut short like this was very unfortunate."
Injuries have decimated Oakland's rotation this season. The A's have a season-high 13 players on the DL, including starting pitchers Henderson Alvarez, Chris Bassitt, Felix Doubront, Jesse Hahn and Jarrod Parker. Gray, Sean Manaea and Rich Hill -- before he was traded to the Dodgers -- all spent time on the DL as well.
Oakland already had two vacant spots in the rotation entering Saturday's game after placing Hahn (strained right shoulder) on the DL on Friday and optioning Dillon Overton (10.97 ERA) to Triple-A Saturday. The A's have yet to name a replacement for either pitcher.
Though it's unclear whether Gray will make his next start, it's yet another tough development for a battered rotation.
"We have a starting rotation on the DL, it seems like, or are banged up," Vogt said. "It's very, very frustrating. It's hard to watch because these guys work so hard. They all do a great job to put themselves in position to pitch every five days. Unfortunately, they can't right now.
"It's very frustrating to watch, especially working as closely with them as I do and knowing how hard they work and how bad they want to be out there every five days."
Mark Chiarelli is a reporter for MLB.com based in the Bay Area. This story was not subject to the approval of Major League Baseball or its clubs.