Gonzalez: 'Never hard feelings' for the Orioles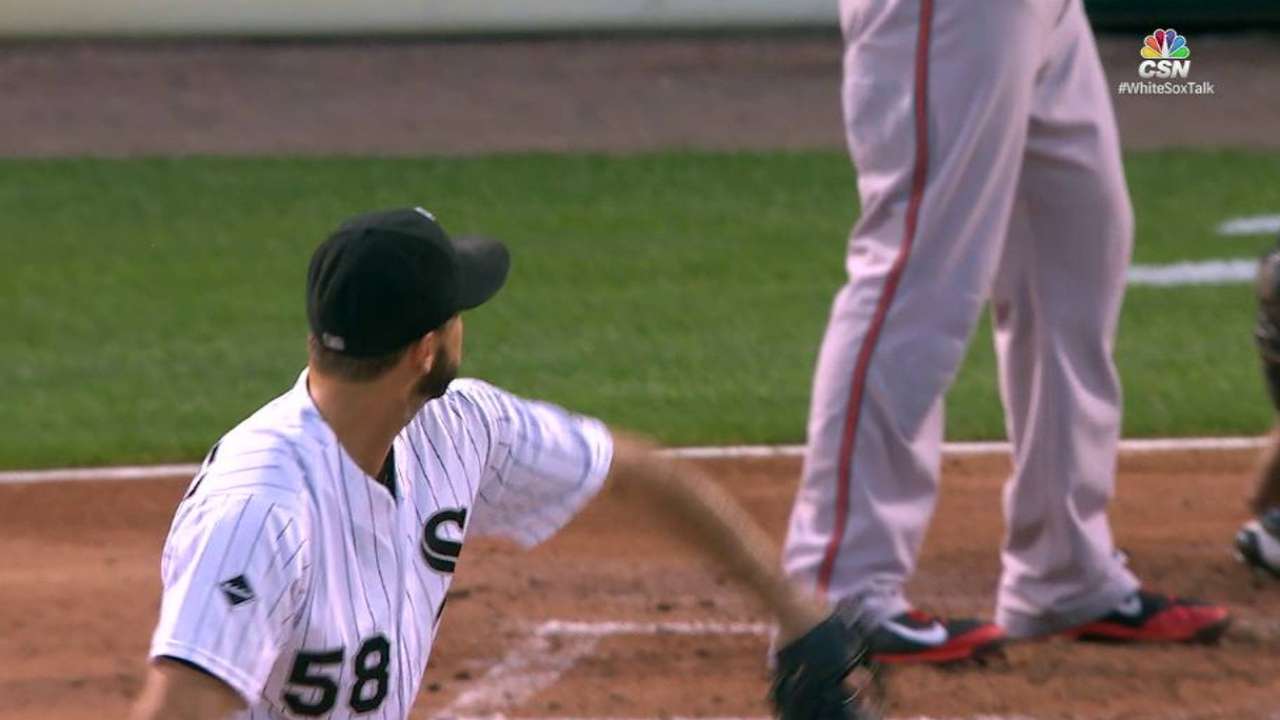 CHICAGO -- For White Sox -- and former Orioles -- pitcher Miguel Gonzalez, Friday's start against Baltimore felt almost like a Spring Training intrasquad game.
Gonzalez, who spent four years with the Birds, was released at the end of the spring and has since found a home in Chicago, where he held Baltimore to four runs (three earned) over six innings in Friday's 7-5 Orioles win.
"It was different. It meant a lot to me, yesterday's game," Gonzalez said. "I battled. That was it. I know that their lineup is great, we all know that, and they're playing great baseball."
Gonzalez's release came on the heels of a poor spring.
"They wanted to give the other guys an opportunity," said Gonzalez, who went 39-33 with a 3.82 ERA in 101 games (95 starts) for Baltimore. "The younger guys like Mike Wright and [Dylan Bundy]. Bundy is doing a real good job now. We all know how this works out. There are guys that are going to be there forever and others that will be somewhere else. There will always be doors opened somewhere else."
Gonzalez, who was well liked in the Orioles' clubhouse, saw all of his former teammates and coaches after Friday's game. He still gets texts from Fred Ferreira -- the Orioles' executive director of international recruiting, who signed him after watching him throw nine pitches in Mexico -- and had plans to meet with several O's for dinner on Saturday.
"There's never hard feelings. That was the first team that gave me the opportunity to come to the big leagues and throw my name out there," he said.
"I know they all follow me and see how I'm doing. And I really appreciate it. That was an organization that went out to Mexico and saw me pitch and gave me an opportunity to sign with them as a free agent. Started in extended [spring], went to Triple-A, and the rest was history. So there's a lot of history there and a lot of friends and families that we are really attached to in the Orioles organization."
Gonzalez put up his worst numbers in 2015, with a 4.91 ERA over 144 2/3 innings, and he allowed 21 earned runs over 19 1/3 innings this past spring. His release was seen as a financial saving, since the O's were responsible for just a quarter of his $5.1 million arbitration salary.
The Orioles have had well-documented rotation problems this season, removing Ubaldo Jimenez from the mound and trading for lefty Wade Miley in an attempt to help a staff that ranks among the American League's worst in several starting categories.
Gonzalez, who got off to a slow start, has a 2.76 ERA over his last seven games and said the biggest difference from this spring has been mental.
"Once you put pressure on yourself, it's even harder to go out there and perform. We all know how hard it is and how mental this game is. We have to try to minimize those things mentally and not think too much when you are out there," he said. "Just keeping it simple and doing what I did in my first three years with the Orioles. I've been feeling a lot better. When I come to the field, I'm excited to be here. I want to work hard and get better every day."
Brittany Ghiroli has covered the Orioles for MLB.com since 2010. Read her blog, Britt's Bird Watch, follow her on Facebook and Twitter @britt_ghiroli, and listen to her podcast. This story was not subject to the approval of Major League Baseball or its clubs.