Good timing, good fit for Holaday, Red Sox
Catcher, who has familiarity with Price, Porcello, joins Boston with Hanigan going on DL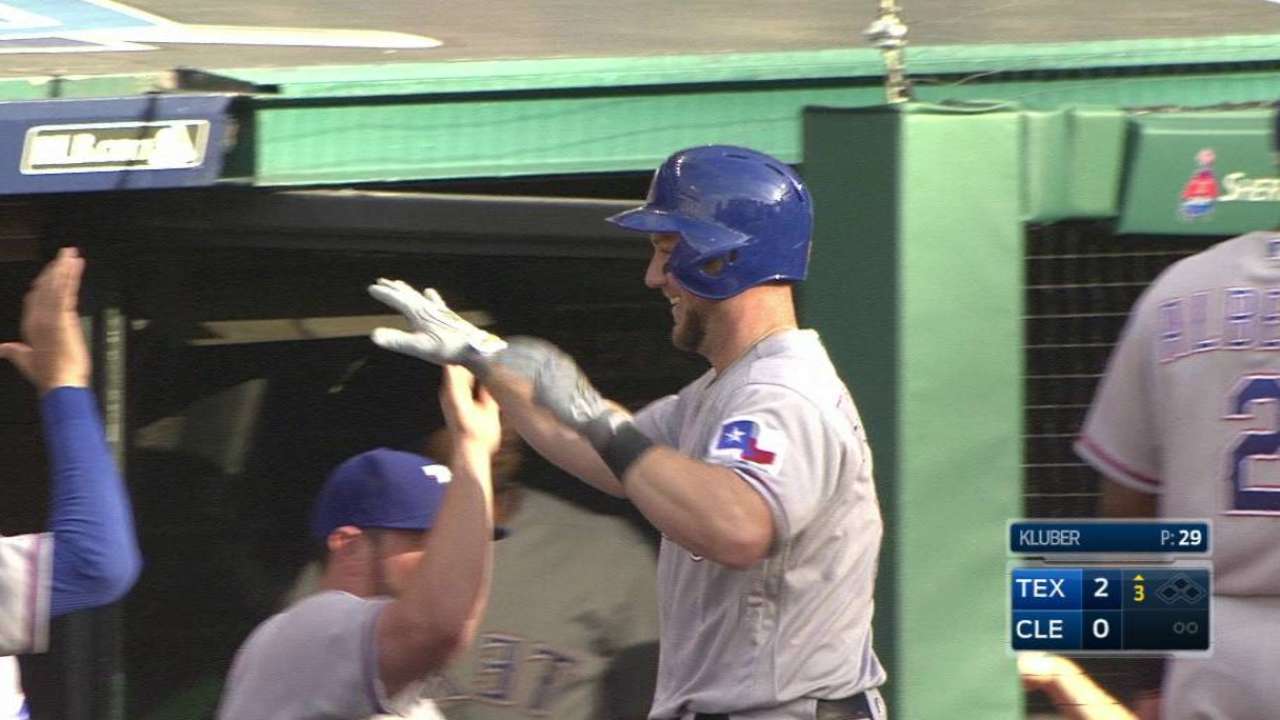 LOS ANGELES -- The Red Sox placed catcher Ryan Hanigan on the 15-day disabled list on Saturday with left ankle tendinitis and added catcher Bryan Holaday to the roster.
Boston claimed Holaday off waivers on Friday from Texas. Holaday hit .238 with two home runs and 13 RBIs in 30 games for the Rangers.
"I had no idea about anything. It is just one of those things that has worked out for the best," Holaday said. "I'm still in shock that I am here, but I couldn't be more excited to put on a Red Sox uniform."
He previously hit .251 with three home runs and 30 RBIs in 108 games in parts of four seasons with the Tigers.
Holaday's connection with the Tigers is a big reason why he's with Boston. Red Sox president of baseball operations Dave Dombrowski was a member of the Tigers' front office when Holaday played in Detroit. Holaday also caught current Red Sox and former Tigers starters Rick Porcello and David Price.
"It is very good timing, and Dave has the familiarity with him back in Detroit," Sox manager John Farrell said. "Both pitchers have a comfort level there and a known commodity to his game calling and the teammate that he is. It wasn't only timely, but a good fit."
Farrell left open the possibility that Holaday could catch Price when the lefty takes the hill in Sunday's series finale against the Dodgers.
While it is a daunting process to get to know a new pitching staff, Holaday believes that having Price and Porcello in the clubhouse makes for a smoother transition. The catcher's locker was in between both on Saturday.
"Especially to have people to talk to and communicate with makes me feel better and makes the process a little bit smoother," Holaday said. "Knowing some people helps out tremendously."
Worth Noting
• Second baseman Dustin Pedroia is expected to be back in the lineup for Sunday's series finale after sitting out Saturday's game. Pedroia left Friday's game in the fourth inning with a left shin contusion.
• Left fielder Chris Young will run the bases on Sunday. If all goes well, Young will go out on a rehab assignment. He was placed on the DL on June 24 with a strained right hamstring.
Quinn Roberts is a reporter for MLB.com and covered the Red Sox on Saturday. This story was not subject to the approval of Major League Baseball or its clubs.