Hill's Dodgers debut delayed by blister
Timetable for newly acquired lefty's return uncertain; McCarthy to start Sunday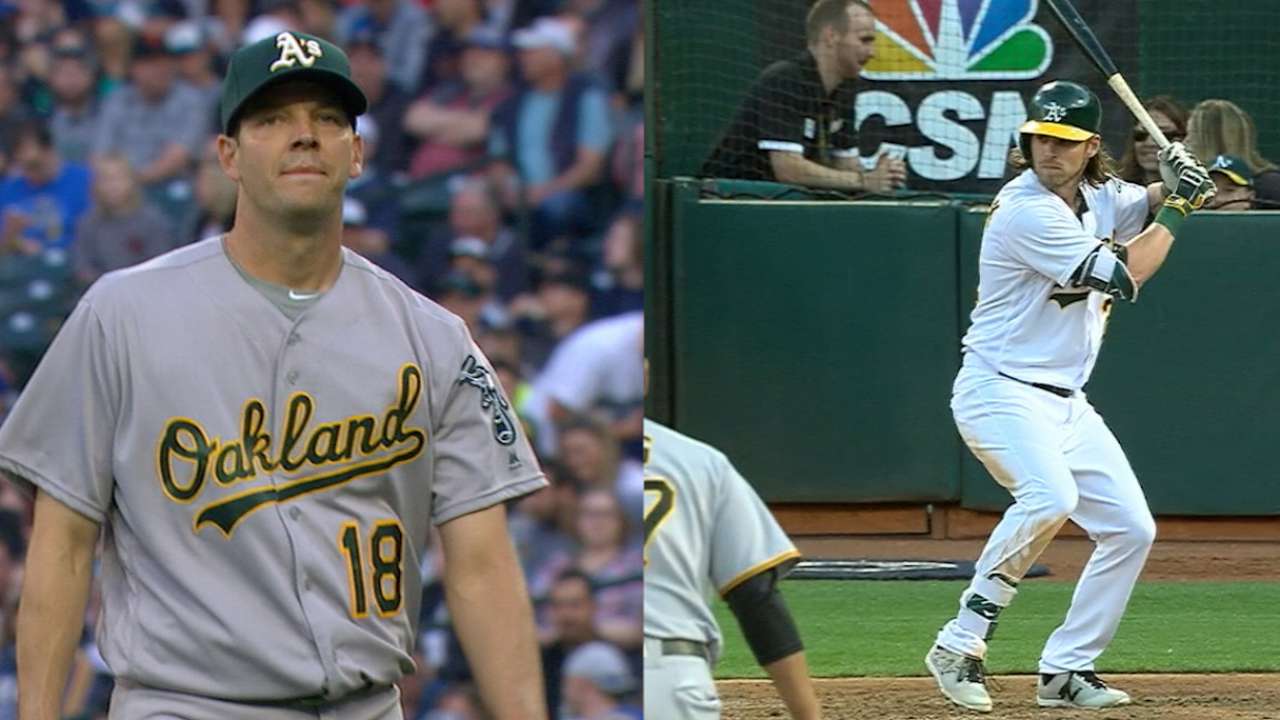 LOS ANGELES -- A new blister for the recently acquired Rich Hill will push the southpaw's return date back and leave the Dodgers to shuffle their rotation yet again.
While playing catch on Friday, Hill felt a "little remnant of a new formed blister," according to manager Dave Roberts, prompting the team to push his Dodgers debut back from Sunday in a precautionary move.
After being acquired last Monday as the headliner of a five-player deal with the Athletics, Hill was placed on the DL with a bad blister, but he had passed all tests by Friday and was considered ready to go for Sunday. The new blister leaves him day to day, but the Dodgers' new rotation schedule makes a return before Friday unlikely.
Brandon McCarthy, whose start was moved to Monday so Hill could throw on Sunday, will instead go ahead on Sunday on regular rest. Monday's starter will be determined following this weekend's games, while Kenta Maeda and Scott Kazmir are in line to pitch Tuesday and Wednesday, according to Roberts.
The Dodgers were already feeling enough heat recently from injuries in their rotation, having placed Bud Norris on the 15-day DL on Saturday with a Grade 1 back strain. There's no timetable set for Norris' return.
L.A. officially called up Ross Stripling to take Norris' place in a spot start Saturday, Stripling's first start since May 19. Since then, he's been shut down in Arizona, pitching for Triple-A Oklahoma City, or working out of the Dodgers' bullpen.
"Ross has given us a lot of value in his versatility," Roberts said. "I think you always want a soft landing for any young pitcher, a routine or whatever you want to call it. In this situation, he's really grown because he's had to be flexible."
Some relief could soon come in the form of Brett Anderson (back surgery), who will make his third and possible final rehab start on Monday with Triple-A Oklahoma City. The southpaw was at Dodger Stadium on Saturday to throw a bullpen session, which Roberts said "really looked good."
Anderson will throw around five innings or 75 pitches Monday, then the team will make a decision on whether to activate him or have him throw another rehab start.
"With the starting pitching and where we're at, it'll be nice to get Brett back," Roberts said.
More injury news
• Trayce Thompson (back) had his return moved back to September, but it wasn't due to an aggravation or reinjury of his back. Even though the outfielder was expected to start a rehab assignment this week, his progress had recently slowed enough to prompt the Dodgers to reexamine his back.
"He was doing the baseball activity and really wasn't responding," Roberts said. "Symptomatically, didn't feel great. So we did a little more imaging and I don't know the exact diagnosis, but there was some stuff prior that we wanted to calm down."
The Dodgers are currently trying to stabilize the outfielder's back and core, with any baseball activity being severely limited.
• Adam Liberatore (left elbow inflammation) will throw in the next couple of days, and Roberts sees no reason why the reliever won't be back on his first day of eligibility on Aug. 13. Liberatore is not expected to need a rehab assignment.
• Casey Fien (right elbow tendinitis) will go to the team's facility in Arizona on Monday to start his rehab.
Jack Baer is a reporter for MLB.com based in Los Angeles. This story was not subject to the approval of Major League Baseball or its clubs.