Rays place Jennings (knee) on DL, activate Mahtook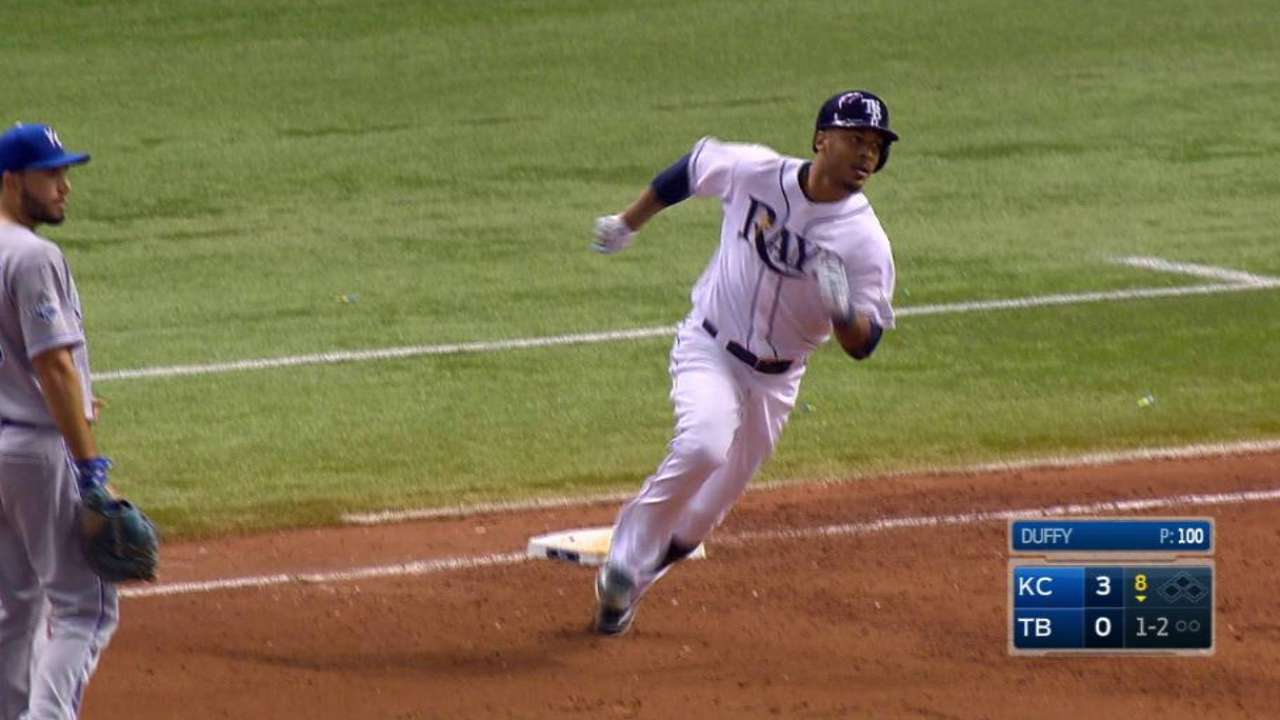 ST. PETERSBURG -- The Rays placed outfielder Desmond Jennings on the 15-day disabled list on Saturday with a left knee contusion and activated outfielder Mikie Mahtook from the DL.
Jennings fouled a ball off his surgically repaired left knee on Tuesday and had been out of the lineup since. The 29-year-old is batting .200 with seven home runs and 20 RBIs in 65 games for Tampa Bay this season.
"Look, Desmond's frustrated," Rays manager Kevin Cash said. "He came in, we talked. ... He felt really good coming back from the DL. He fouls a ball off the knee, and I think he's in a very similar feeling that he was before his surgery last year."
Cash didn't know the severity of Jennings' injury, but there was no guarantee from him whether he'd play again this season. Jennings declined to speak with the media about the injury.
Mahtook has been out since June 20, when he fractured his left hand on a hit-by-pitch. The 26-year-old, in his second Major League season, played in 24 games for the Rays before the injury, batting .154.
He played in three rehab games with Class A Advanced Charlotte and one game with the Gulf Coast League Rays without any setbacks, recording five hits in 13 at-bats. He was scheduled to play another game for the Stone Crabs on Saturday, but he got called up to replace Jennings instead.
"My mindset these last six weeks was just getting healthy and getting back on the field," Mahtook said. "Now that I'm back, whatever playing time that may be, I'm just going to try and take advantage of that."
Cash said the next two months will provide Mahtook with an opportunity to show what he's capable of doing after struggling with the Rays this season before his surgery.
"I hope Mikie doesn't go out there and put too much pressure on himself," Cash said. "This is a guy that we have a lot of confidence in. No, he didn't get off to the best start here early on. He did a lot of really, really good things for us last year. He doesn't have to go repeat that. We just want him to be a baseball player like we know that he is."
Injury notes
• Matt Duffy was at Tropicana Field on Saturday prior to Tampa Bay's game against Minnesota. He was making a pit stop before traveling up to Durham, N.C., for a rehab game on Sunday. He plans to stay in Durham through Wednesday, and then join the Rays when they start a three-game series at Yankee Stadium on Friday.
Duffy, who was acquired in a trade from San Francisco on Monday, has been transitioning to becoming the Rays' shortstop. But in 11 innings with the Stone Crabs, not a single ball came to him at his new position.
"I've only touched the ball once," Duffy said. "Yeah, I would like to get some work at shortstop before playing there in a Major League game. ... Ground balls for batting practice are going well."
• Logan Morrison and Oswaldo Arcia will travel with Charlotte to its series in Jupiter, Fla., and take batting practice. If all goes well, they'll start playing rehab games when the Stone Crabs travel to Fort Meyers, Fla. Arcia has already started hitting, while Morrison has not.
• Enny Romero hurt himself falling off the mound in his last outing against Kansas City on Wednesday. He was supposed to pitch another inning, but he couldn't and was placed on the disabled list following Friday's game. Cash said he's already begun to make positive progress, but the Rays needed to get a healthy arm in the bullpen.
Sam Blum is a reporter for MLB.com based in St. Petersburg. This story was not subject to the approval of Major League Baseball or its clubs.