Braves clock 4 homers in rout of Cardinals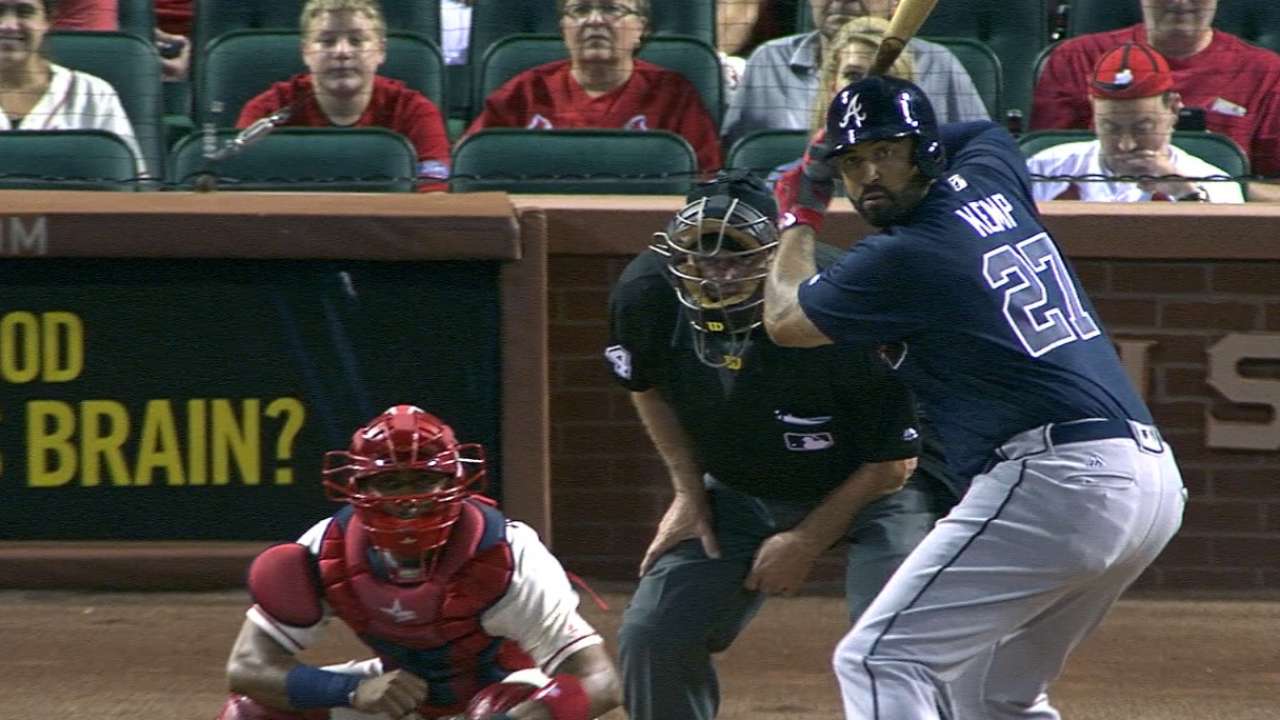 ST. LOUIS -- Freddie Freeman and Adonis Garcia each hit three-run homers, and Ender Inciarte and Matt Kemp also went deep in the Braves' 13-5 win over the Cardinals on Saturday night at Busch Stadium.
Freeman's 19th homer in the third and Garcia's ninth in the fifth were all Roberto Hernandez (1-0) needed to pick up his first win as a starter since May 19, 2015. Hernandez, making his Braves debut after being called up from Triple-A Gwinnett, went five-plus innings and gave up three runs. Freeman finished 3-for-3 with three runs scored.
"It's kind of like when Freddie goes, it kind of relaxes everybody I think," Braves interim manager Brian Snitker said. "It was a nice night."
Cardinals starter Carlos Martinez (10-7), who entered leading the staff with 10 starts of 7 innings or more, lasted just five innings and six of the seven runs he allowed were earned.
"From the first inning that I started pitching I didn't feel right," Martinez said through an interpreter. "I felt a little bit of a negative mentality."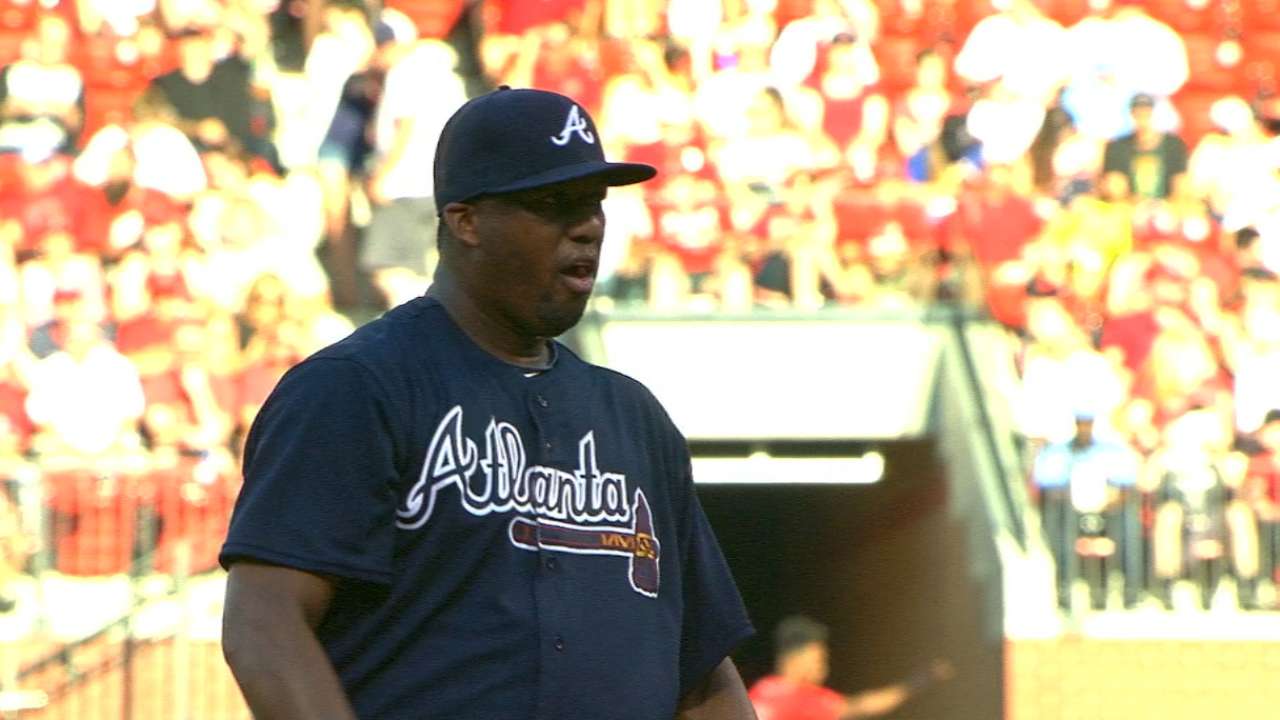 Inciarte led off the game with a single to extend his hitting streak to 17 games, and finished with three hits and three runs scored. Teammate Erick Aybar also singled to extend his hitting streak to 11 games. Markakis added three hits for the Braves, and Kemp's first homer with Atlanta came during a six-run ninth. It was the first time the Braves scored at least 13 runs against the Cardinals since 2007.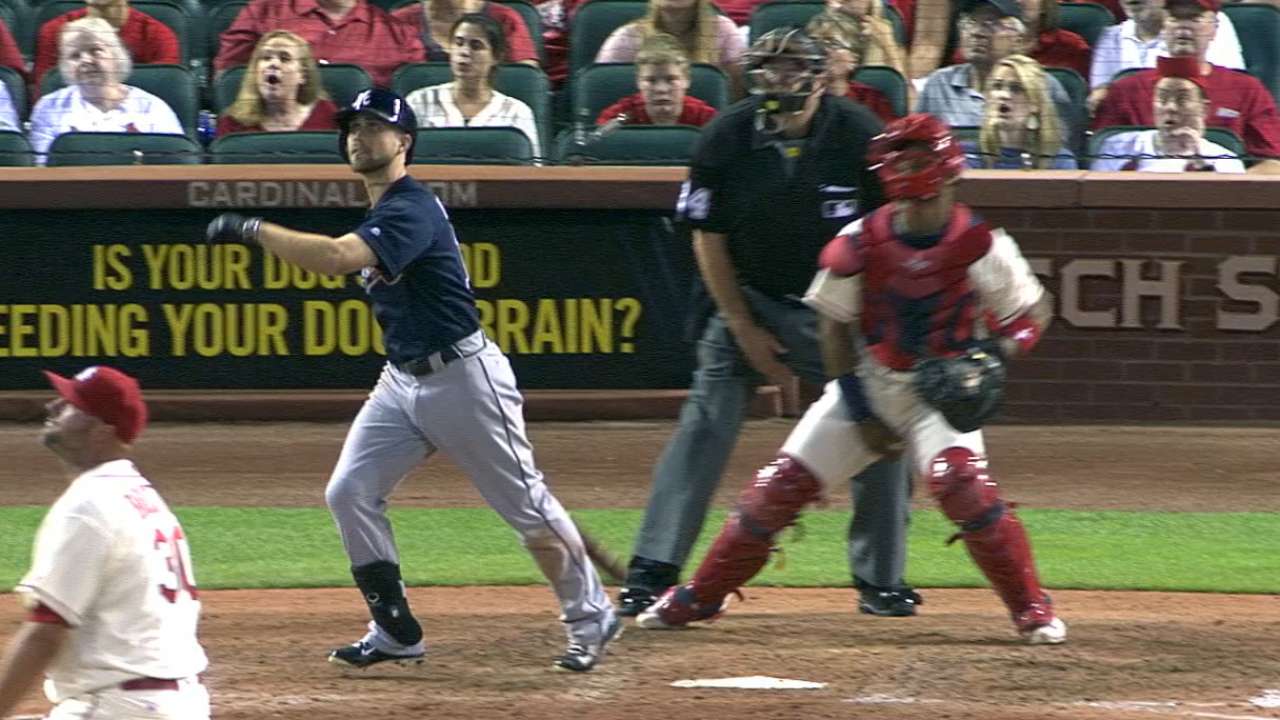 "Obviously we don't do that a lot, so it was good," Snitker said of the home runs. "I think we're capable now. Matt was struggling up to that point and maybe that homer gets him going and kind of gives him a burst of confidence. Freddie hit that long one and that was good to see out of him."
• 'Emotional' Hernandez shines in Braves debut
MOMENTS THAT MATTERED
Power surge: The Braves rank last in the Major Leagues with 70 home runs -- 20 behind the closest team -- but it didn't show Saturday. Freeman and Garcia's home runs marked the second time in 21 starts that Martinez has given up more than one home run in an outing.
"It's huge especially after [Friday's 1-0 loss]," Freeman said. "You never want to start off a series like we did yesterday, and we came back and redeemed ourselves."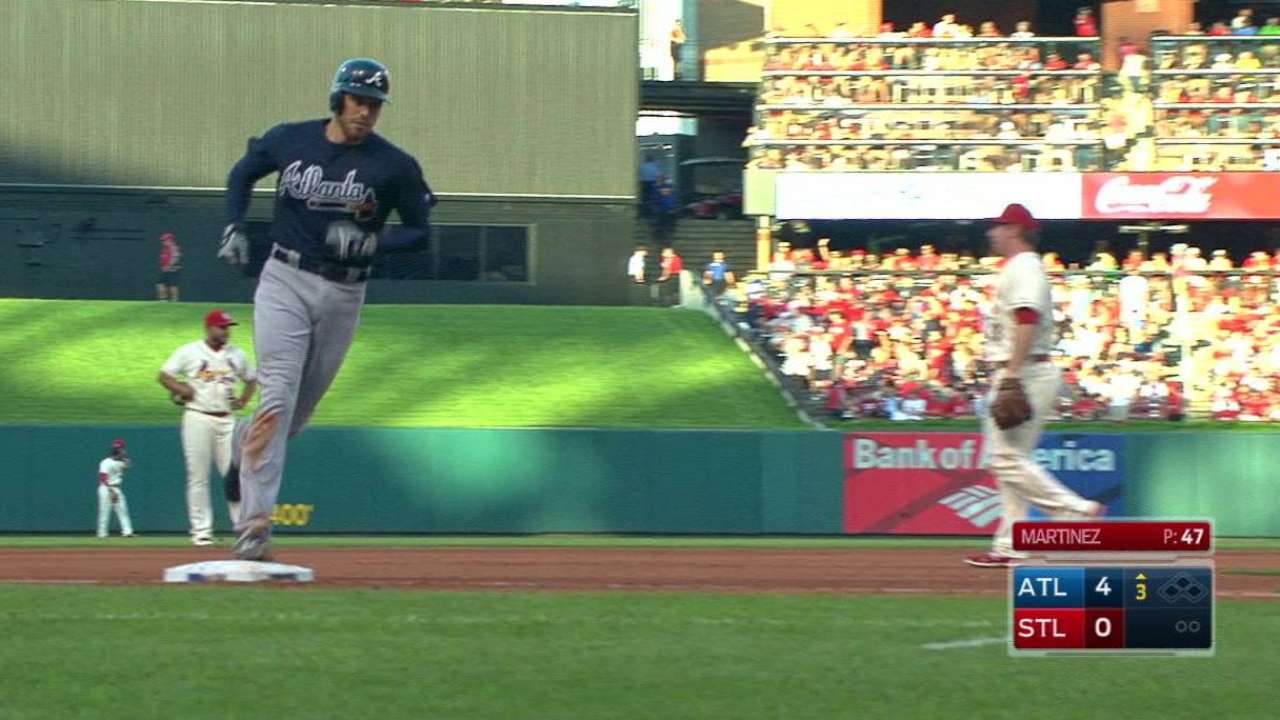 In a pinch: Kolten Wong drove a 1-0 Hernandez pitch in the fifth into the right-field bullpen for his second homer of the season. It was the second pinch-hit homer of Wong's career and a team-record 12th pinch-hit blast for the Cardinals this season.
Krol keeps lead: Jose Ramirez came into the game to relieve Hernandez and walked the bases full with two outs in the sixth inning. Left hander Ian Krol came in to face Wong, who had already homered and could tie the game with a grand slam. Instead, Krol got Wong to ground out to second baseman Jace Peterson to end the threat.
"Ian is pitching right now with a lot of confidence," Snitker said. "The stuff he has, he should. He should be confident every time he goes out because he has as good of stuff as anybody. That was huge right there at that point in the ballgame because the momentum was fixing to change and that was real big."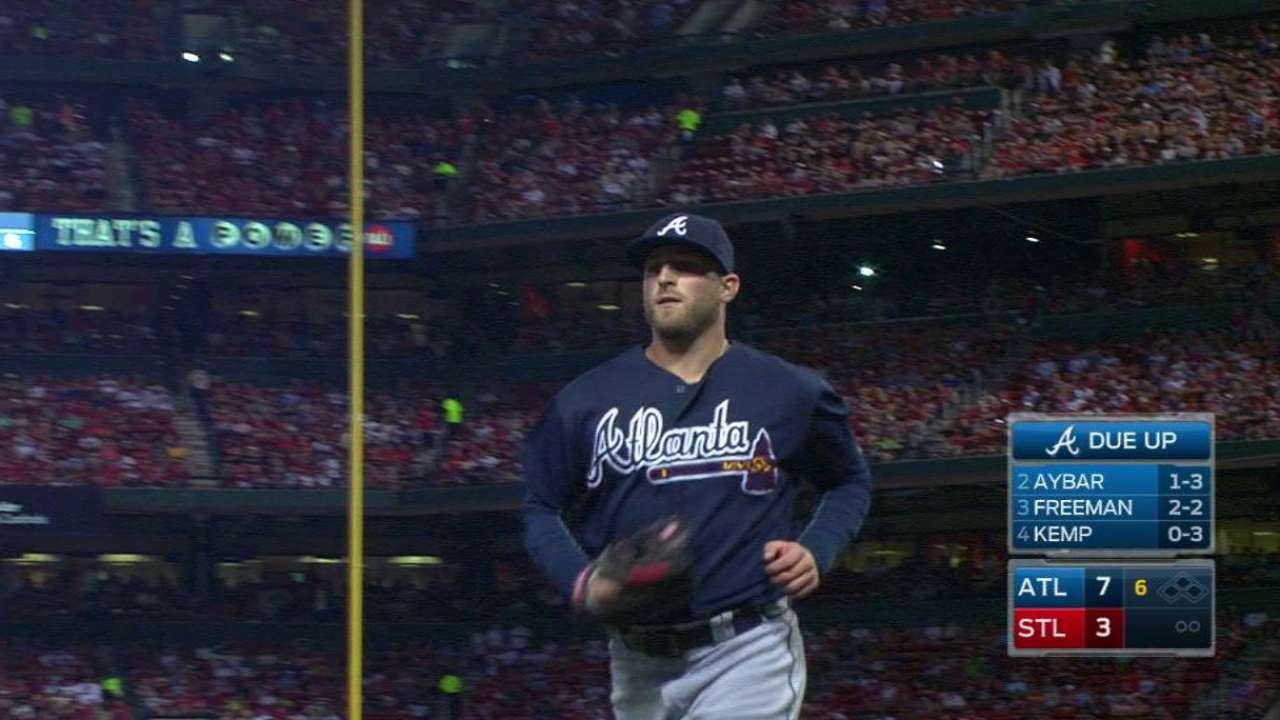 Missed opportunities: The Cardinals had several opportunities to change the game. Matt Carpenter was stranded after a leadoff walk in the first and Wong left the bases loaded in the sixth. The Cardinals also couldn't pile on after getting three hits to start the eighth, unable to cut into what at the time was a 7-5 Braves lead.
"We were down, but we battled," first baseman Brandon Moss said. "They kept adding and we kept adding and they broke it open there at the end. That happens. Come back tomorrow and try to win the series."
SOUND SMART WITH YOUR FRIENDS
Chase d'Arnaud had two hits in the ninth inning, becoming the first Braves player since Michael Bourn on April 13, 2012, to accomplish the feat.
"Thankful for the opportunity, of course," d'Arnaud said. "It was sure great for the team, everybody hitting all together, and stringing the hits one by one."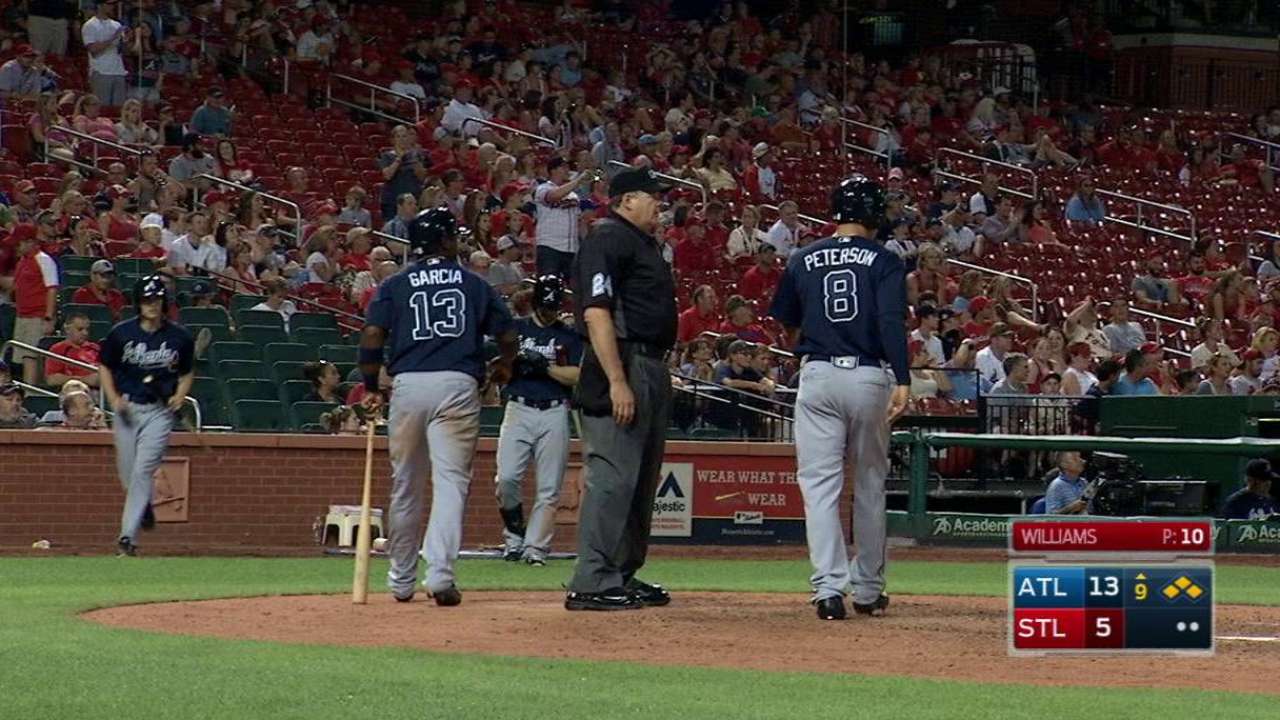 INJURED ALL-STARS
Cardinals catcher Yadier Molina left Saturday's game with a right hand contusion. Molina, a seven-time All-Star, was lifted for pinch-hitter Matt Adams in the eighth. He was replaced behind the plate by Alberto Rosario in the ninth.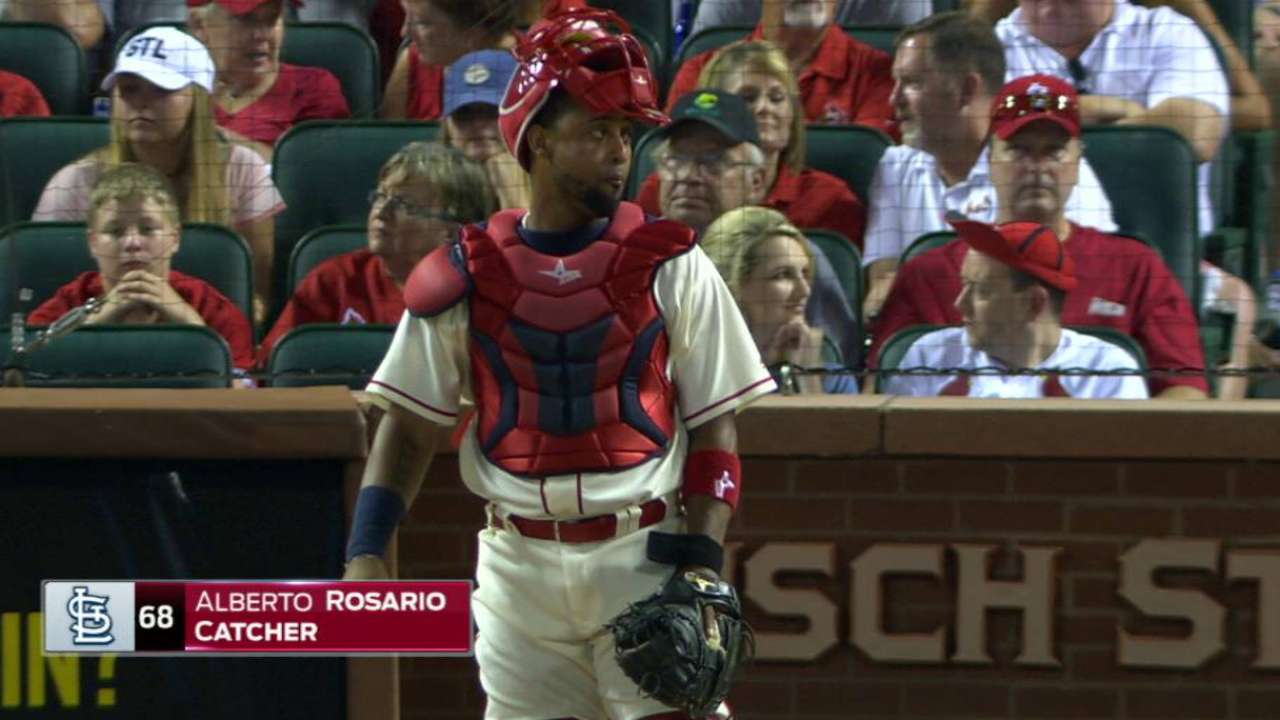 Carpenter was lifted after the fifth in a double switch with Wong. Carpenter, who returned Friday from a lat strain, was slow leaving the field after his at-bat in the bottom of that inning and was lifted as a precautionary measure.
"Carp just didn't look right, so we made a decision to get him out of there, but he's checking out fine with the medical team," Cardinals manager Mike Matheny said. "Yadi had a foul ball off his finger, just more of a bruise on his throwing hand. The middle finger, I think. Just one of those things that tightend up to where he couldn't grip the bat or the ball how he needed to, but [we] had him looked at and everything came back negative." More >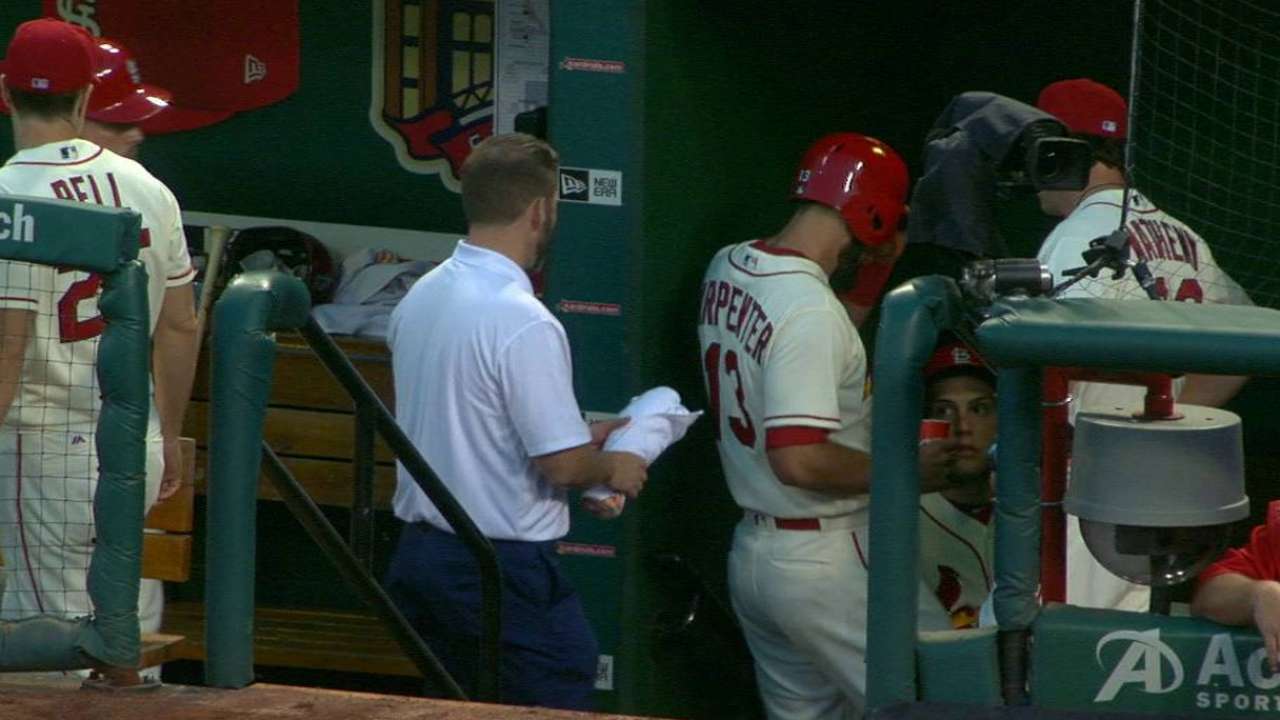 REPLAY REVIEW
Aybar hit a ground ball to Jhonny Peralta, who flipped to Carpenter to try and start a double play after Inciarte led off the game with a single. Inciarte was initially ruled out at second, but the neighborhood play was overturned when replay revealed Carpenter stepped around second base instead of on it. Carpenter was charged with an error and Aybar reached on a fielder's choice.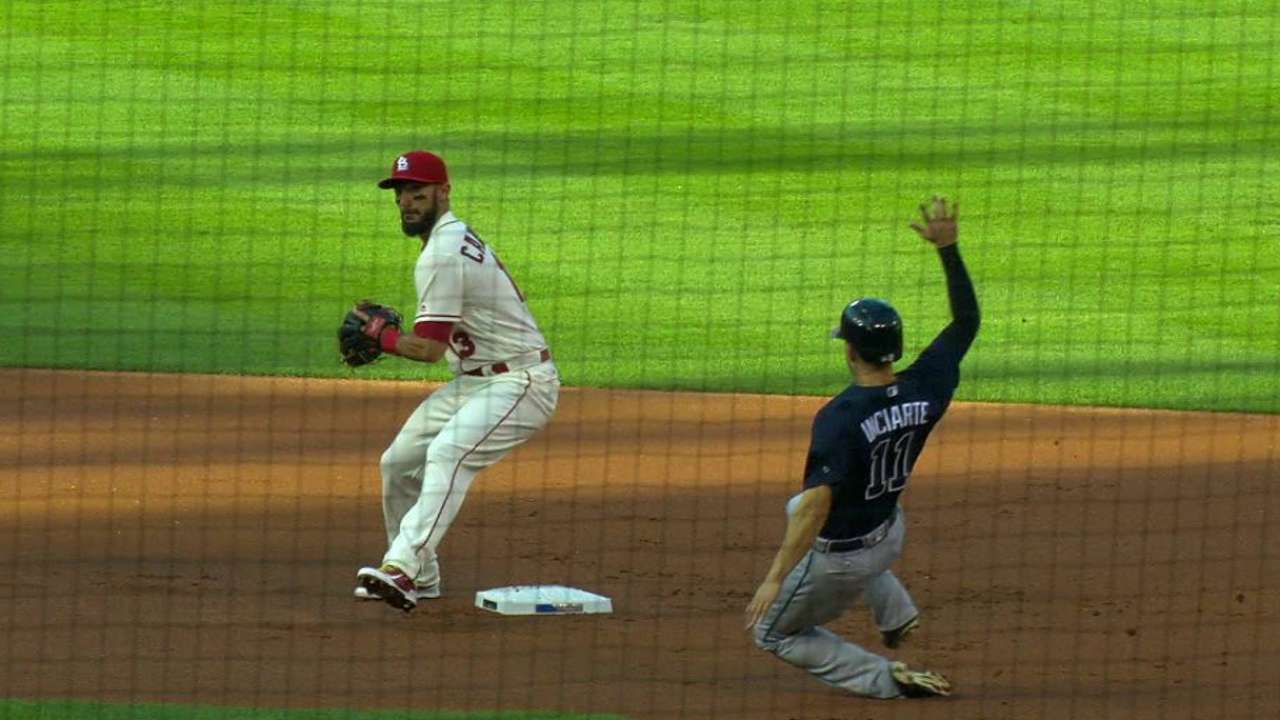 Tommy Pham hit a ground ball in the eighth to Peterson, who threw to Freeman at first. Umpire Stu Scheurwalter called Pham out and the call stood after a three-minute four-second review. The review thwarted what could have been a game-changing rally. Instead of first and third with one out with what at the time was a 7-5 Braves lead, instead it left the Cardinals with a runner on third and two out.
"I knew it was going to come down to how they interpret whether it was hitting the glove or not," Matheny said. "That's kind of that fine line."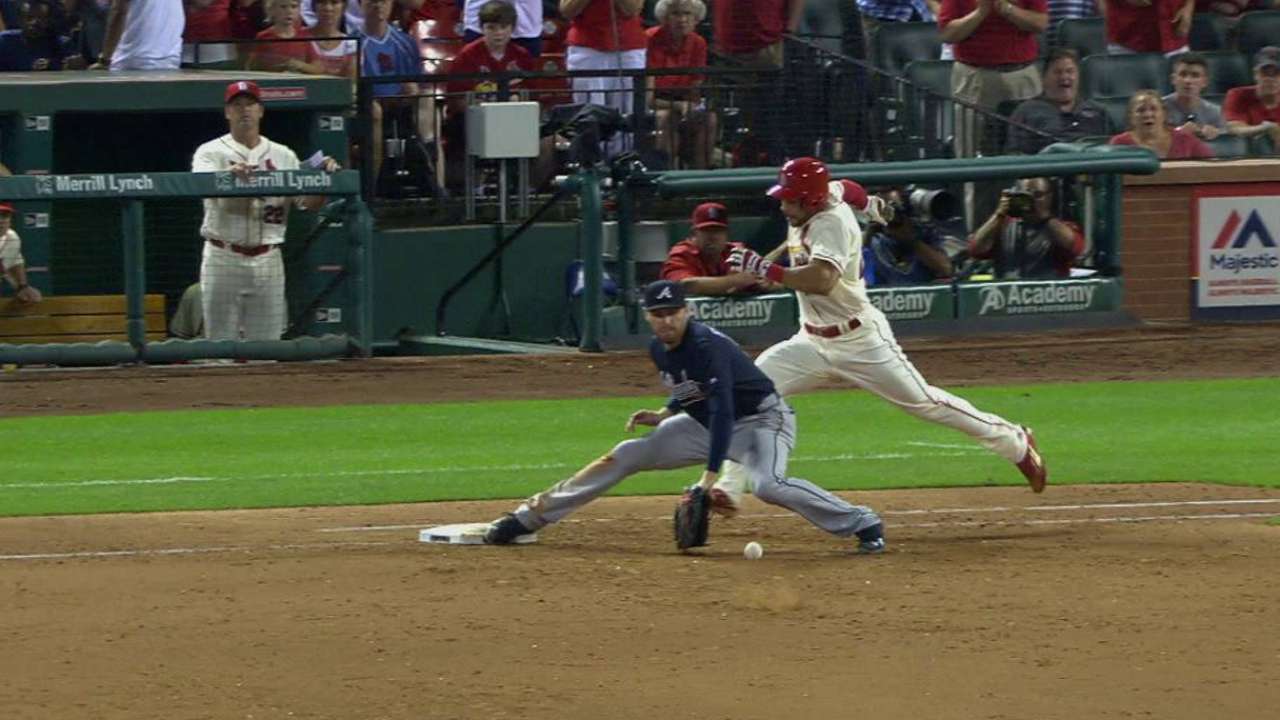 WHAT'S NEXT
Braves: Mike Foltynewicz (4-4, 4.30 ERA) takes the hill for the Braves in the series finale against the Cardinals on Sunday at 2:15 p.m. ET. Inciarte will also look to extend his hitting streak to 18 games, which would tie his career high. Foltynewicz has never faced St. Louis in his career.
Cardinals: Adam Wainwright (9-5, 4.14 ERA) will make his 12th career start against the organization that drafted him in a 1:15 p.m. CT start on Sunday. St. Louis is 14-4 in Wainwright's last 18 starts, and he hasn't been tagged with a loss since June 27 against Kansas City. Wainwright is 4-1 with a 2.88 ERA in five career starts against Atlanta at Busch Stadium.
Watch every out-of-market regular-season game live on MLB.TV.
Nick Krueger is a reporter for MLB.com based in St. Louis who covered the Braves on Saturday.

Joe Harris is a contributor to MLB.com based in St. Louis who covered the Cardinals on Saturday.

This story was not subject to the approval of Major League Baseball or its clubs.