Caminero trade sees Locke move back to 'pen
Flame-throwing right-hander was traded to Mariners on Saturday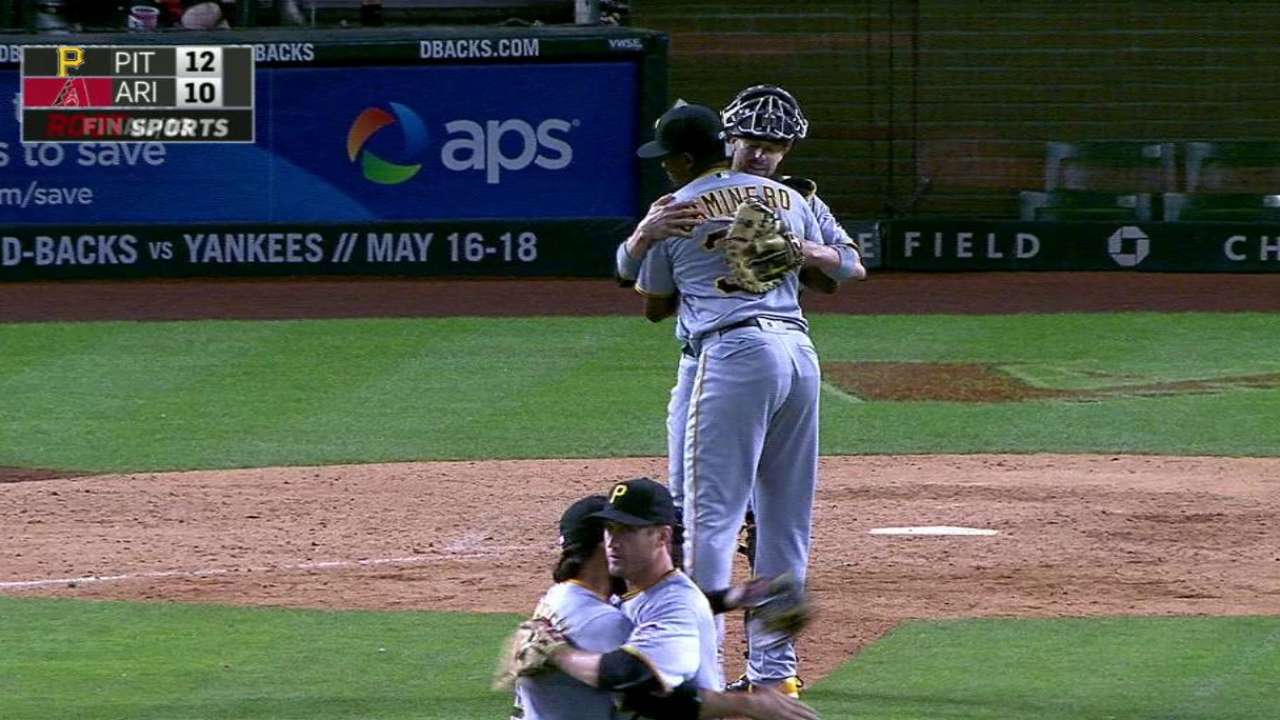 PITTSBURGH -- The Pirates traded hard-throwing reliever Arquimedes Caminero to the Mariners on Saturday, setting in motion a series of pitching moves.
Pittsburgh sent Caminero, who came into his own as a flame-throwing middle reliever over the last two seasons, to Seattle in exchange for a player or players to be named later. The Pirates will have the choice to ask for one player or two players from a separate, agreed-upon list.
"We helped him. He helped us," Pirates manager Clint Hurdle said. "There were lessons to be learned here that I think he can take moving forward to continue to work hard to improve and get better and be consistent and be the best reliever he can be."
The 29-year-old right-hander went 6-3 with a 3.58 ERA, 105 strikeouts and a 1.38 WHIP in 112 appearances with the Pirates. His time in Pittsburgh was marked by extreme highs and lows, none more obvious than this season. He put together a 5.19 ERA in his first 19 appearances, then posted a 2.28 ERA over his last 20 outings.
In a corresponding move, the Pirates selected the contract of right-hander Curtis Partch from Triple-A Indianapolis.
Although the non-waiver Trade Deadline passed on Monday, clubs can still deal and acquire players who pass through waivers. In this case, the Pirates will net at least one player to be named later, likely a low-level Minor Leaguer. Players acquired by Aug. 31 are eligible for postseason rosters.
With Caminero gone, left-hander Jeff Locke -- who struggled in his return to the rotation on Wednesday -- will move to the bullpen. Shifting Locke to the bullpen along with Juan Nicasio gives the Pirates two true multiple-inning relievers, one of their plans since Spring Training.
"That's one of the benefits, to have two guys out there that can pitch multiple innings," Hurdle said. "We didn't do it to strengthen the bullpen. We're doing it to hopefully strengthen the rotation as well."
To that end, the Pirates will likely call up right-hander Chad Kuhl to start Tuesday's series opener against the Padres at PNC Park. Kuhl was lined up to pitch Saturday for Indianapolis, but he was scratched and replaced by lefty Kyle Lobstein.
Kuhl pitched well in his last start for the Pirates, holding the Nationals scoreless for six innings on July 17.
The Pirates will give Ryan Vogelsong and Jameson Taillon an extra day of rest before they pitch on Wednesday and Thursday, respectively.
Conveniently, the extra day off sets up Vogelsong to start the Pirates' series opener in San Francisco on Aug. 15. Vogelsong revived his career with the Giants in 2011 and won two World Series rings there in '12 and '14.
While Kuhl remains in Triple-A, the Pirates can carry an additional reliever in Partch, who allowed three runs without recording an out for the Pirates on June 19. Partch owns a 2.05 ERA in 48 1/3 innings in Triple-A this season.
"Put him back in play here and see if there's growth, see how it plays out, give him the opportunity, because it was a very short look," Hurdle said.
Adam Berry has covered the Pirates for MLB.com since 2015. Follow him on Twitter at @adamdberry. This story was not subject to the approval of Major League Baseball or its clubs.