Girardi plans to maximize use of 3 backstops
With Sanchez ticketed to play a lot, McCann, Romine will see time in other roles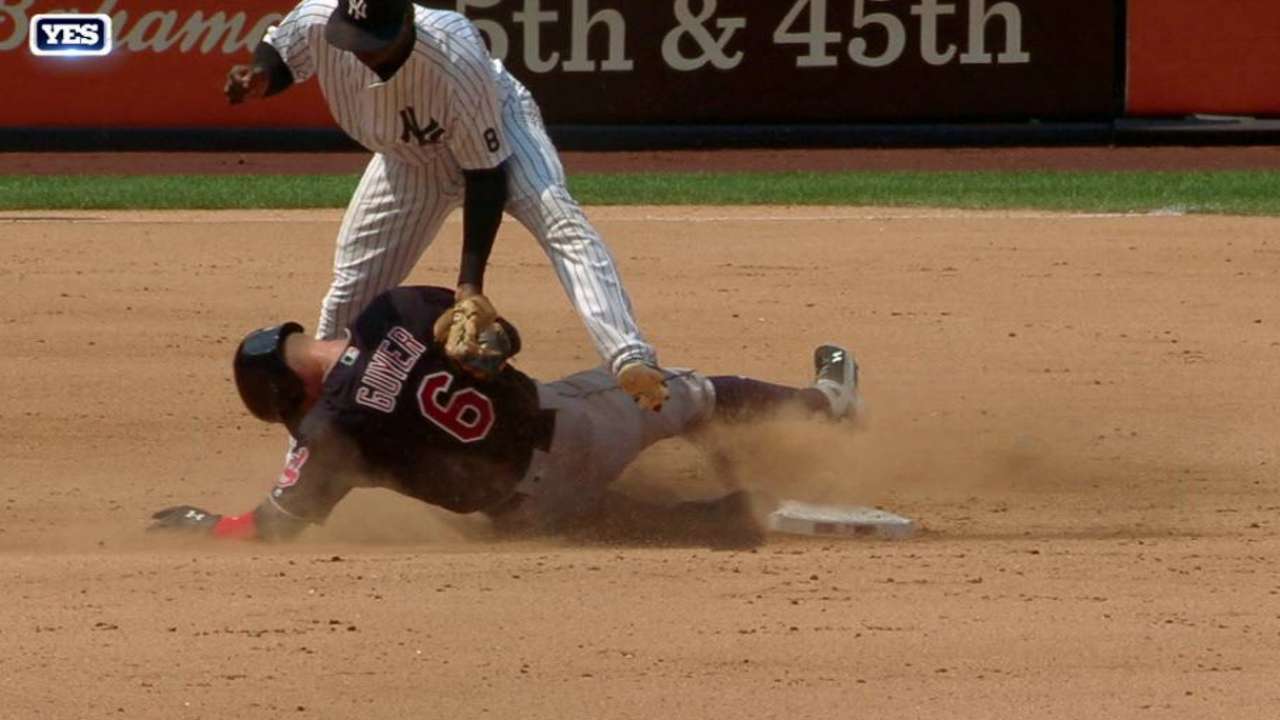 NEW YORK -- Gary Sanchez isn't in the Bronx to observe.
As Yankees manager Joe Girardi has repeatedly said over the four days since the team's No. 5 prospect was called up from Triple-A Scranton/Wilkes-Barre, the Yankees are going to find a way to get Sanchez into the lineup as often as possible. For the second straight day, the Yankees achieved this by slotting Sanchez in as the catcher in Saturday's 5-2 loss to the Indians.
But lining Sanchez up at catcher creates a bit of a logjam for Girardi. At the moment, the Yankees are carrying three catchers on their roster, with Brian McCann and Austin Romine still options on any given day. And, as seemingly difficult as it may be, Girardi insists all three will gets reps behind the plate.
"Like I said, [Sanchez is] here to play," Girardi said. "So he's going to play. The other guys are going to play, as well. But he did a nice job last night."
Sanchez impressed yet again on Saturday, doubling for the third consecutive game and throwing out his third runner in two days. Starting pitcher CC Sabathia complimented Sanchez's poise and confidence, saying the distinctions between being caught by Sanchez, McCann and Romine are pretty small already.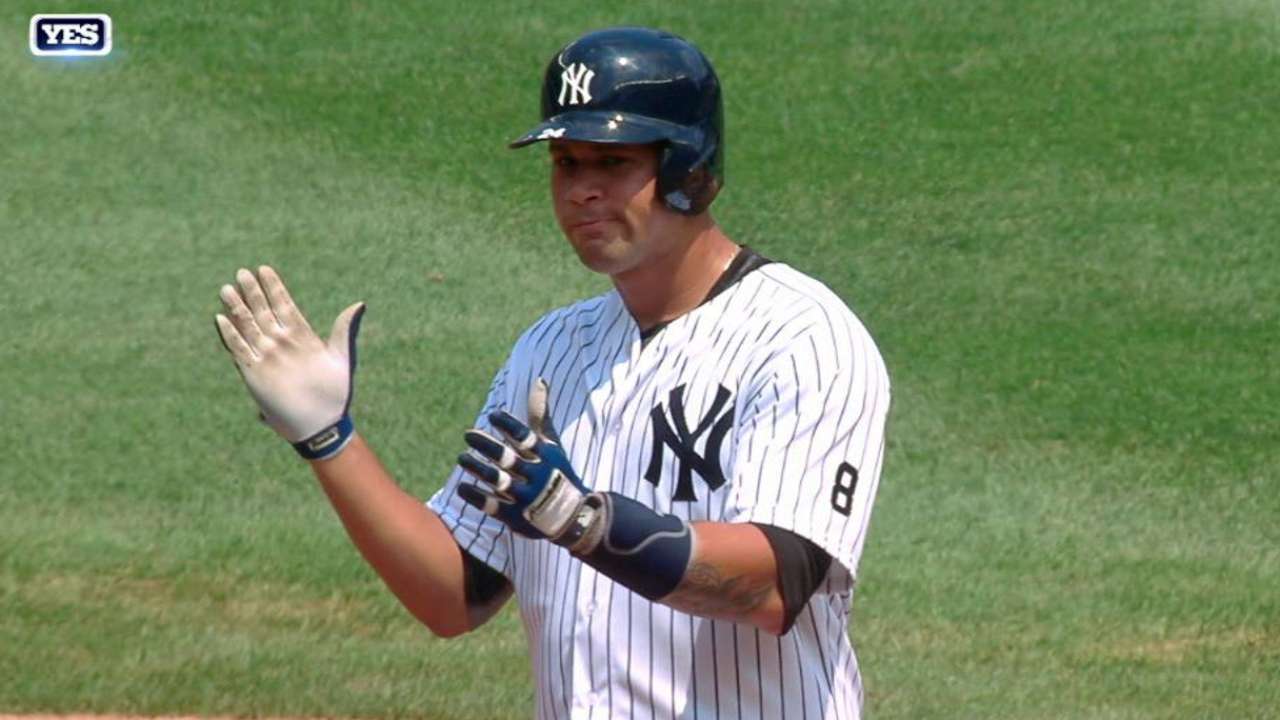 Sanchez credits his growth into a steadying presence behind the plate to the hard work he put in down in the Minors.
"Definitely the hard work is paying off for me behind the plate," Sanchez said. "That's why I think I'm better today than I was a couple of years ago."
At a cursory glance, keeping three catchers on a roster already weighed down by a player who can't play more than four consecutive days (Mark Teixeira) and a player who can only be used as a designated hitter (Alex Rodriguez) might be a complicated burden. But, in Girardi's mind, his trio of backstops affords him a little more flexibility than most.
McCann has been the DH each of the past two days -- and both he and Romine are capable of playing first base if called upon. With Teixeira's health as a recurring question mark and the Yankees' lack of surefire first basemen heading into 2017 looming, that flexibility is huge.
McCann has played 19 games at first base in his 12 year career -- including twice this season. That number may soon grow, though, as Girardi revealed that he's encouraged McCann to practice taking ground balls at first before games, especially now that there is a new catcher in the rotation.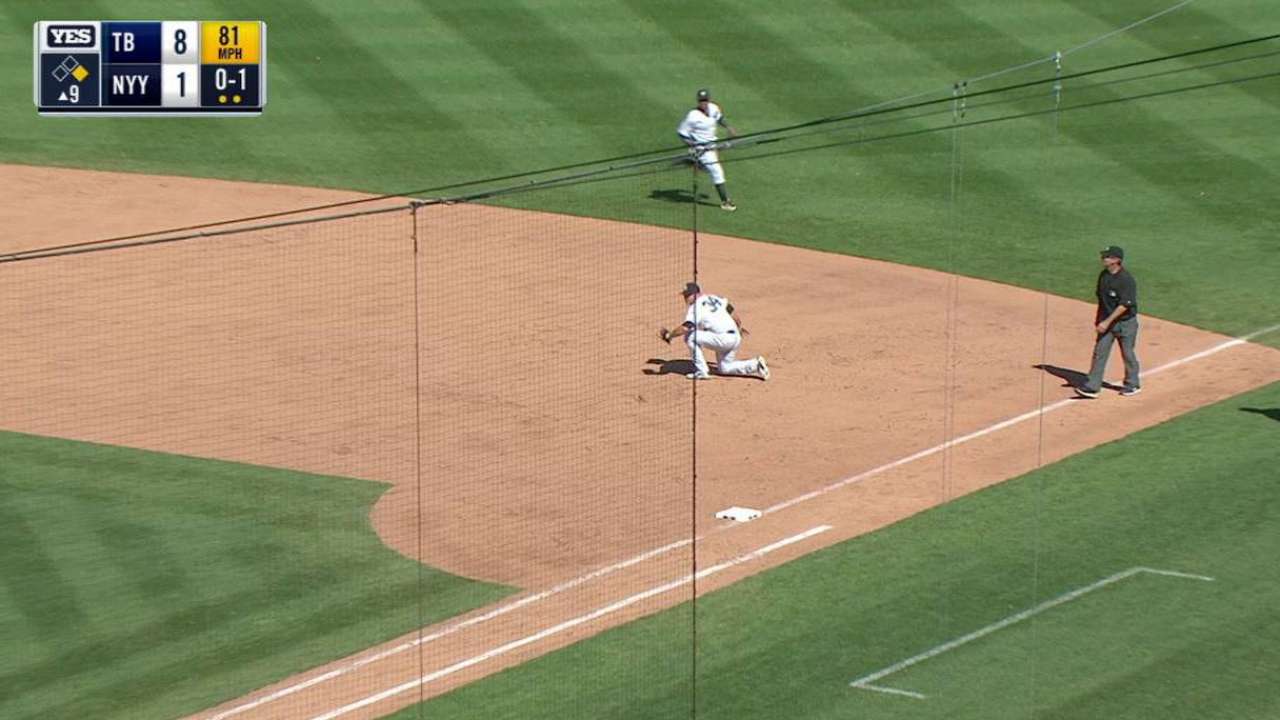 "I told Brian that he should take some grounders at first -- just to give us some options going forward," Girardi said. "I don't have plans of playing him there [on Sunday] or the next day, but I said just take them so ... we're prepared."
McCann said after Saturday's game that he's receptive to Girardi's suggestion and will begin working at first base, adding that he's happy to play wherever Girardi puts him. McCann cited his familiarity at both first base and designated hitter as a huge reason he's comfortable with passing some of his reps at catcher over to Sanchez.
"I've DH-ed before, I've played a little bit of first," McCann said. "So it won't be that big of a transition."
Worth noting
The Yankees called up left-handed relief pitcher Chasen Shreve prior to Saturday's game. Girardi said Shreve was brought back up because he felt Shreve made improvements when it came to locating his breaking ball, especially against left-handers. In a corresponding move, the Yankees optioned reliever Johnny Barbato to Scranton/Wilkes-Barre.
Shreve pitched 1 1/3 scoreless innings on Saturday, allowing one hit and striking out two, as he lowered his ERA to 4.07.
Nick Suss is a reporter for MLB.com based in New York. This story was not subject to the approval of Major League Baseball or its clubs.