Myers emerges from slump with 3-for-4 night
Padres first baseman hits first homer in 17 games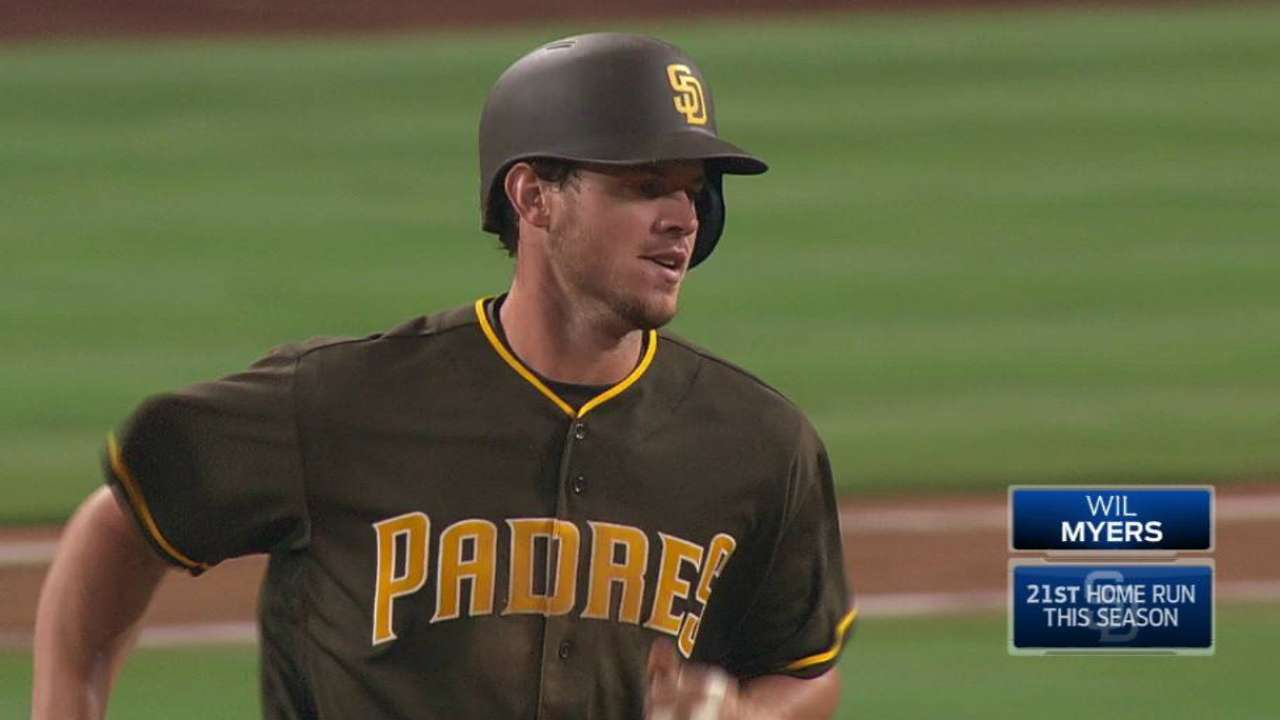 SAN DIEGO -- One hundred and six games into the 2016 season and Wil Myers has been, for the most part, unstoppable.
After hitting his 21st home run of the season during a 3-for-4 night in Friday's 5-4 loss to the Phillies, Myers again proved that to be the case. But his breakout campaign this season hasn't been perfect.
In between his latest prodigious display of power and his 20th home run -- back on July 15 vs. the Giants -- Myers experienced a 17-game stretch where he hit just .194 (12-for-62) with three extra-base hits.
"You go through struggles during the year, you're going to go through two or three in any season," Myers said. "You've just got to find a way to be productive whenever you're not swinging the bat."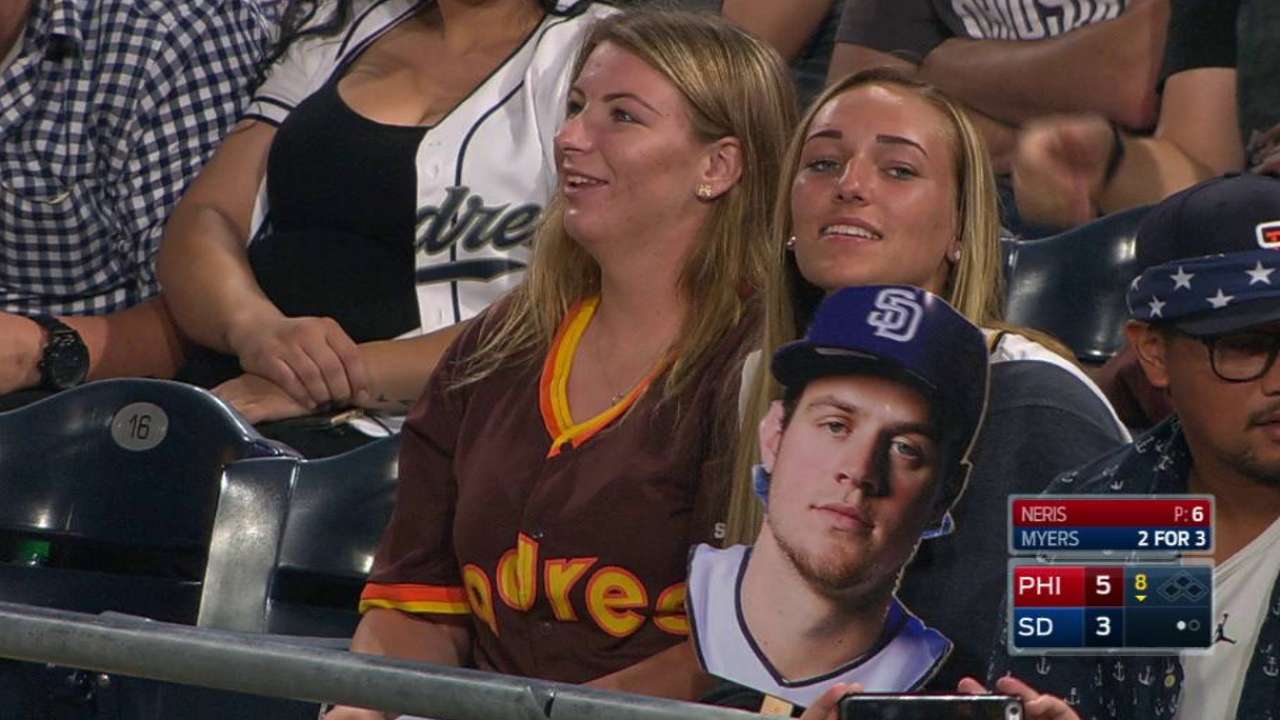 In previous years, finding that value eluded Myers. Partially because he was consistently dealing with injuries that kept him from swinging a bat, and partially because he's never walked or stolen bases at the rate he's managed this season.
"I used to never walk until, really, this year and saw how important they were," Myer said. "… Taking walks, stealing bases, doing anything you can, running the bases well. Those tough points are inevitable and you just have to figure out a way to get something done when you're in them."
While Myers was struggling during those 17 games, he still managed to post a .342 on-base percentage -- well above the league-average of .321 -- and steal six bases without being caught. His previous season-high in stolen bases was six. He's up to 21 this season.
Myers is finding ways to help the Padres, even while finding himself in one of those inevitable slumps. But with three multi-hit efforts in his last four games, the 25-year-old All Star might be breaking out of his most recent one, with his 21st homer serving as the exclamation point.
"I know it's been a stretch where he hasn't hit a home run," said Padres manager Andy Green. "But you look at a home run hitter. They go through like a nice month-long stretch where they don't hit 'em and then they get on a roll and hit about six or seven in an eight- or nine-day period.
"So he's got that within him too."
Myers showed that kind of concentrated power from June 1 to July 1, when he hit 12 home runs in 27 games and was one of the hottest hitters in baseball, with a 1.231 OPS. While he's not feeling back to that point, yet, he definitely seems to be moving past the struggles of the second half of July.
"I don't feel super hot," Myers said, "but I'm obviously swinging the bat better than I was. And I just want to keep that rolling."
Carlos Collazo is a reporter for MLB.com based in San Diego. Follow him on Twitter @CarlosACollazo. This story was not subject to the approval of Major League Baseball or its clubs.