Slow starter, Felix finishes with a flurry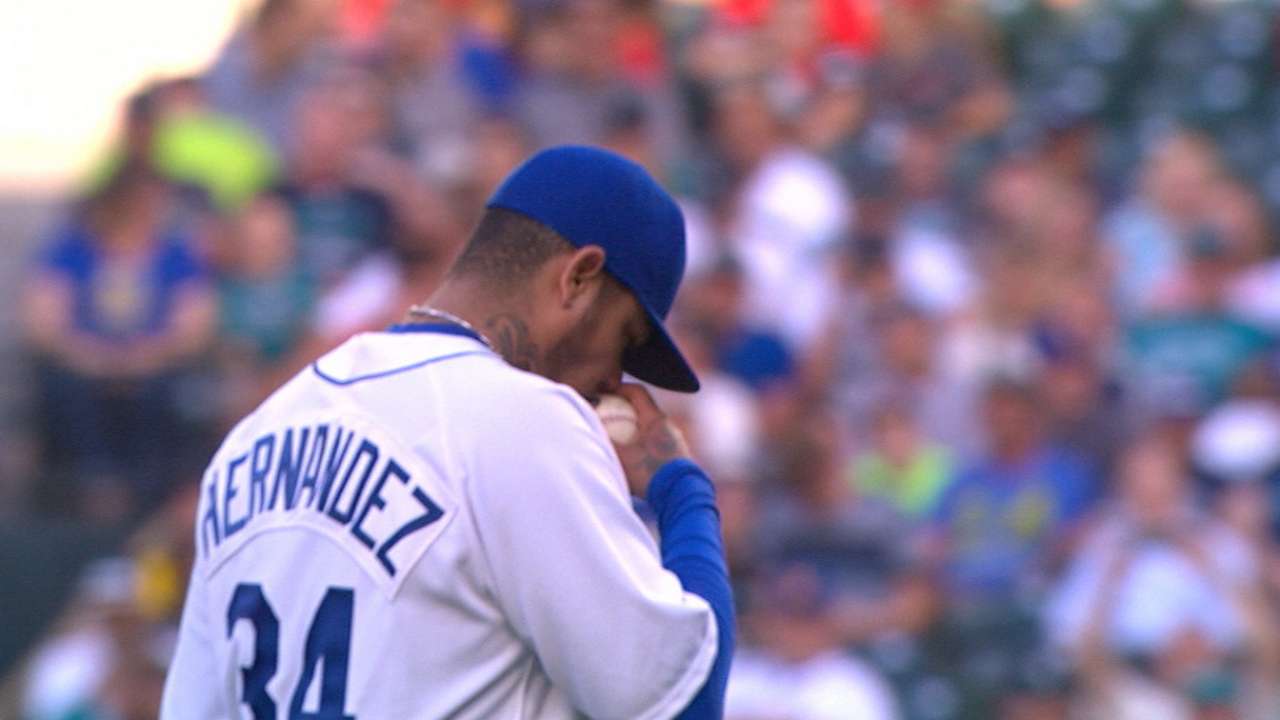 SEATTLE -- Scott Servais was kidding, but the Mariners manager does wonder what it's going to take to get Felix Hernandez off to faster starts after Seattle's ace survived another rocky first inning before settling in for a 6-4 win over the Angels on Friday.
"Maybe we should start a reliever in the first inning and then bring him in, that might be better," Servais said after Hernandez allowed three runs before recording an out, then rebooted and wound up throwing eight innings of three-hit ball to pick up his sixth win of the season.
What's up with the penchant for slow starts since coming off the disabled list following a seven-week absence with a strained right calf?
"That's a good question," Hernandez said. "I don't know. I've got to figure it out. I have to make good pitches in the first inning. I have to keep the ball in the stadium and get the ball down."
Hernandez allowed four runs in the first two frames of his initial two games after coming off the disabled list and was down 3-0 after eight pitches Friday.
Yunel Escobar ripped Hernandez's first pitch for a double, Kole Calhoun followed with a four-pitch walk and Mike Trout promptly unloaded a three-run rocket to left field.
Trout and Hernandez have had an interesting rivalry throughout their career. Hernandez has struck Trout out 24 times, more than any other batter he's faced in his 12 years in the Majors. But Trout has certainly won his share of the battles, batting .373 with six homers and 18 RBIs in 75 at-bats against Seattle's ace.
"It's a challenge," said Hernandez, who whiffed Trout twice after the first-inning blast. "It's back and forth. He's a good guy. We talk a lot. It's a challenge, facing one of the best hitters in the game, and you just go out there and make good pitches. If they miss, I'm going to pay. If they don't, I have success."
Hernandez looked much more like his familiar self after the first inning as the Angels were 1-for-24 in his final seven frames, with Jett Bandy's homer in the fifth the only other hit.
"He's struggled in the first inning, no doubt, to get the adrenaline pumping and locating pitches," Servais said. "After that though, I give him credit. He hung in there. I said to him tonight, you've had some years where they haven't scored you many runs, but this year we've scored him a few. And he's needed it. But to his credit, he's locked down. He hasn't bailed, he's hung in there and given us a chance to come back."
Indeed, Hernandez is now 2-0 in his four starts since coming back despite a 5.26 ERA in those outings. And after his teammates responded with six runs in the bottom of the first off Tim Lincecum following his rough start, the 30-year-old desperately wanted to go deep into the game and hold up his end.
"That's important for me, man," he said. "The guys gave me some run support. In my mind, I just wanted to go out there and throw a good game for them."
The eight innings was Hernandez's longest outing since Sept. 10 of last season against the Rangers. It was his 23rd time pitching at least eight innings with three or fewer hits since 2005, the second-most in the Majors in that span behind only Clayton Kershaw with 30.
Greg Johns has covered the Mariners since 1997, and for MLB.com since 2011. Follow him on Twitter @GregJohnsMLB and listen to his podcast. This story was not subject to the approval of Major League Baseball or its clubs.