D-backs' Tomas finding power stroke at home
Slugger homers in 3rd straight game with pair in 3-2 win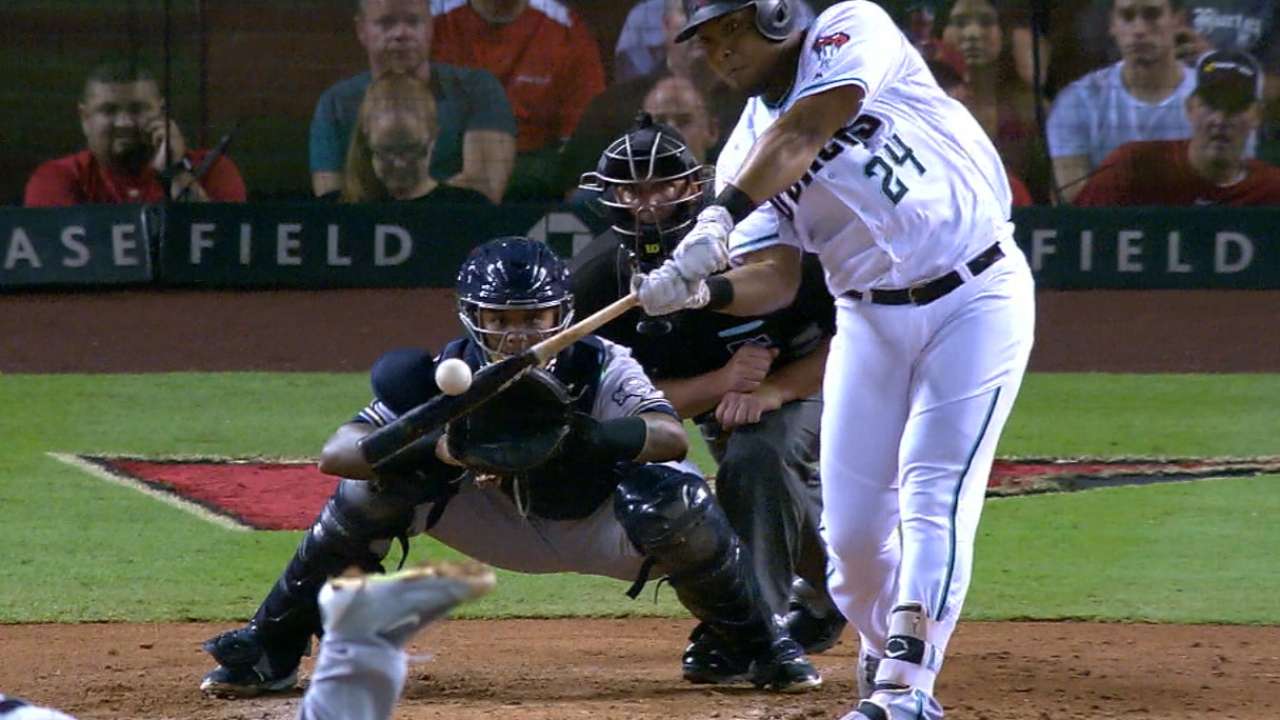 PHOENIX -- Yasmany Tomas has adjusted to a new country, new surroundings and a new league. Now that the D-backs outfielder is more comfortable and continuing to put in the mechanical work to finetune his swing, he is reaping the benefits.
Tomas clubbed a pair of solo homers in Arizona's 3-2, 11-inning win over the Brewers on Friday night at Chase Field. He drove in the D-backs' only two runs prior to Welington Castillo's bases-loaded walk that won it in the 11th.
"It's just probably some experience, it's a tough spot coming over from [Cuba] last year and coming pretty much straight to the big leagues and facing all these pitchers," D-backs first baseman Paul Goldschmidt said. "He's definitely been learning and getting better every day."
It was Tomas' sixth multi-homer game of the season, but his first at home. Prior to this week, that had been the story of Tomas' season -- tremendous success on the road, but less so in the friendly confines of Chase Field, traditionally a hitter's ballpark.
After a road trip in which he hit .375 (15-for-40) with four homers in 10 games, Tomas adjusted his pregame routine at home to one more similar to a road game. So far, it's worked out nicely.
Tomas hit just three homers in his first 46 games at home, but he has four homers in the last three -- the first time he's hit home runs in consecutive games in his career.
"I'm finishing my swing. Before, my swing was kind of cut off a little bit, so now I'm trying to find a good extension right after I make the swing," Tomas said through his interpreter. "When I've got a good extension, I've found with my swing I believe I can hit the ball with more power. That's the only difference."
Tomas homered in the second and fourth innings off Brewers starter Chase Anderson, who was Tomas' teammate in Arizona last season. The D-backs left fielder smashed a one-out shot to left, then took a fastball the opposite way to right for his second homer.
"Last year was a bit of a struggle, coming over from Cuba and transitioning," Anderson said. "I can't even imagine that. I'm sure that's tough, but this year he's starting to swing the bat a little bit and becoming a better player. He's obviously got the tools, that's for sure. He got the best of me tonight."
Arizona manager Chip Hale said he has been impressed with Tomas' improved discipline at the plate, laying off of pitches outside the zone.
"That's the toughest thing is facing guys for the first time and not just random guys, the best guys in the world," Goldschmidt said. "For him to probably get a little bit more comfortable and now have some experience to go off of, it makes it a little bit easier to lay off those pitches and get your own pitch."
Jake Rill is a reporter for MLB.com based in Phoenix. This story was not subject to the approval of Major League Baseball or its clubs.