Britton putting together historic season
O's lefty riding streak of 37 games without an earned run
Since becoming a closer early in the 2014 season, Orioles southpaw Zach Britton has left his days as a struggling starter far behind. Although he might not have the national name recognition of an Aroldis Chapman or Craig Kimbrel, Britton has been as effective as any reliever over that time, ranking second in ERA (1.48), tied for fourth in saves (107) and in a virtual tie for first in save success rate (93 percent).
So far in 2016, Britton is taking his performance to an even higher level. In fact, the 28-year-old is putting himself in the conversation for the best season ever produced by a modern closer.
For one thing, it's been nearly impossible to score against Britton, who closed out the Orioles' 7-5 win over the White Sox on Friday. Over 48 games and 46 2/3 innings, he has allowed just six runs, three of them earned, for a 0.58 ERA. Not only does that lead all pitchers with as many as 20 innings, but nobody else is below 1.00.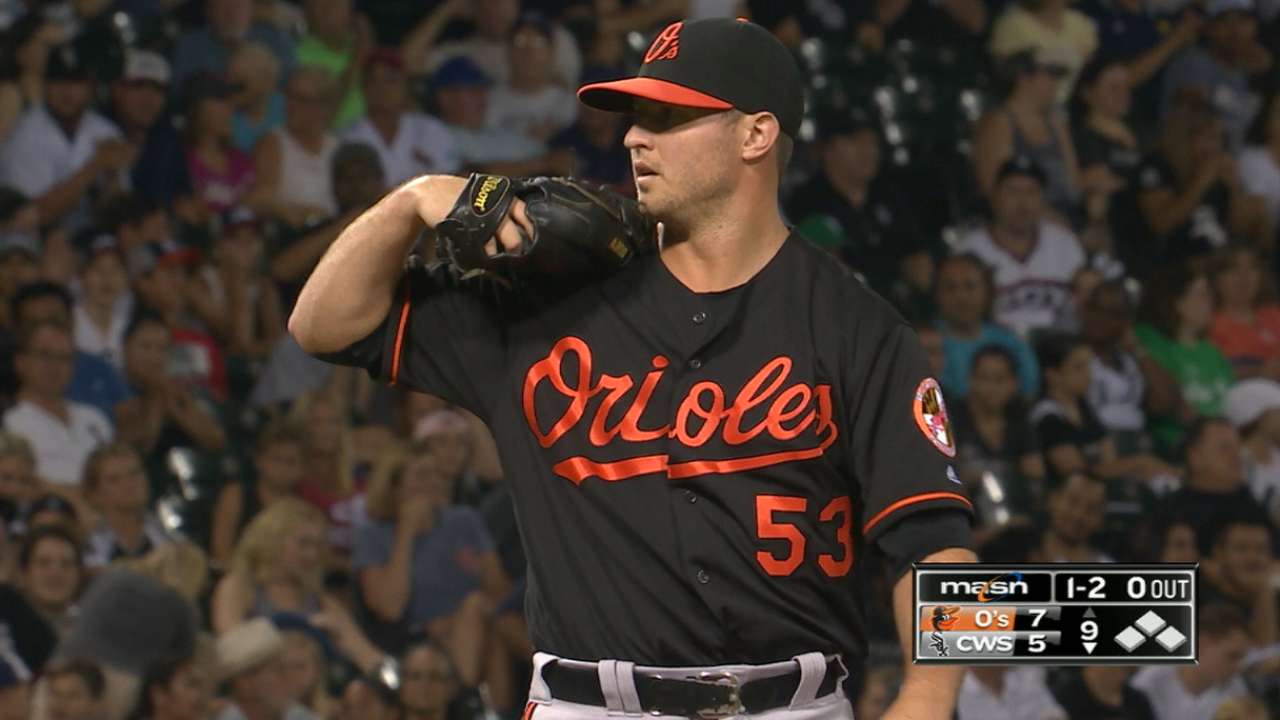 Even that undersells how effective Britton has been for much of the season. He hasn't been charged with a run of any kind in his past 19 appearances (17 innings), and he hasn't let up an earned run since April, a span of 37 games and 36 2/3 innings. Britton is now one appearance of no earned runs from tying the MLB record for the longest such streak, held by Kimbrel (2011) and Brett Cecil ('15-16).
Britton even has helped out his teammates' ERAs. Of the 14 runners already on base when he has entered a game this season, just one has come around to score.
ERA also doesn't tell the full story of how difficult it has been for opponents to hit Britton. He has dominated both left- and right-handed batters, who, entering Friday had a combined line of .142/.208/.200 with seven extra-base hits -- six of them doubles. That works out to a park-adjusted OPS+ of 9 -- in other words, 91 percent below league average. The only pitchers to post a single-digit OPS+ in 40 or more innings are Kimbrel (1 in 2012), Eric Gagne (4 in '03) and Koji Uehara (8 in '13).
Of course, a closer's main job these days is to save games, and Britton has successfully completed each of his 34 opportunities. Only three pitchers have enjoyed a perfect season while getting that many chances: Gagne (55 in 2003), Jose Valverde (49 in '11) and Brad Lidge (41 in '08).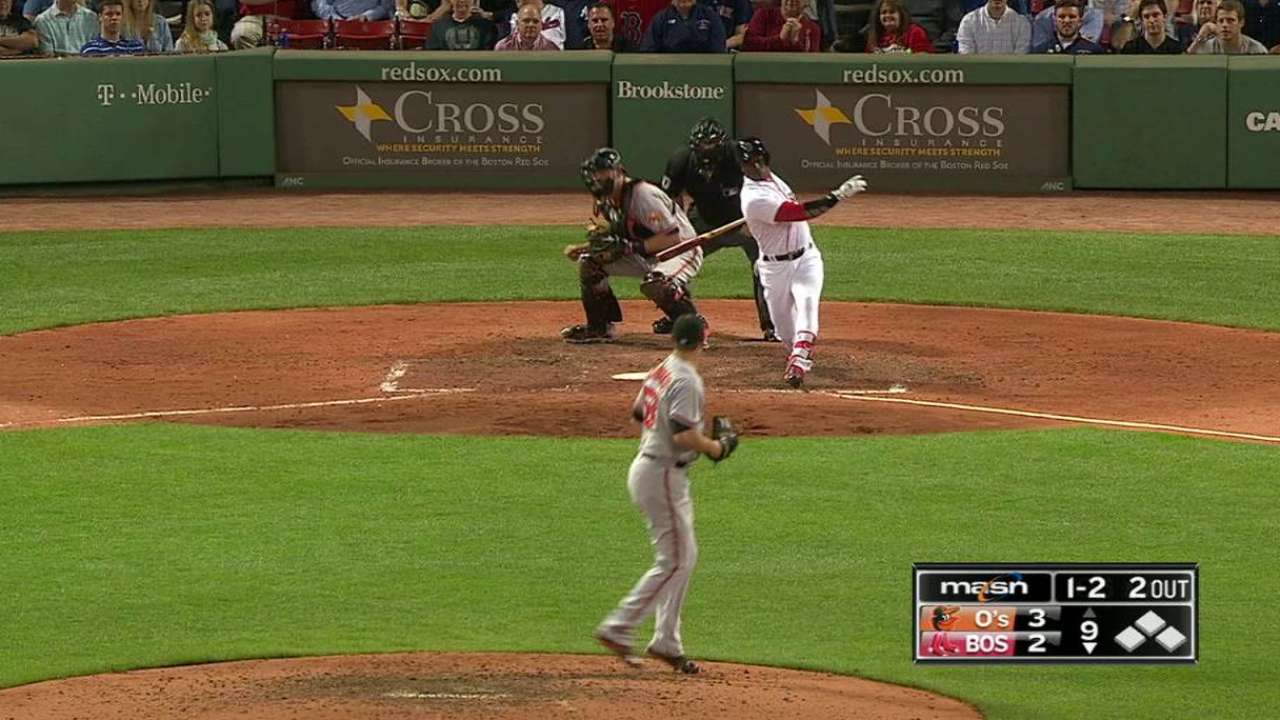 Comparing relief pitchers across eras is silly, because the nature of the job has changed so radically, with bigger bullpens, more specialization and shorter outings. In 1980, 45 full-time relievers reached 80 innings; last season, that number was two. Today's closer bears little resemblance to the likes of Hall of Famer Goose Gossage, who, in 1975, racked up more than 8 wins above replacement by tossing 141 2/3 innings over 62 games while picking up 26 saves.
With that caveat, Britton is in line to join some select company, provided he can stay strong down the stretch for the contending Orioles. Here are the only pitchers to combine an ERA no higher than 1.20 and an opponent OPS+ of less than 40 with 30-plus saves and no more than two blown saves:
1. Gagne, 2003 Dodgers: 77 G, 82 1/3 IP, 1.20 ERA, 55-for-55 SV
2. Fernando Rodney, 2012 Rays: 76 G, 74 2/3 IP, 0.60 ERA, 48-for-50 SV
3. Dennis Eckersley, 1990 A's: 63 G, 73 1/3 IP, 0.61 ERA, 48-for-50 SV
Gagne won the National League Cy Young Award that year and was a dominant force, striking out 15 batters per nine innings and holding opponents to a .133/.199/.176 line. Rodney came out of nowhere, finishing the season by allowing one earned run in his last 45 innings. Eckersley had masterful control, issuing just three unintentional walks for the second straight year.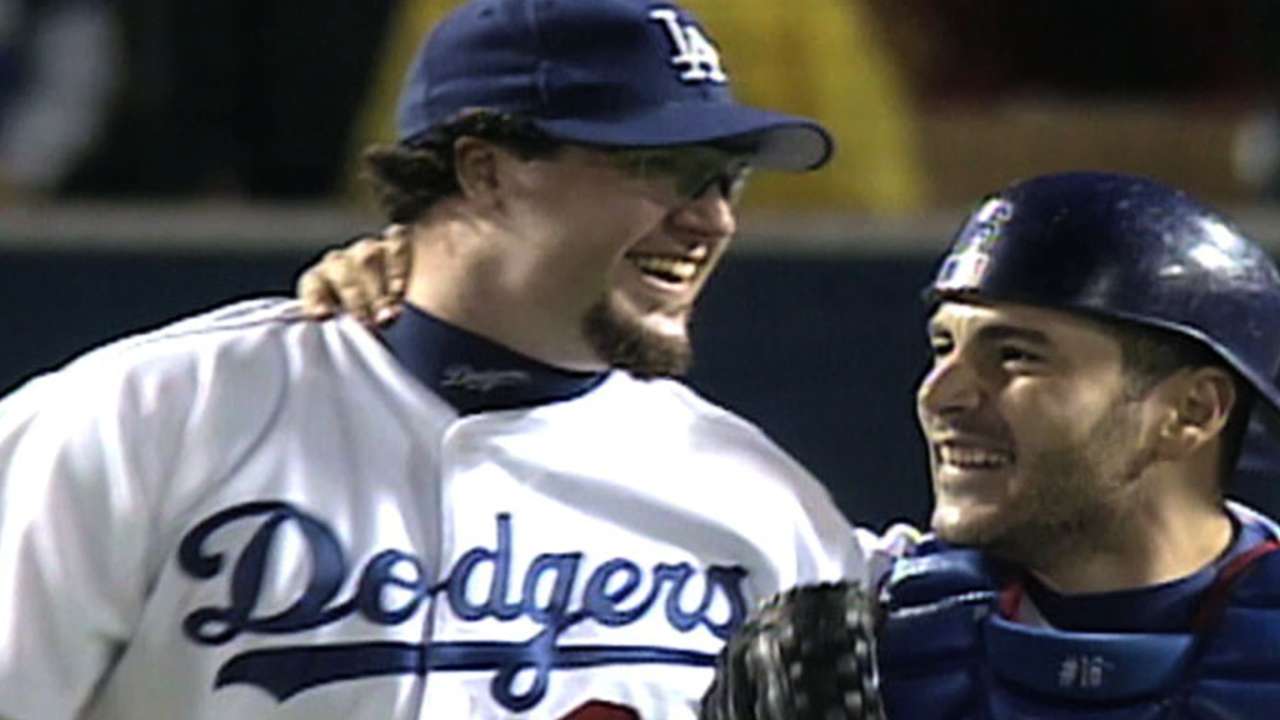 As for Britton, he is a bit of a rarity, and not just for the level of his performance. His left-handedness, nearly one-dimensional repertoire and ability to produce copious amounts of both whiffs and grounders make him a unique pitcher.
• Britton is only the sixth southpaw to have three or more seasons of at least 33 saves, something 43 righties have done.
• He throws his sinker, which averages better than 97 mph, more than 90 percent of the time. That's more than any other pitcher has used any particular offering this year (minimum 500 pitches), with Dodgers closer Kenley Jansen the closest. Jansen throws his cutter about 88 percent of the time.
• Batted-ball data is available going back to 2002. Since then, Britton's last three seasons rank first, second and fourth for highest ground-ball rate (minimum 40 innings). For the second straight season, Britton is inducing grounders on nearly 80 percent of batted balls, while striking out more than 30 percent of opposing hitters.
Put those two positive outcomes together, and nobody can match Britton. This season, 80.9 percent of plate appearances against him result in a strikeout or grounder. Among pitchers with 30-plus innings, Andrew Miller (71.3 percent) and Dellin Betances (69.5 percent) are his closest challengers.
Considering the difficulty of driving the ball in the air off Britton, it's no wonder he could be producing a special season.
Andrew Simon is a reporter for MLB.com. Follow him on Twitter @AndrewSimonMLB. This story was not subject to the approval of Major League Baseball or its clubs.