Tribe hopes rotation can snap out of funk
Tomlin's rough outing marks 5th straight game that starter pitches fewer than 5 IP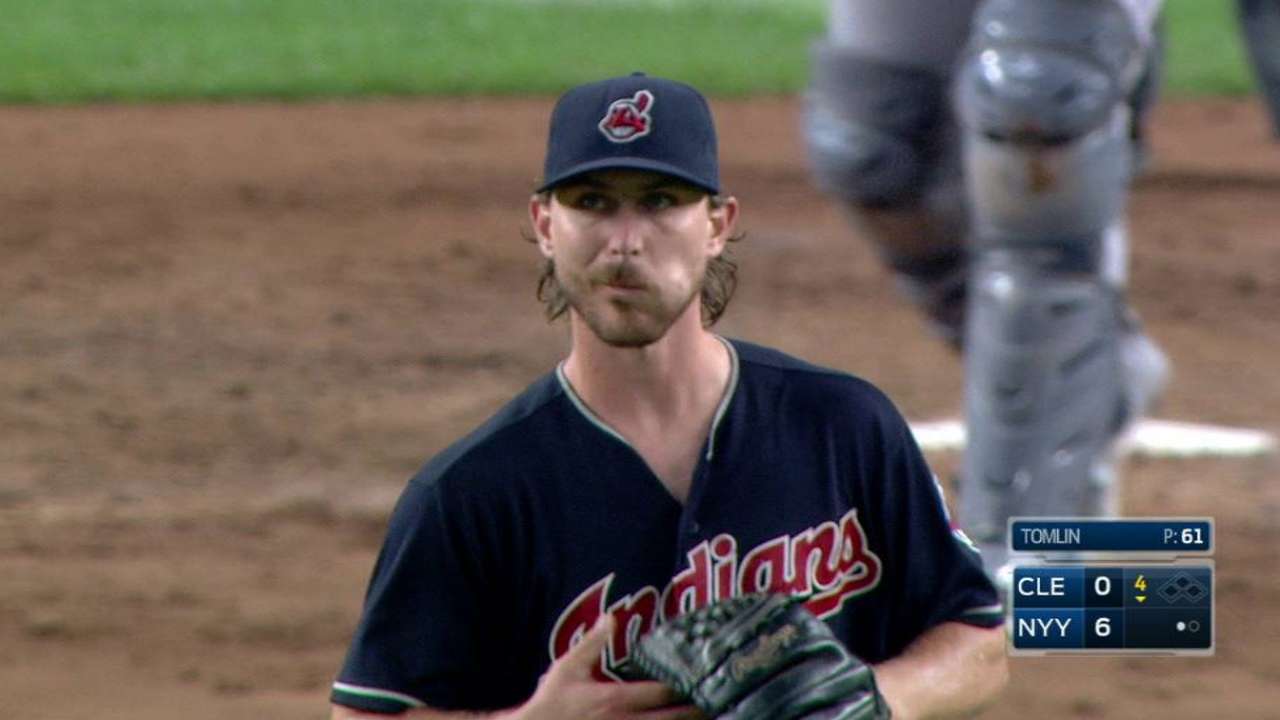 NEW YORK -- Terry Francona isn't exactly sure what's going on. He can't put his finger on why his starting rotation, once the toast of the American League, has struggled as mightily as it has this week.
In the moments after the Indians' 13-7 loss to the Yankees on Friday night at Yankee Stadium, Francona could only hope that Corey Kluber puts a stop to the skid Saturday. Right-hander Josh Tomlin was chased after an ineffective 4 2/3 innings, marking the fifth consecutive game a Cleveland starter has been unable to pitch five innings. The Indians have lost four of five games in that stretch.
"It's still a tough pill to swallow whenever the offense is clicking like they're clicking and we're not doing the job we're supposed to be doing," said Tomlin, who allowed nine hits and two walks.
It's been an ugly stretch for the Tribe, which allowed at least 10 runs just four times in its first 102 games. The Indians have already matched that five games into August.
Tomlin's outing was the latest in a series of costly starts. He surrendered one run over the first two frames and became undone in the third. After Brian McCann doubled in Jacoby Ellsbury, Tomlin intentionally walked Chase Headley to load the bases for Starlin Castro.
Castro sent Tomlin's second offering into the seats.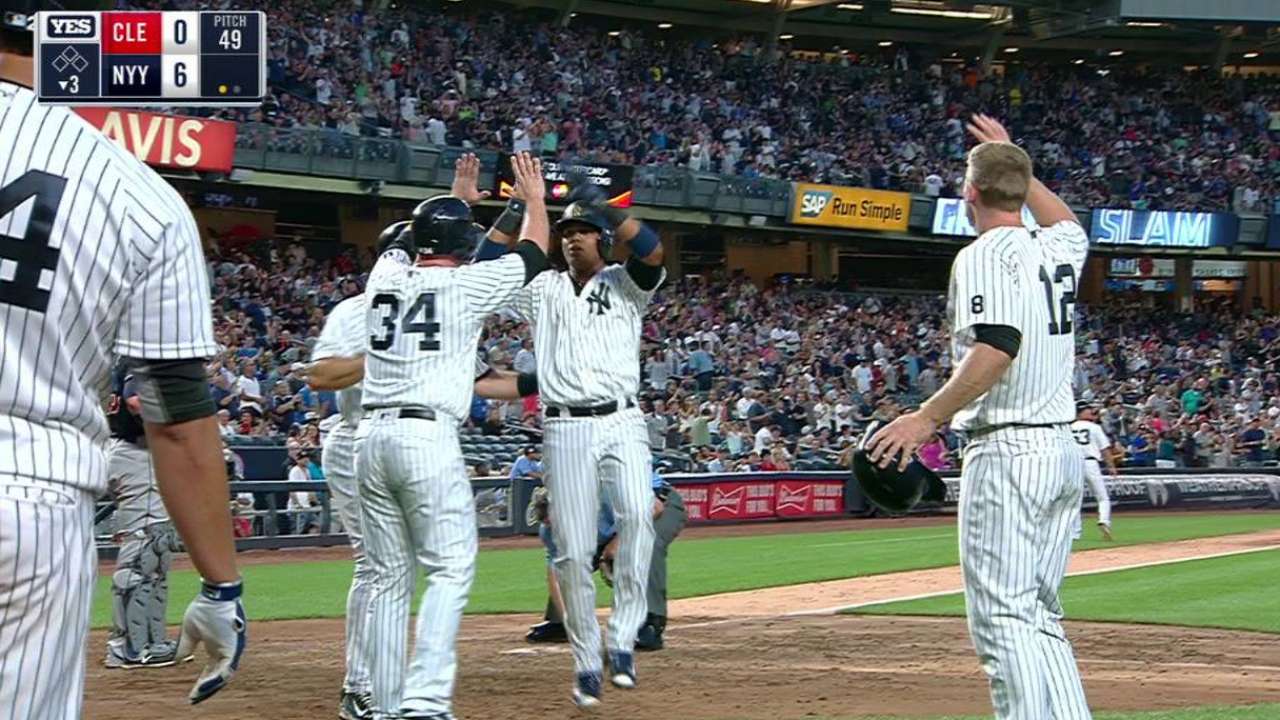 "Too many pitches over the plate," Tomlin said. "Didn't execute when I needed to and then left a pitch out over the plate to Castro."
That the Yankees' offensive outburst (they had their second highest run total of the season) came on a night the Indians hit well, too, made the loss sting more. Cleveland recorded 11 hits, including a three-run homer off the bat of Chris Gimenez in the fifth.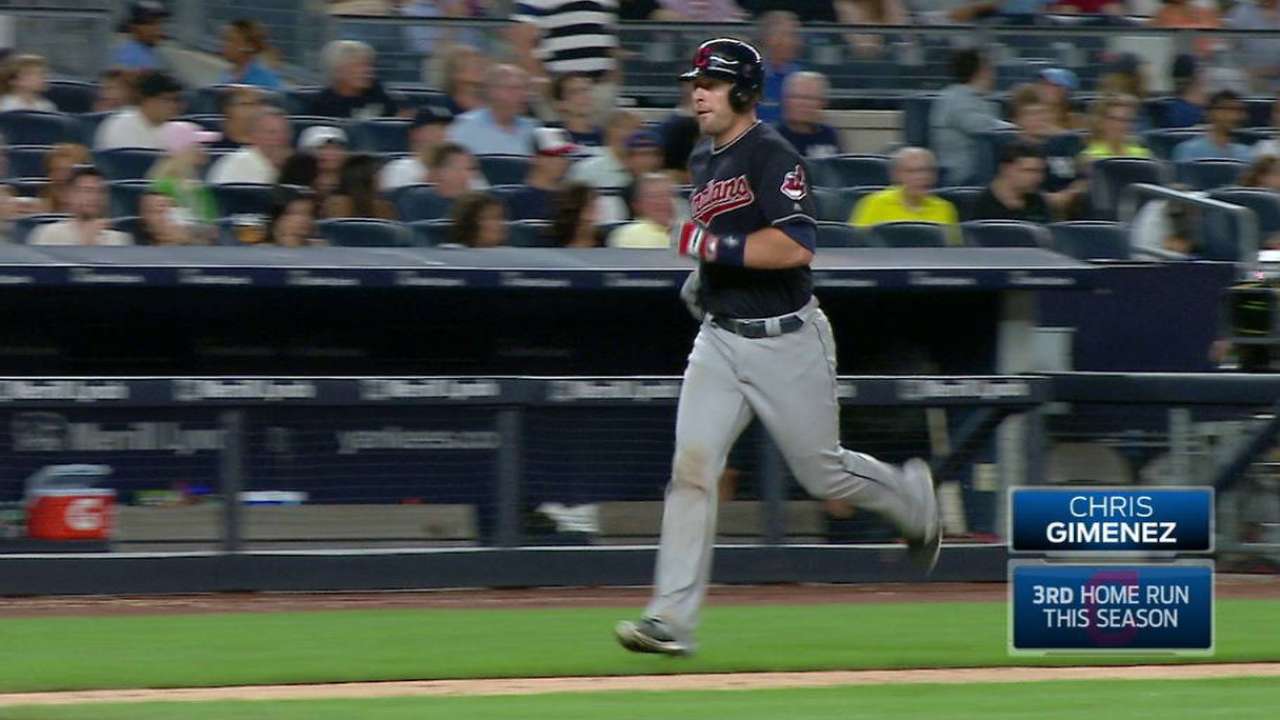 Francona couldn't explain his rotation's recent struggles. He lamented the toll the past few games have put on his bullpen, but he emphasized the importance of taking care of his starters.
Nevertheless, Francona is optimistic that his starters will turn it around.
In his last start, Kluber tossed seven scoreless innings en route to his 10th victory of the season. He allowed more than three earned runs just once over five July starts.
The Indians certainly hope he can help turn things around, especially as the Tigers continue to gain ground in the division. With a 4-3 win over the Mets, Detroit pulled to within two games of the first-place Tribe in the AL Central.
"We can't keep looking over our back and see who's trying to catch us," Tomlin said. "If we keep winning games, then no one can catch us."
Joshua Needelman is a reporter for MLB.com based in New York. This story was not subject to the approval of Major League Baseball or its clubs.