Sanchez shows off arm in catching debut
Yankees' No. 5 prospect nabs pair of potential basestealers in Friday's win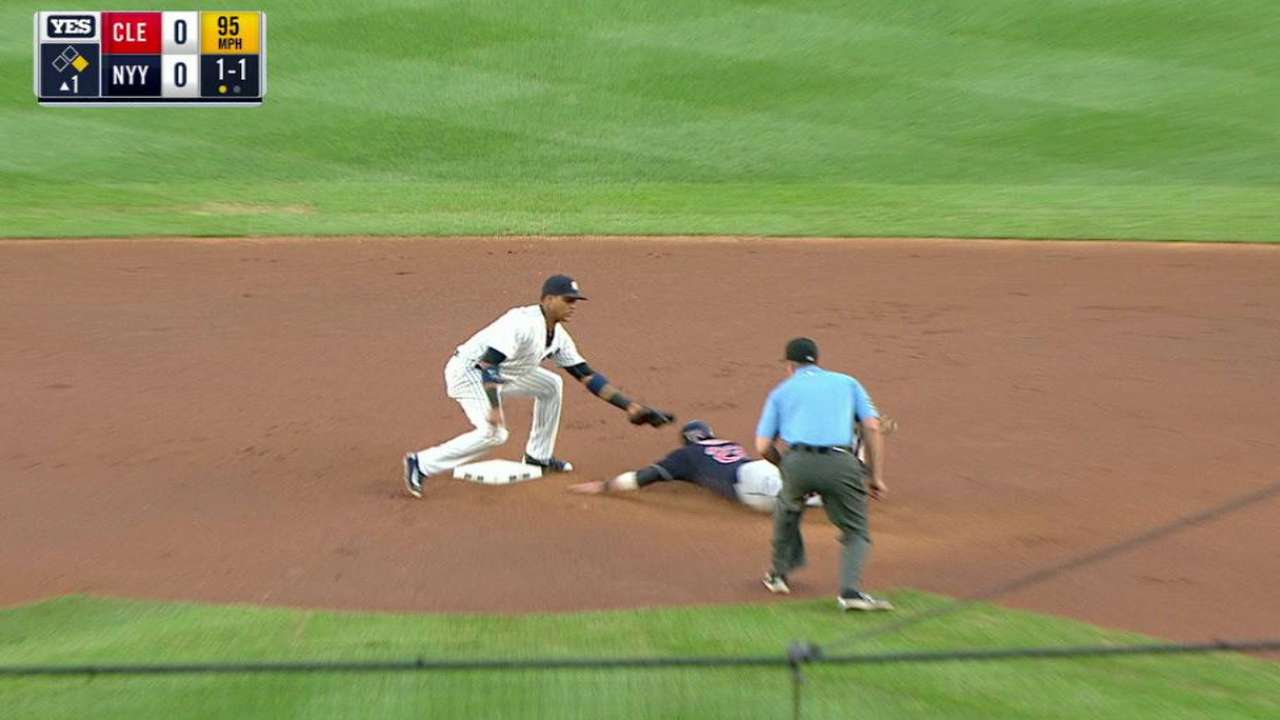 NEW YORK -- Major League debuts move fast. Luckily for Gary Sanchez, so do his throws.
Sanchez got his first taste of playing the field in his Major League career Friday night, catching all nine innings of the Yankees' 13-7 series-opening victory over the Indians. The 23-year-old catcher, who is the Yankees' No. 5 ranked prospect according to MLBPipeline.com, didn't wait long to make a mark. Twice in the first two innings, he showed off his electric arm, catching runners stealing for two of the first five outs the Yanks recorded.
Based on scouting reports, Sanchez's night behind the plate should come as no surprise. MLBPipeline.com grades his arm out at a 70 out of 80, tied for the best among baseball's top 10 catching prospects. But raw arm strength isn't everything. As Yankees manager Joe Girardi explained, Sanchez's growth behind the plate, especially over the past year, is more about technical nuance.
"He probably could've made that [throw] when he was 18," Girardi said. "He's got a great arm. But what was better is his exchange was quicker. That exchange was really quick. He has the ability to throw a lot of runners out."
By Sanchez's explanation, those caught stealings were more vital than just the average out. He said that being able to show off his strength helped him settle in and get comfortable behind the plate. And from there, that's where the actual strategy of catching had the opportunity to take over.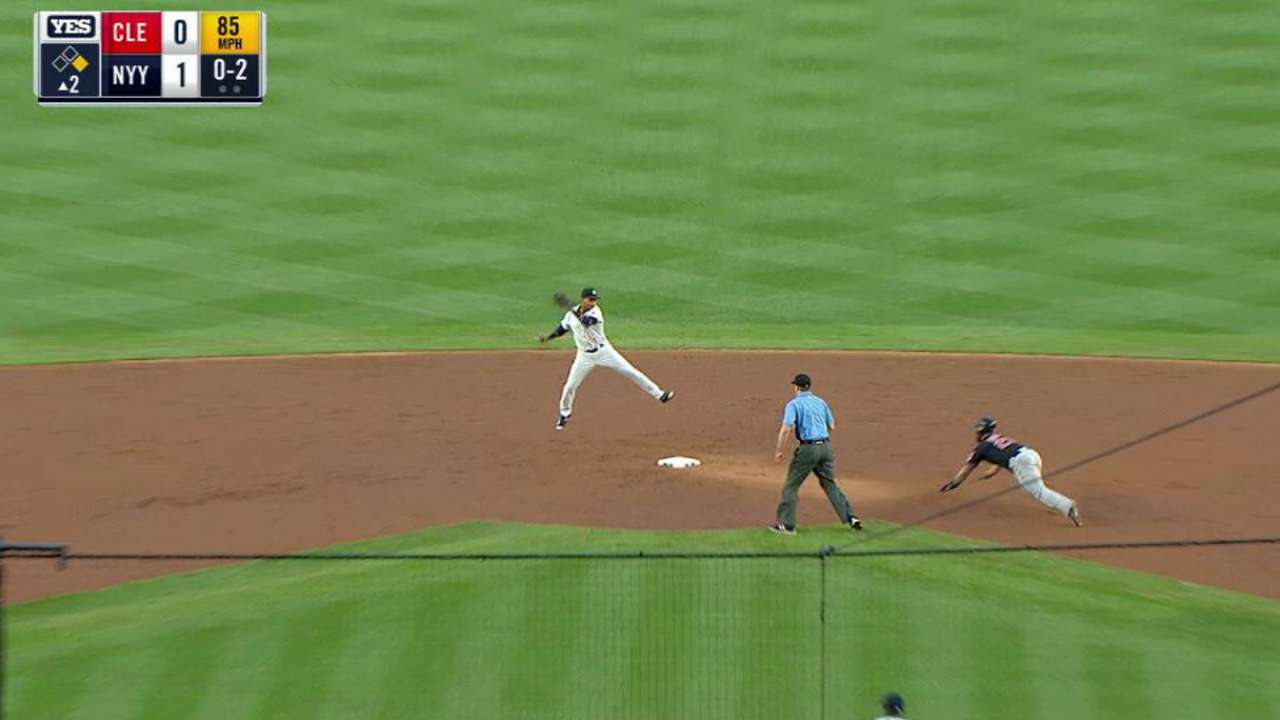 Starting pitcher Michael Pineda had a good enough night, striking out six batters in six-plus innings while allowing four runs and earning the win. Those numbers might not jump off the page, but the truly impressive part was the game plan Pineda and Sanchez collaborated on and executed, especially with how little they've worked together in the past.
The pair explained that they had a little exposure to one another back in Spring Training, when Sanchez caught a few of Pineda's bullpens. But other than that, they had very little familiarity. Still, Sanchez said that even one time catching a guy helps one know what to look for and how to call a game.
"It's definitely an advantage, because you have a pretty good idea of how the pitches move and cut," Sanchez said.
Friday wasn't purely a defensive night for Sanchez. The rookie went 1-for-4 with a double, a walk and two RBIs. The double was his second in two days, and he now has a hit in each of his three games since being called up earlier this week.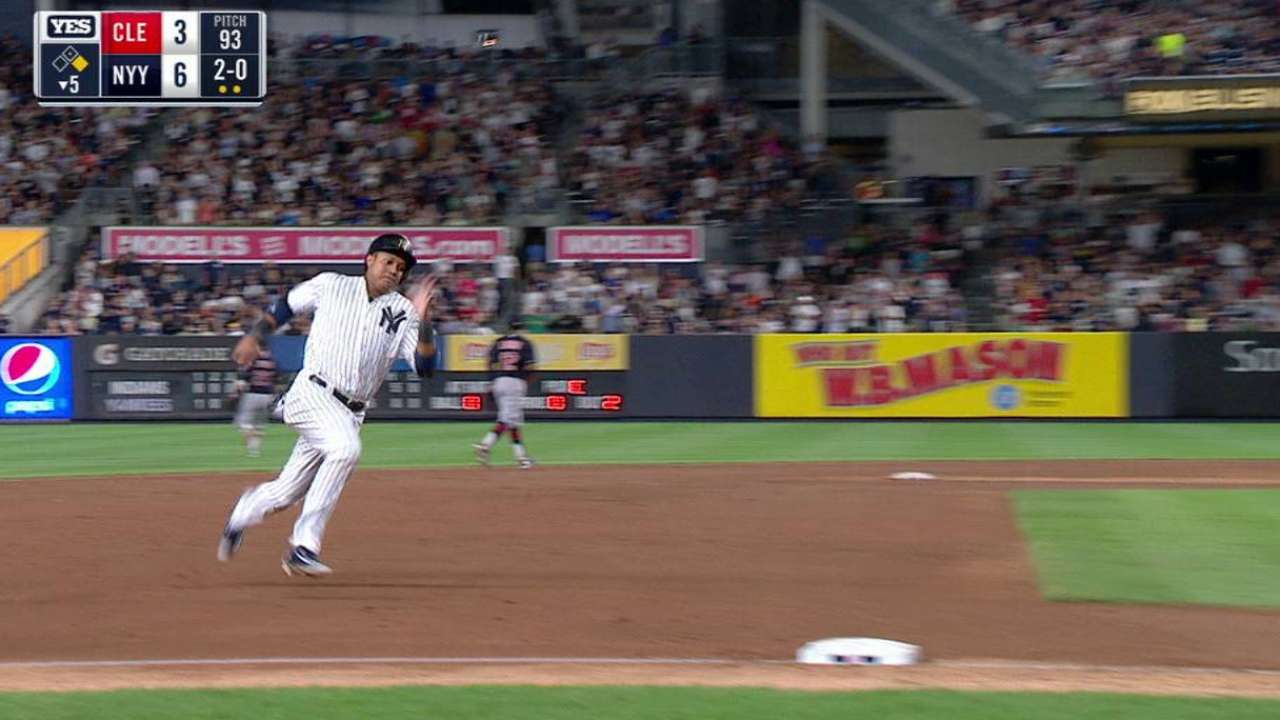 But even with his bat beginning to break out, the main topic of conversation was his throwing arm. Even Mark Teixeira, who earlier in the day announced his intention to retire after this season, couldn't help but feel a little incredulous at his newest teammate's gift.
"That arm," Teixeira said. "Man, that's a special arm right there. You're not going to have a lot of guys stealing on him if he's throwing like that."
Nick Suss is a reporter for MLB.com based in New York. This story was not subject to the approval of Major League Baseball or its clubs.