Bochy mixes it up, but Giants can't shake slump
WASHINGTON -- Now comes the hard part for the Giants' struggling offense.
They'll face Washington ace Stephen Strasburg (15-1) on Saturday, one night after they endured a 5-1 defeat in which they mustered four hits against Nationals starter Gio Gonzalez and two relievers.
That doesn't bode well for the Giants' current trend. They have scored exactly one run in four of their last nine games. San Francisco owns a 5-14 record since the All-Star break, largely because the club has scored two runs or fewer nine times in that stretch. Plenty of other statistics illustrate the Giants' problems, but their inability to score is the most notable symptom of what ails them.
"We gotta find a way to get this offense going," said Giants manager Bruce Bochy, who might have tried every possible solution. "We've met. We've done everything."
Allowing negativity to poison the Giants' collective psyche is not on Bochy's list.
"You have to stay behind them and know they're going to come out of it," Bochy said. His voice did take on a challenging tone when he added, "It better be sooner than later. We have to start getting some better swings off."
Asked what can produce the desired results, Bochy replied, "You go harder. These are always tough stretches. The last thing you do is get down and mope. You hold your head up and try to do something about it."
On Friday, Bochy sought to manufacture offense by stacking three of the faster Giants, Denard Span, Angel Pagan and Eduardo Nunez, at the top of the batting order. Pagan homered in the fourth inning for the Giants' lone run, but otherwise, the trio couldn't generate a rally.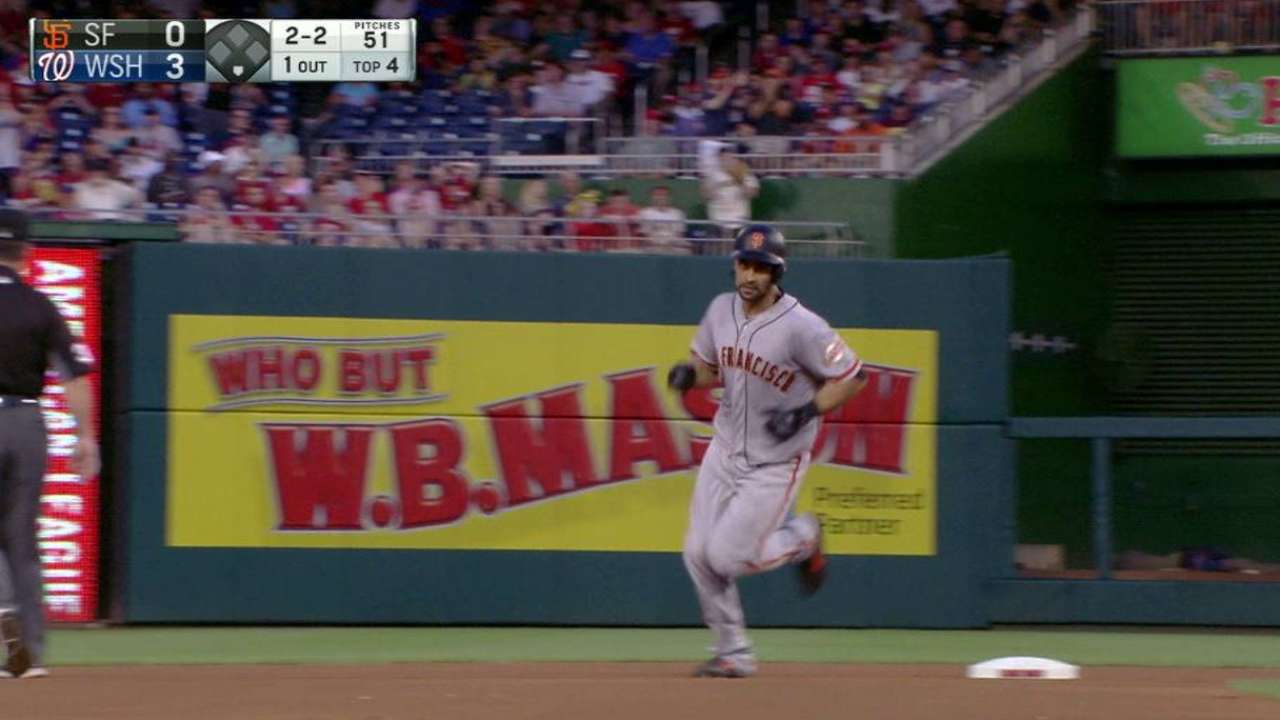 Nunez became the 11th Giant to start a game in the batting order's No. 3 spot. That has been a particularly barren source of production this season. Entering Friday, San Francisco's third hitters owned a .244 batting average, a .331 on-base percentage and a .380 slugging percentage, to go with nine home runs and 39 RBIs.
All those figures fell far short of the corresponding Major League averages (.278, .350, .475, 18 homers and 62 RBIs). Once inhabited by the likes of Willie Mays, Will Clark, Barry Bonds and Jeff Kent, San Francisco's third spot ranked 23rd in the Majors in batting average, 22nd in on-base percentage and last in slugging percentage, homers and RBIs.
The Giants miss the contributions of right fielder Hunter Pence and second baseman Joe Panik, who have left the disabled list but haven't regained their top form.
"I think it's fair to say they're not locked in," Bochy said. "They missed a lot of time, and you know that's going to go with the territory. But you know they're good hitters and it's just a matter of time before they get their timing and see the ball like they normally do."
Chris Haft has covered the Giants since 2005, and for MLB.com since 2007. Follow him on Twitter at @sfgiantsbeat and listen to his podcast. This story was not subject to the approval of Major League Baseball or its clubs.