Marlins rally in 9th to turn tables on Rockies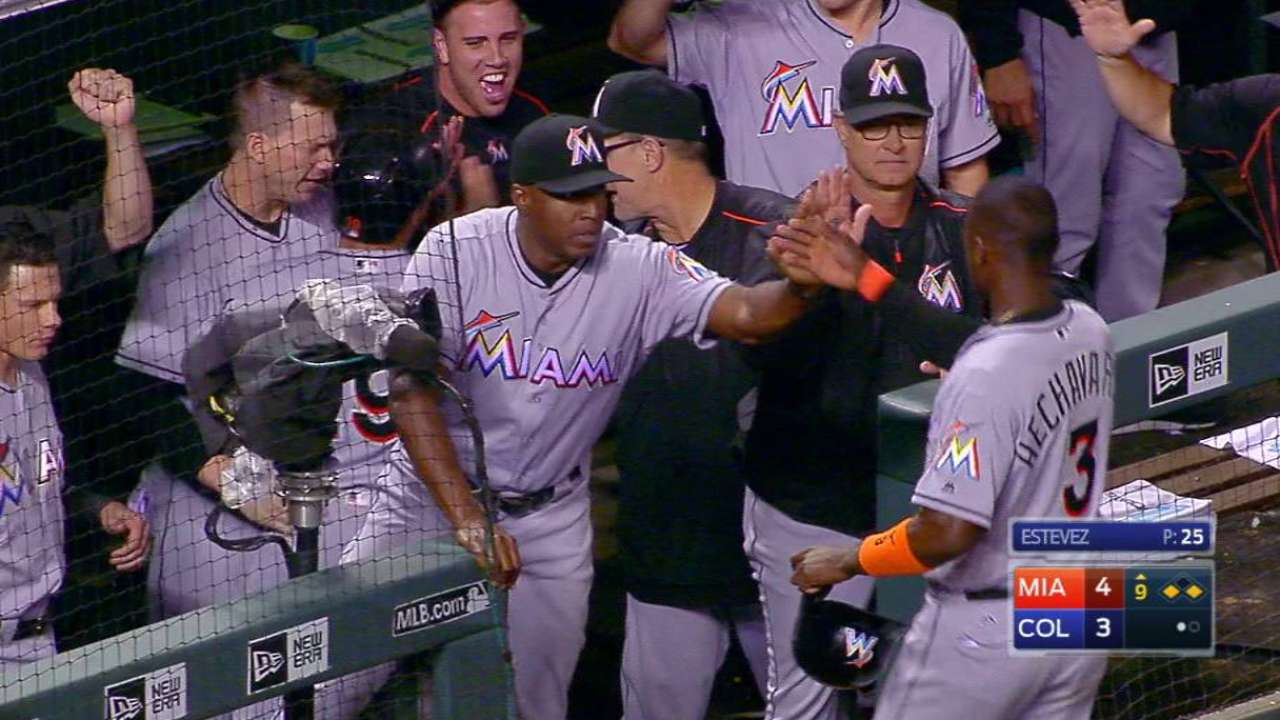 DENVER -- Martin Prado's bases-loaded single in the top of the ninth fueled a four-run rally, after the Marlins had blown a lead the previous inning, to beat the Rockies, 5-3, at Coors Field on Friday night.
With the win, the Marlins remain tied with the Cardinals for the second National League Wild Card. The loss pushed the Rockies four games out of a postseason spot and back below .500.
The Marlins -- who were 1-48 when trailing after eight innings entering the game -- put the first three runners on in the ninth against Rockies closer Carlos Estevez. Colorado elected to intentionally walk Dee Gordon to get to Prado with the bases loaded, and Prado busted out of a 2-for-19 slump on a two-run single up the middle. Christian Yelich added an insurance run on a sacrifice fly to center field.
"If you see the stats, I'm leading the league in double plays," Prado said of the Rockies' decision to walk the bases loaded and face him. "That's not a hard thing to find out. That's one of the things I've got in my head. I'm just looking for a good pitch to hit. I know he's a hard thrower. First time I face him, and he's got 100 [mph]. I was just looking to put the ball in play. He fell behind. I was trying to be aggressive, be early. Fortunately for me, I got a good pitch to hit."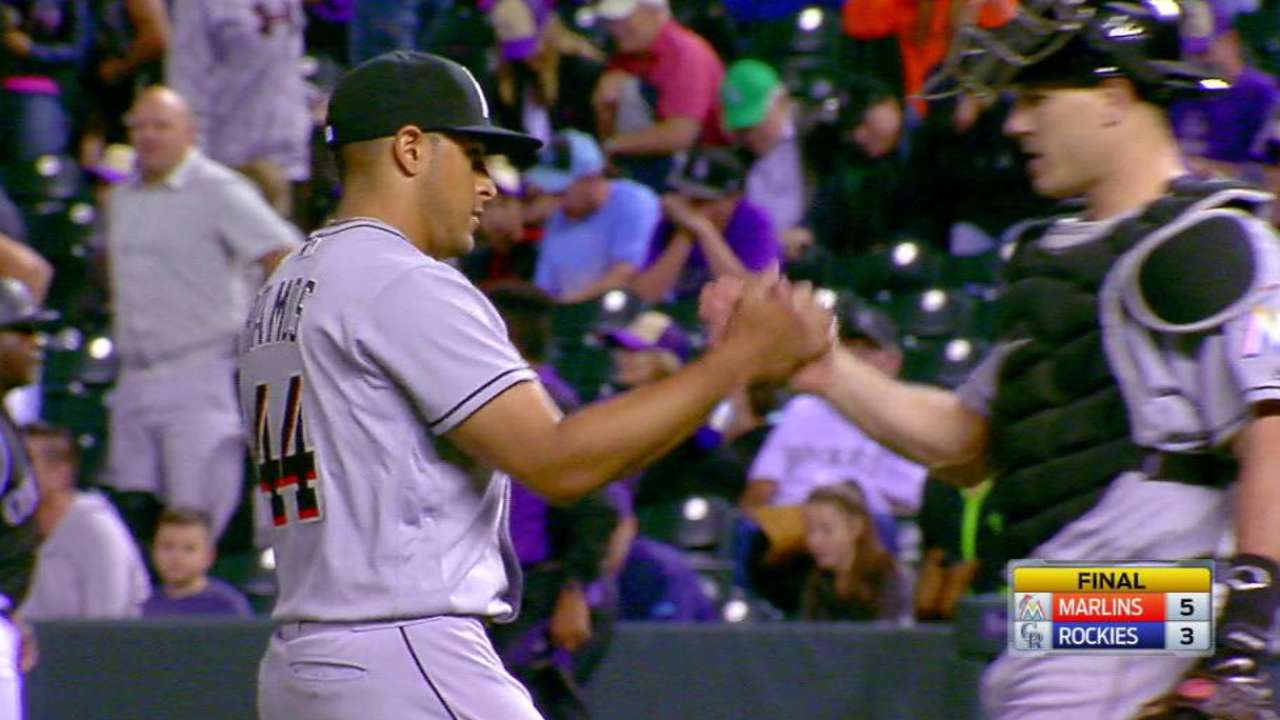 After being held scoreless all game, the Rockies led off the eighth with singles to left from DJ LeMahieu and Carlos Gonzalez off right-hander Fernando Rodney. They tied it when Gordon's throw from second base on a potential double play sailed into the first-base dugout, scoring LeMahieu. David Dahl's single gave them the lead, and Mark Reynolds padded it with a double that Giancarlo Stanton could not handle in right field.
"Yeah, late losses are always frustrating," Rockies manager Walt Weiss said. "We'll bounce back tomorrow, win a game tomorrow."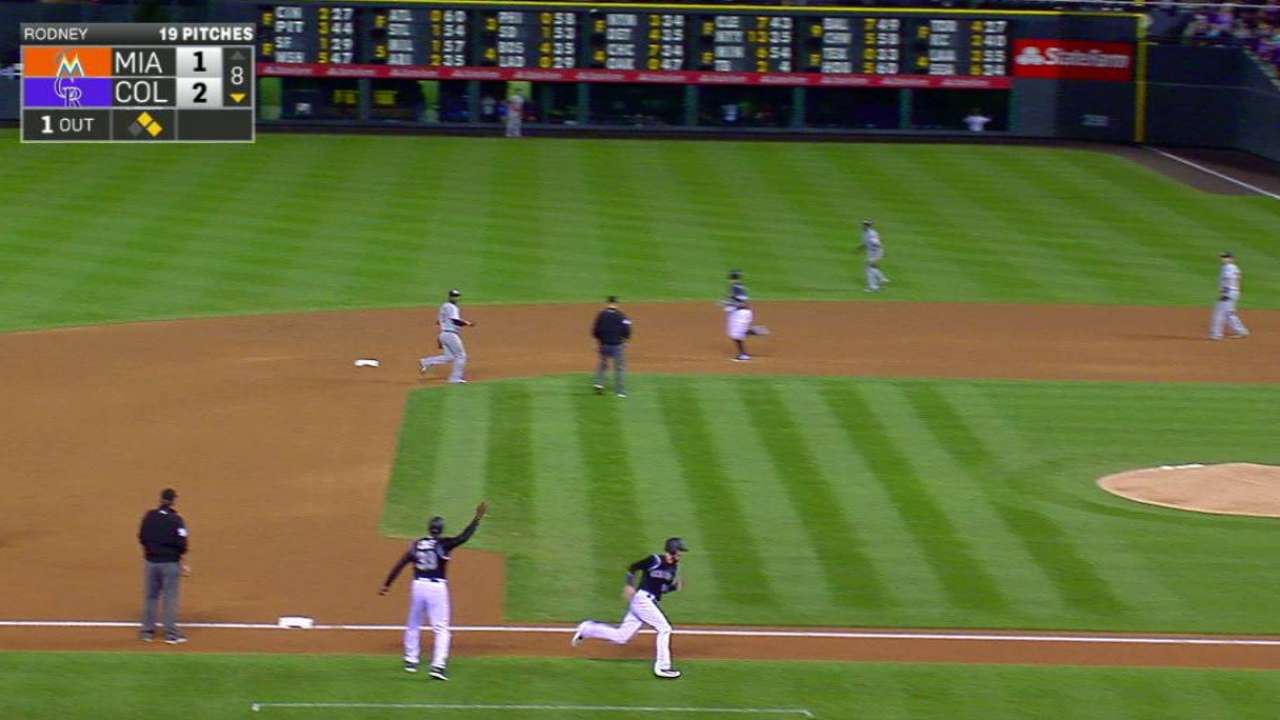 Marlins right-hander David Phelps pitched brilliantly in his first start of the season but did not factor into the decision. He held the Rockies scoreless over 4 1/3 innings on a season-high 70 pitches with four hits, one walk and four strikeouts. More >
MOMENTS THAT MATTERED
De La Rosa back in shape: Since being reinstated to the rotation on June 14, lefty Jorge De La Rosa has been one of the Rockies' best starters with a 3.34 ERA during that stretch. He has been especially effective in his last three starts, holding three playoff contenders -- the Orioles, Mets and Marlins -- to four earned runs over 18 1/3 innings. Friday was his best outing of the bunch, holding the Marlins to one run on four hits over six innings.
"[He's] just using all of his pitches, basically," Weiss said. "Setting up his split-finger -- that's his bread and butter. It's been real good."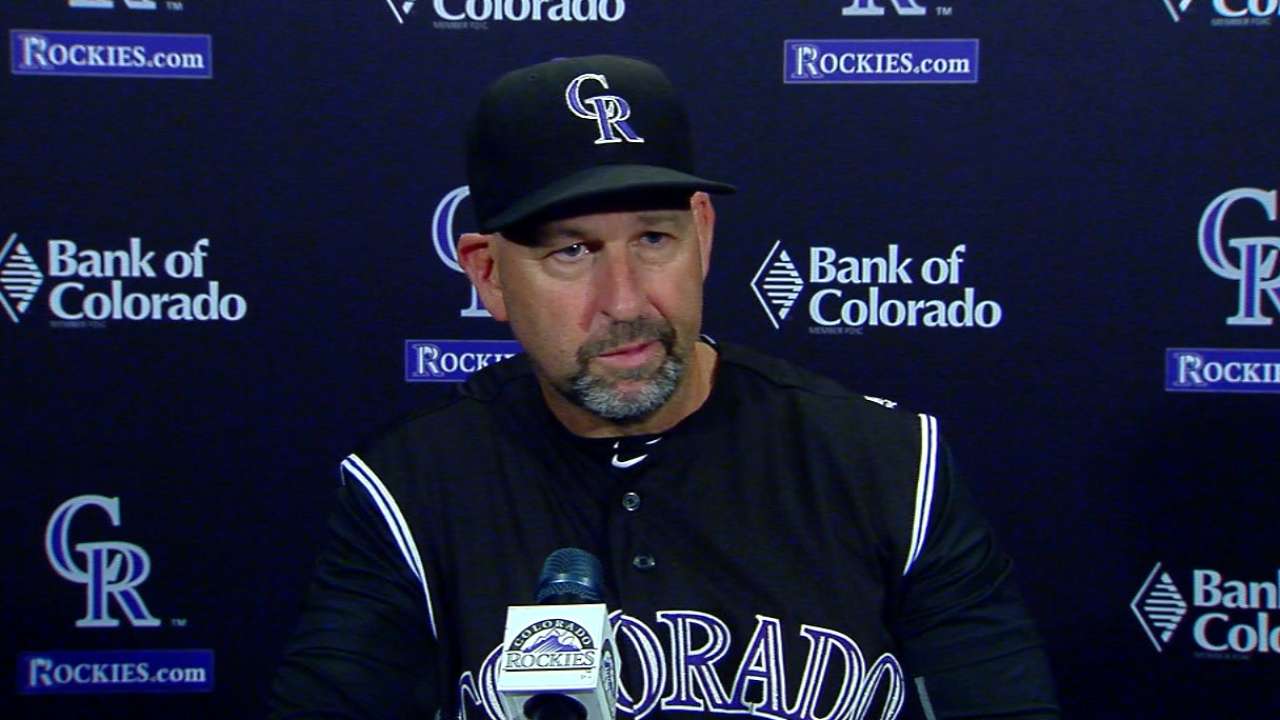 One and not quite done: For seven innings, it looked like one run would get it done for Miami. The Marlins got a run in the first inning, sparked by a leadoff infield single to third from Gordon. With two outs, he stole his 10th base of the year, setting up a run-scoring double from Stanton and a one-run lead that stood until the bottom of the eighth.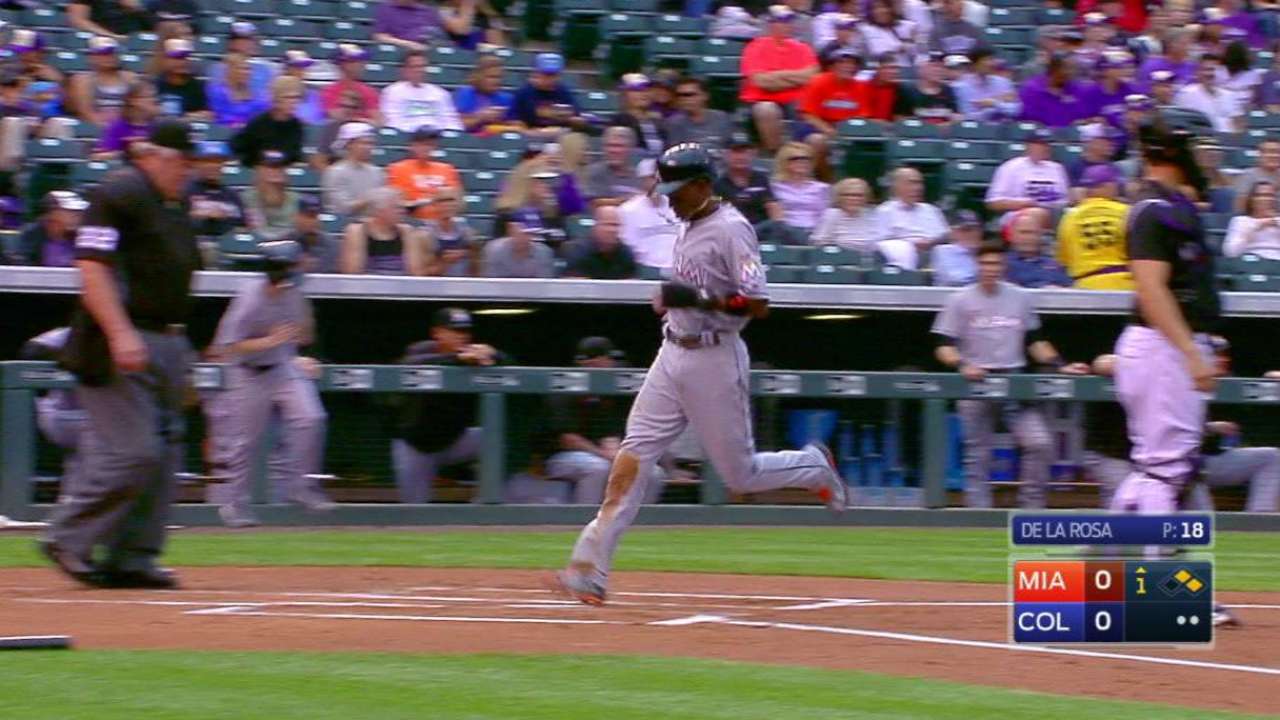 CarGo playing through pain: After leaving Wednesday's game with a sprained left ankle in his final at-bat and sitting out Thursday, Gonzalez was back in action Friday. His eighth-inning single extended his hitting streak to 16 games and helped ignite the Rockies' three-run rally. However, he was called out on strikes in the ninth inning.
It ain't over: Down by two and facing a rookie closer in the ninth, the Marlins put three men on base before recording an out. After a seven-inning scoring drought, they took the lead with a four-run comeback on two walks, three hits, an error and a sacrifice fly.
"It's rare to see a game like this [at Coors Field]," said Prado, who hit the go-ahead single to center. "The opposite team is so good in here, and they hit a lot. Having a game 1-0 all the way to the eighth was pretty impressive. Their pitcher and our pitcher were pretty good. At the end of the game, it got a little complicated. Their guy walked a couple people and we took advantage of that."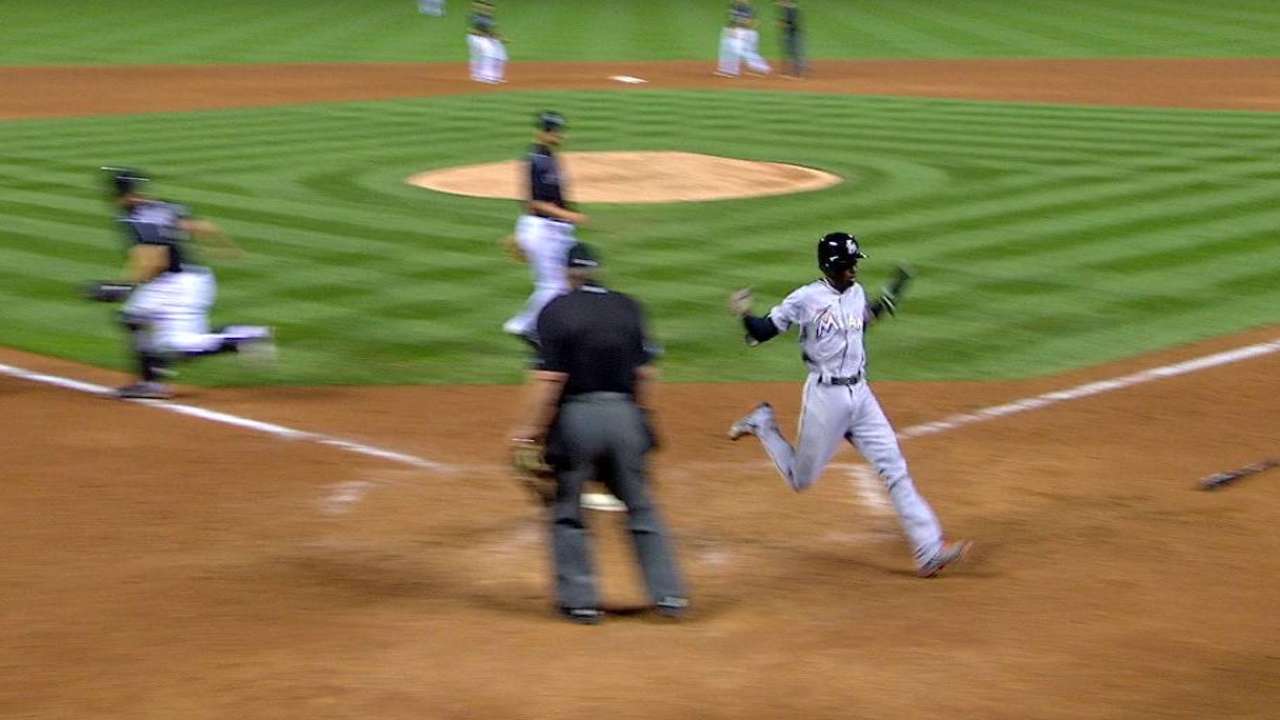 QUOTABLE
"This is the type of game that we're trying to win every day, they need to win every day. We're very similar clubs in my mind, in that we're both experiencing really a shot at getting into the playoffs for the first time in a while. It's fun, and I think these guys love it. We'll learn a lot about our guys over these next couple months. I think we're going to have a really good indication of who's who as we get out of this. And that's going to be really interesting for us." -- Marlins manager Don Mattingly, on the comeback victory
• Ringolsby: Mattingly's style proving adaptable in Miami
"I think it's just the matter of not commanding my fastball, because I've still been even worse than that and I get through it. I think just the command on my fastball, every time I have [it], it's a different story." -- Estevez
MILESTONE WATCH
Ichiro Suzuki wasn't in the Marlins' lineup but he did pinch-hit for the pitcher in the seventh inning. He struck out on three pitches -- including a called third strike -- and lowered his Coors Field career average to .255 (12-for-47). He remains two hits shy of 3,000.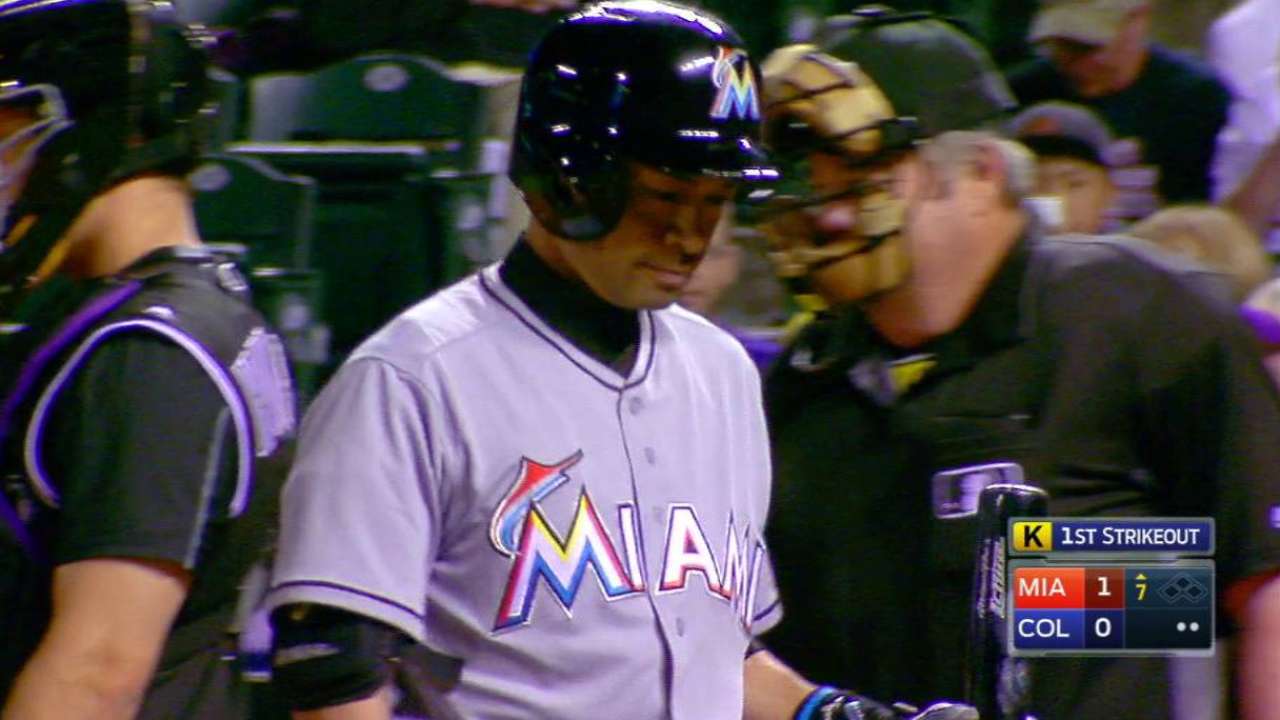 WHAT'S NEXT
Marlins: Right-hander Andrew Cashner (4-7, 4.54 ERA) toes the rubber Saturday for the second of three games in Colorado (8:10 p.m. ET). He has faced the Rockies twice this season, though both starts came with the Padres. He gave up six runs over 12 innings for a 4.50 ERA and won both starts.
Rockies: Right-hander Chad Bettis looks to continue his streak of five quality starts as he faces the Marlins at 6:10 p.m. MT Saturday at Coors Field. During that stretch, his ERA is 3.10, compared to his season average of 5.16.
Watch every out-of-market regular-season game live on MLB.TV.
Ben Weinrib is a reporter for MLB.com based in Denver and covered the Rockies on Friday.

Owen Perkins is a contributor to MLB.com based in Denver and covered the Marlins on Friday.

This story was not subject to the approval of Major League Baseball or its clubs.