MLB.com Columnist
Barry M. Bloom
Miller looking forward as he returns to New York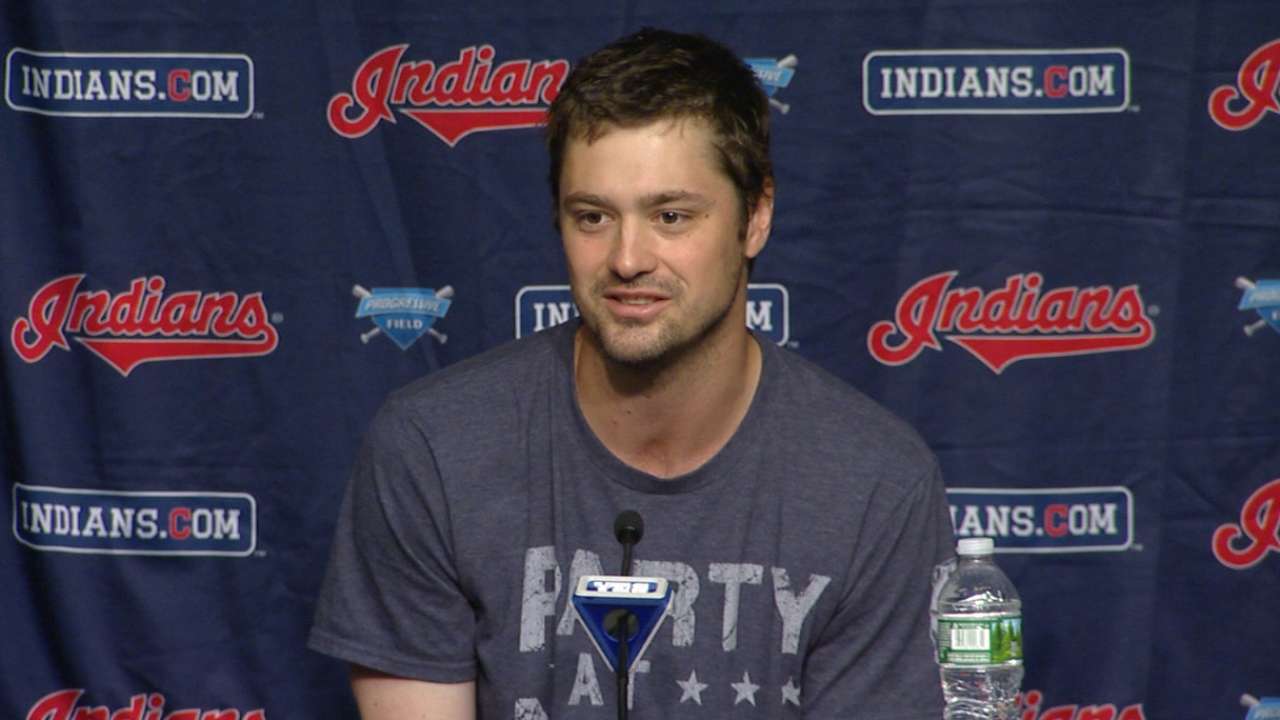 NEW YORK -- It's been a wild and wacky week for Andrew Miller, beginning in a Yankees uniform and ending with his return to Yankee Stadium on Friday as a member of the Indians.
Forgive the outstanding left-handed reliever if he felt a bit displaced at the moment, speaking to the media in a conference room just outside the Yanks' clubhouse. But Miller will make the transition. It's only a matter of time.
Miller came back with a bit of facial hair, not so much to literally fly in the face of Yankees policy, but because he really doesn't like to shave anyway.
"To be honest, CC [Sabathia] made [the transition] much easier for me," Miller said, referring to the big left-hander who pitched nearly eight seasons in Cleveland until he was traded to the Brewers midway through the 2008 season. "When I got traded, I went by the clubhouse and was packing up my bags and he told me I was going to love it in Cleveland.
"The people in the organization are great, the city was great. He put me in touch with a couple of people and directions to go. I think that kind of eased things a little bit and took some of the nerves out of it."
In Miller, the Indians received the whole package. He's a terrific pitcher who was named the Mariano Rivera Award winner last season as the American League's top reliever after saving 36 games for the Yanks in his first year as a closer.
Yet, when the since also traded Aroldis Chapman was activated on May 1 after a 30-day domestic abuse suspension, Miller had no qualms about stepping back into an eighth-inning setup role. He's also a fine young man and team player.
"Yeah, we got one of the elite relievers in the game, but we also got a guy who's willing to pitch in the most opportune parts of the game," Indians manager Terry Francona said about Miller. "That makes him even better than his numbers. The guys in the clubhouse appreciate it. I appreciate it. The coaches appreciate it. The way he feels about the game is so refreshing."
In that setup role this season, Miller was sandwiched between Dellin Betances and Chapman to form one of the best relief trios in baseball history, winning 19 of the 21 games in which they all pitched. They became so hot so quickly, the Yankees marketed them as "No Runs DMC," selling T-shirts with that logo on it.
Miller and Betances were ultimately named to the AL All-Star team, and they pitched in the AL's 4-2 win over their National League counterparts on July 12 in San Diego.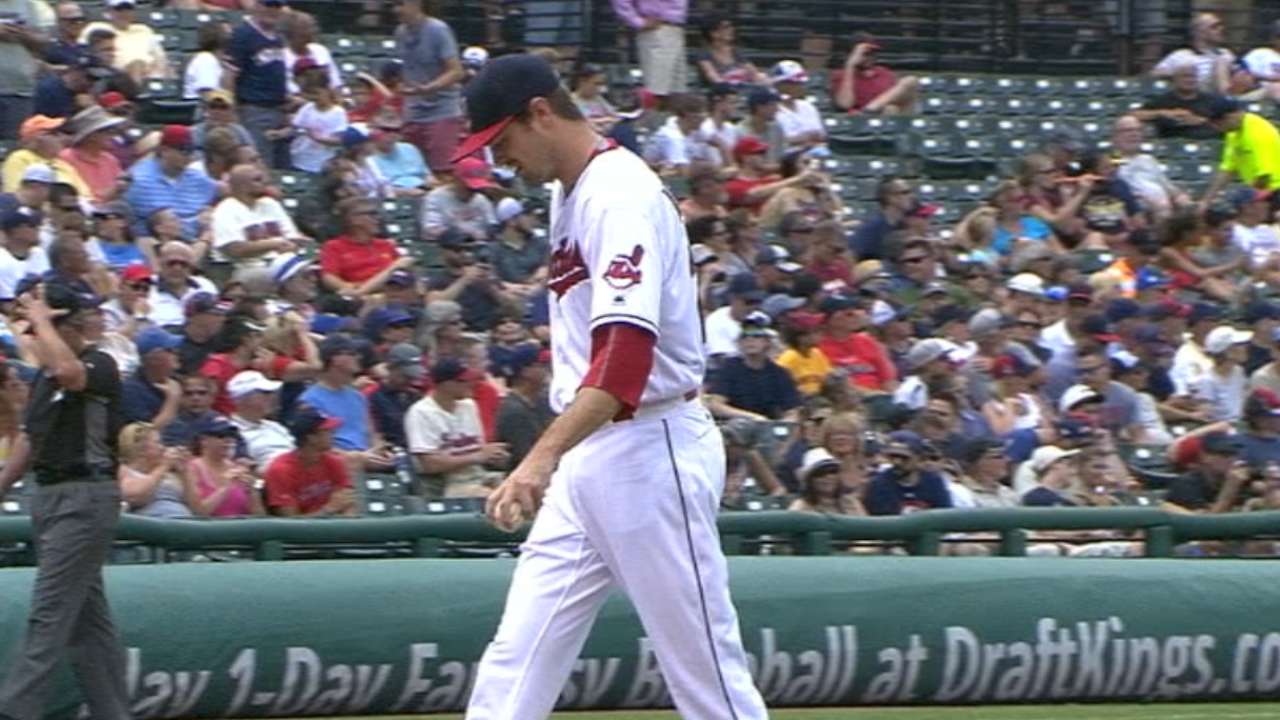 "It was neat," Miller said. "I've never been part of a marketing effort, I don't think. Those guys are incredible pitchers. I had a lot of fun playing with both of them. Getting to watch them throw 100 mph, I don't think anyone matches those two guys."
It's no wonder Miller was so well-liked in the clubhouse by teammates, the media and management. At 31, he was the second-oldest pitcher on New York's staff behind the 36-year-old Sabathia. And during his one-and-a-half seasons with the Yanks, Miller became a team leader.
This has been the week that was for the Yankees, beginning with the trades of Miller, Carlos Beltran and Ivan Nova and ending with Friday's announcement by Mark Teixeira of his pending retirement at the end of the season. Miller's return to the Bronx just completed the package.
It was great to see him back, Yanks manager Joe Girardi said.
"We know how good he is and how much he meant to this organization. He impacted our clubhouse in a year and a half as much as anyone I've ever seen," Girardi said. "After being the best reliever in the AL last year, there was this willingness to say, 'I don't need to close. Let's just do whatever it takes to win here.' Just his unselfishness, and how he was always prepared. Really a great individual."
Miller is playing now for his sixth team, adding Detroit, Boston, Miami and Baltimore to his resume. He was a member of the 2013 Red Sox team that defeated the Cardinals in that World Series, but he wasn't active because of a foot injury. At the non-waiver Trade Deadline in 2014, Miller was traded to Orioles, who were swept that postseason by the Royals in AL Championship Series.
Miller loved his short time with the O's, but that offseason, he signed a three-year, $27 million free-agent contract with the Yankees and hoped to play out the term of that deal in New York. It didn't happen. But he was pleased to know he left behind so many good feelings.
"It's nice to be remembered that way," Miller said when apprised of the comments of his now former manager. "That's the way I've tried to be for all the other teams I've played for. At this point in my career, I've realized that. I have a good contract. I've taken care of my family pretty well. But at the end of day, I'll remember winning. I think that's the way to go about it and give myself the best chance.
"It was great here. It was a tremendous experience. I got to play with guys going to the Hall of Fame. I got to play in front of great fans. I got to put on one of the classic uniforms and get to play for a team with more history than any other. Now I'll move on to the next chapter and figure it out."
With that, Miller made a left turn out of the conference room and took the long walk to the visitors' clubhouse, the Yankees experience behind him and the prospect of better times in Cleveland to come.
Barry M. Bloom is a national reporter for MLB.com and writes an MLBlog, Boomskie on Baseball. Follow @boomskie on Twitter. This story was not subject to the approval of Major League Baseball or its clubs.