Hurdle's call for small ball breaks stall
Skipper opts for squeeze bunt to 'loosen up' offense after 1-5 road trip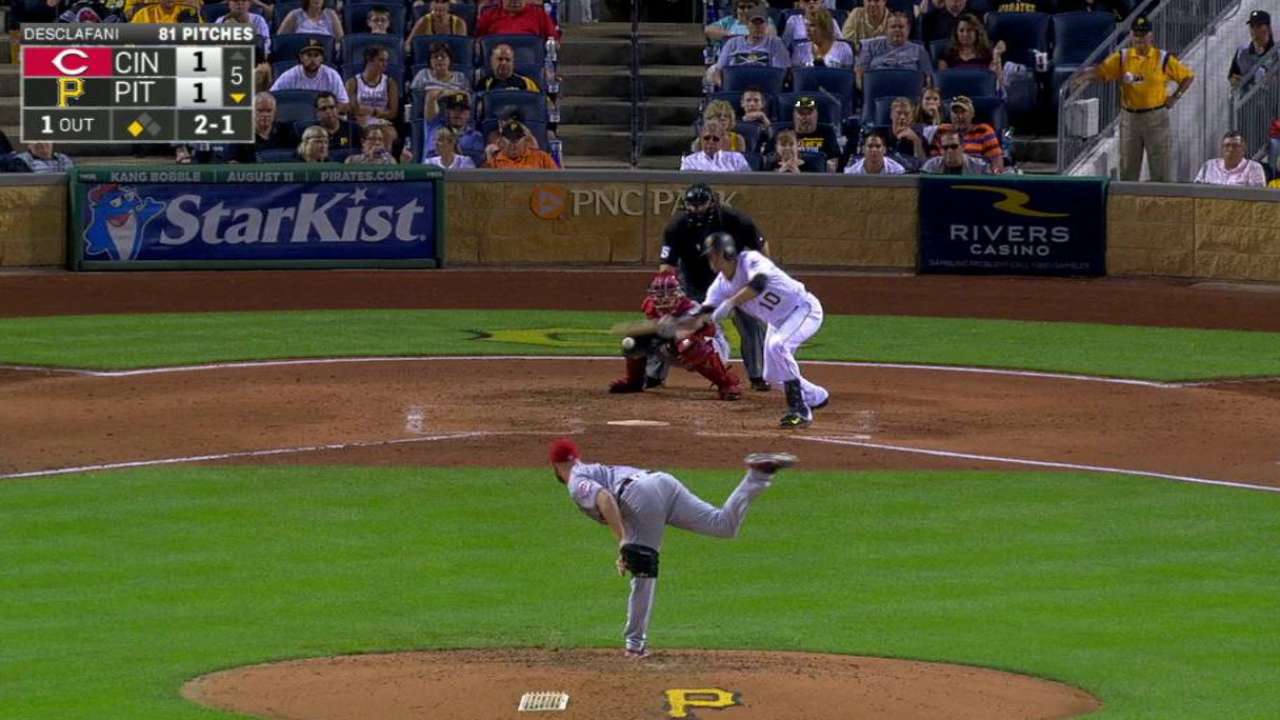 PITTSBURGH -- The Pirates landed in Pittsburgh at 2:24 a.m. ET on Friday morning, bruised and beaten five times during a six-game road trip through Milwaukee and Atlanta. Their offense was scuffling. They needed a spark. They got a squeeze.
Jordy Mercer's fifth-inning squeeze bunt plated John Jaso and gave the Pirates a one-run lead in their eventual 3-2, walk-off win over the Reds on Friday night at PNC Park.
"It's one of the most exciting plays in baseball," Mercer said. "When you have an exciting play that goes your way, it can definitely boost the team."
With the Pirates trailing by a run, David Freese led off the fifth with a walk. Jaso hit a double to center, at least after a replay review overturned what had been an out and placed runners on second and third.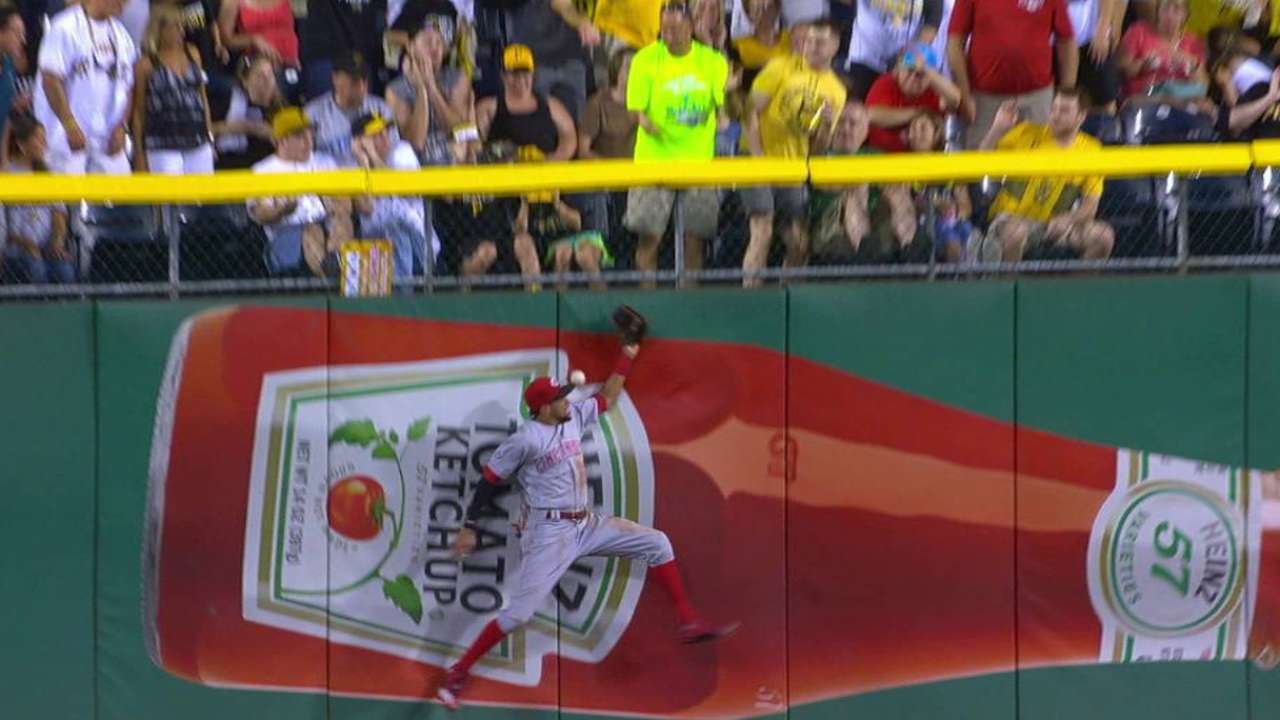 Francisco Cervelli tied the game with a sacrifice fly to right field. Up came Mercer, one of many Pittsburgh hitters who struggled through disappointing series losses to the Brewers and Braves.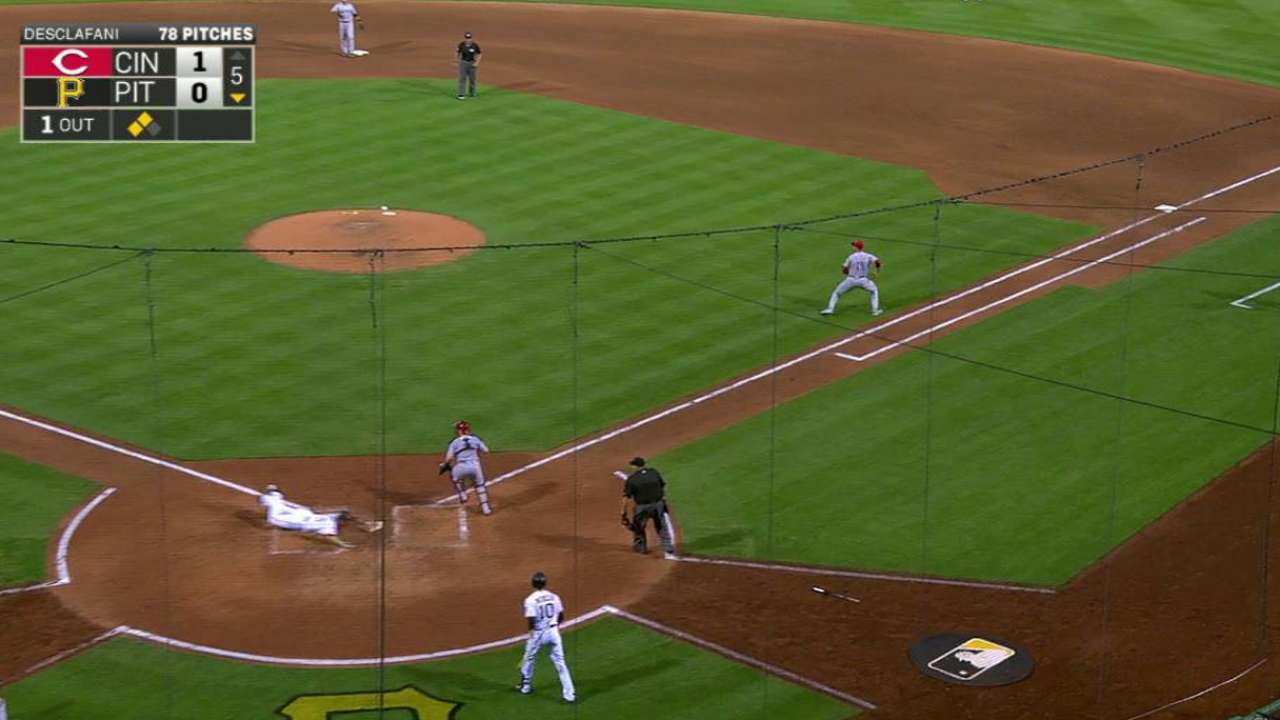 The Pirates' pitching has been their flaw most of the season, but it wasn't Friday night. Jameson Taillon was nearing the end of another quality six-inning start, pitching with consistency beyond his years.
But the Bucs' bats betrayed them, hitting .167 with 17 runs (2.8 per game) on the trip, nowhere near what they'll need to jump-start themselves back into the Wild Card race.
So manager Clint Hurdle called for the squeeze bunt.
"Seemed like the right play at the right time with the right hitter," Hurdle said. "We've been challenged offensively in different ways, so we'll try to spice it up and loosen it up a little bit.
"Take a shot. See what happens."
Mercer didn't question his eyesight or the sign. It was the third time, to the best of his knowledge, he'd been asked to drop a squeeze bunt in the Majors -- and it was the third time he'd been blindsided by the call.
"It definitely gets you going, especially the time in between once you get the sign and get turned back around to get prepared," Mercer said. "But it's fun! It's exciting. It's what it's about. You enjoy those moments."
Mercer dropped a perfect bunt, and Jaso charged home from third base. Jaso had drawn some criticism -- and some boos on Friday -- for not running out a double-play ball that he believed to be foul on Thursday night at Turner Field.
But this time, Jaso ran hard. All the way across home plate.
"You know Jaso's going to be barreling down on you. Getting it on the ground, that's the most important thing," Mercer said. "Doesn't matter where. Doesn't matter how.
"You know if you get the ball on the ground, he's going to be halfway or three-quarters down the line. There's a good chance he's going to be safe no matter what."
Adam Berry has covered the Pirates for MLB.com since 2015. Follow him on Twitter at @adamdberry. This story was not subject to the approval of Major League Baseball or its clubs.