Garcia flips over railing to catch foul popup
Braves' third baseman gets applause from road crowd after fine grab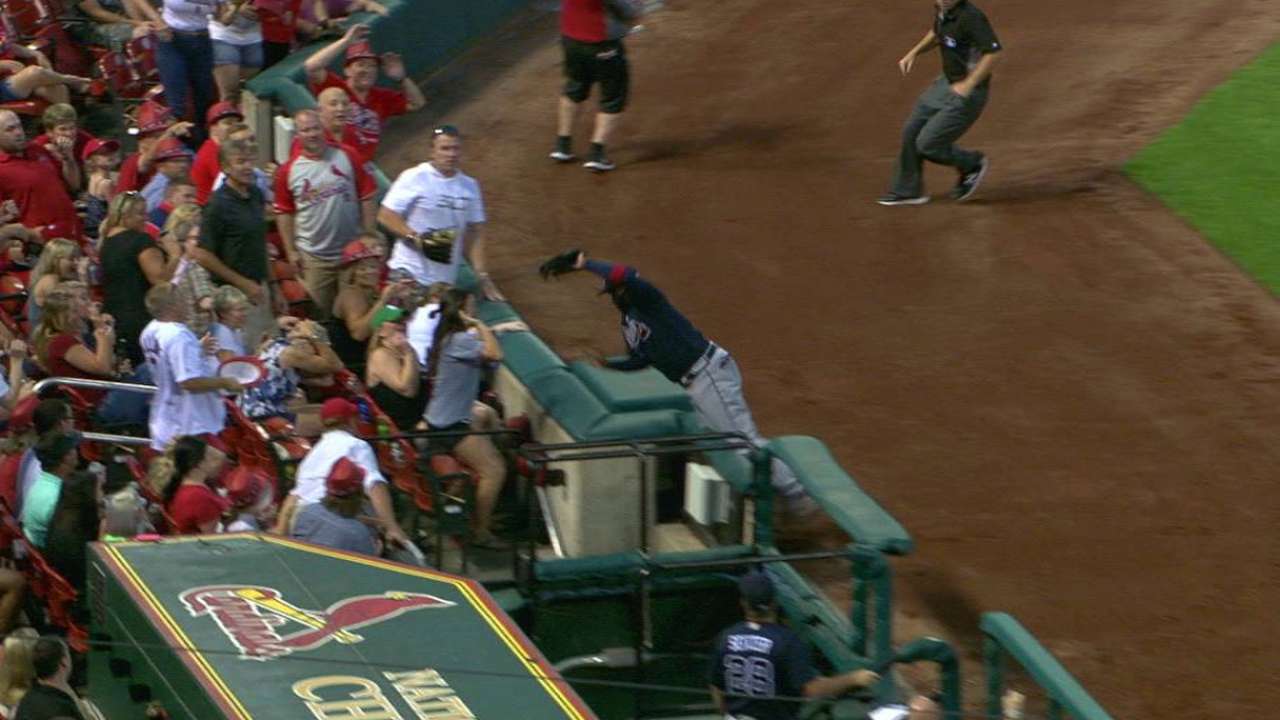 ST. LOUIS -- Braves right fielder Jeff Francoeur had no clue what happened. One second he saw third baseman Adonis Garcia going after a ball, and the next second he disappeared over a wall in foul territory.
"I thought he caught it, but I didn't know," Francoeur said.
The act that left Francoeur second-guessing his own eyes was Garcia sacrificing his body into the stands for the second out of the third inning Friday in a 1-0 loss to the Cardinals.
"He just never stopped trying to catch that ball," Braves interim manager Brian Snitker said. "He's just making a play, trying to help his team stay close, put it out there, and thank God he didn't get hurt, because it was a great play."
• Cut4: Garcia makes catch, takes seat in front row
Garcia ranged back to his left, tracking a foul ball off the bat of Brandon Moss and didn't slow down as he approached the wall. He caught the ball and fell into the stands, landing in the seats just beyond the Braves' dugout next to the camera well. He then threw the ball from his back in an attempt to catch Greg Garcia tagging from first base.
"I think he's probably just tangled up," Snitker said. "You know you do that and you're going hard and that wall right there is really short. You can whiplash and grab your knee and all that, but obviously he was really focused on making that play."
The Braves' third baseman remained in the game after he was checked on by trainers and received a round of applause from the crowd at Busch Stadium. Though he finished the night 0-for-3, Garcia's teammates were still astonished and thankful he made the play.
"It was a valiant effort," Braves starter Joel De La Cruz said. "After, I went over and thanked him, because obviously it's a huge help to me and to the team with those kinds of plays."
Nick Krueger is a reporter for MLB.com based in St. Louis and covered the Braves on Friday. This story was not subject to the approval of Major League Baseball or its clubs.