Happily retired Hart would love to coach Crew
Former Brewers slugger enjoys spending more time with kids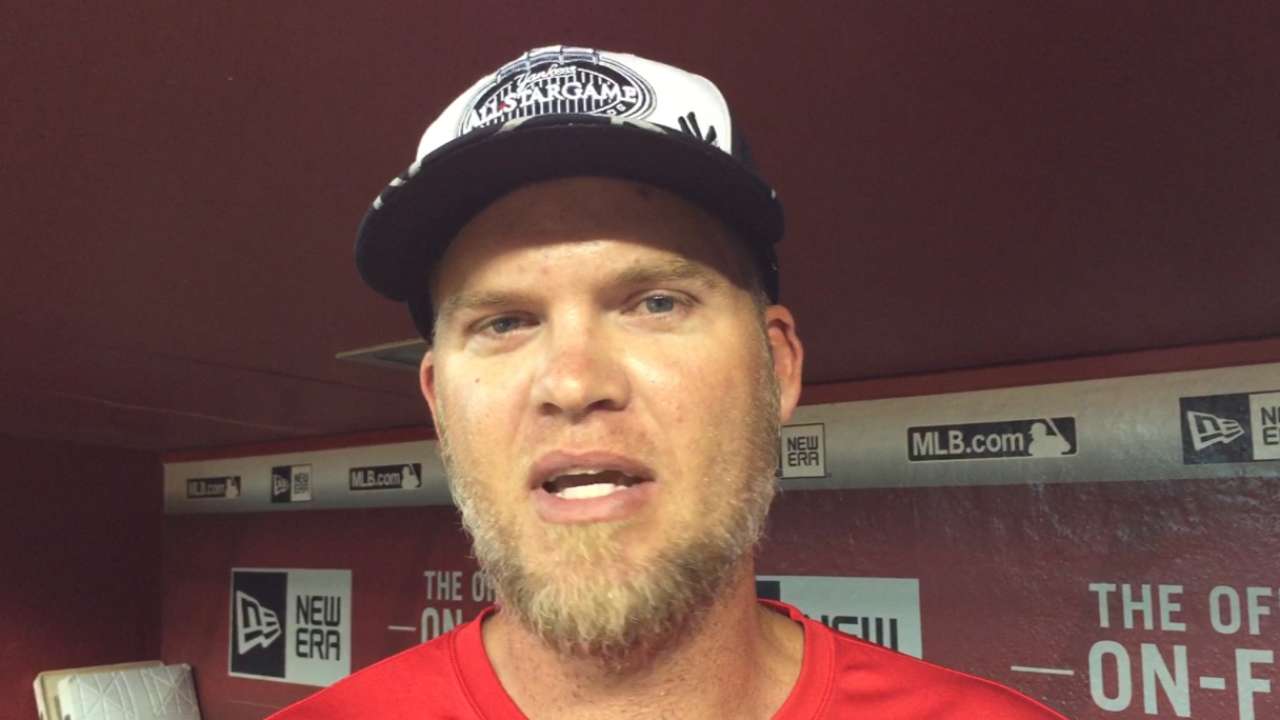 PHOENIX -- There was no tearful announcement when two-time All-Star Corey Hart decided to retire. Hart simply instructed his agent last winter to stop returning teams' calls.
"I might not have had any," Hart said, acknowledging the knee injuries that turned him into a part-time player for the Mariners and Pirates after a 13-year run with the Brewers that coincided with the organization's rise to competitiveness.
"Which is fine," he said with a shrug, "because I'm happy doing this."
At 34, with patches of grey in his beard and an aching right knee, Hart is content managing his oldest son Matthew's 12-and-under baseball team. Hart, who lives in one of Phoenix's western suburbs, organized a group of parents to assemble the team -- the AZ Avengers -- and they won the last state title.
How did he know it was time to retire?
"My body hurts too much, man," Hart said. "I'm OK doing the coaching stuff, but I don't want to put myself through the hard rehab I would have to do again."
BREAKING NEWS: 2x #Brewers All-Star Corey Hart is now managing...his 12-year-old son's Little League team. #MILatARI pic.twitter.com/noOdSQDqSb

— Milwaukee Brewers (@Brewers) August 5, 2016
His right knee is the problem. Hart, a milestone player in Brewers history as the first of a prospect group that included Prince Fielder, J.J. Hardy, Rickie Weeks (and later Ryan Braun) to make it to the Majors, had multiple surgeries on the joint during his tenure. The most recent was a microfracture repair in 2013, when he later had a similar procedure on his left knee and missed his entire final season in Milwaukee.
Hart was limited to 68 games in Seattle in '14 and 35 games for the Pirates in '15. He homered in his last Major League at-bat on Father's Day in '15, a feat that put Hart on a list with Hall of Famers Mickey Cochrane and Ted Williams; big league notables Albert Belle, Ray Lankford and Todd Ziele; Milwaukee-born Tony Kubek; one Brewer (Ken McMullen) and at least two others who played for the Brewers in their careers (Glenn Braggs and Jim Edmonds).
Hart's career ended quietly. The Pirates needed a roster spot, so they put him on the "phantom" disabled list, which became convenient when he reinjured his knee while trying to strengthen it. The team sent Hart home to Arizona, where he rediscovered how much he enjoyed being a dad to four kids, ages 7-12.
"I just didn't have the drive. I liked being around my [kids], and I guess I started looking at life differently," he said. "I have more of a coach's mindset now than actually playing."
He would like to coach at the next level, saying, "I would like any way I could be around the Crew."
He meant capital-C Crew, as in the Brew Crew. But Hart has not had any talks with the Brewers about getting into their coaching ranks. He's a stern dad, Hart said, but a fun coach, and stresses to his players that "I want the game to be respected, because there's so many kids who don't."
When he's not coaching, Hart remains a diehard Brewers fan. He watches or records almost every game -- and he did so, sheepishly, during his tenures with the Mariners and Pirates.
"I never thought I would," Hart said, "but that's all I do."
Adam McCalvy has covered the Brewers for MLB.com since 2001. Follow him on Twitter @AdamMcCalvy, like him on Facebook and listen to his podcast. This story was not subject to the approval of Major League Baseball or its clubs.