Mackanin benches Herrera to send message
Phillies' All-Star outfielder has struggled in the second half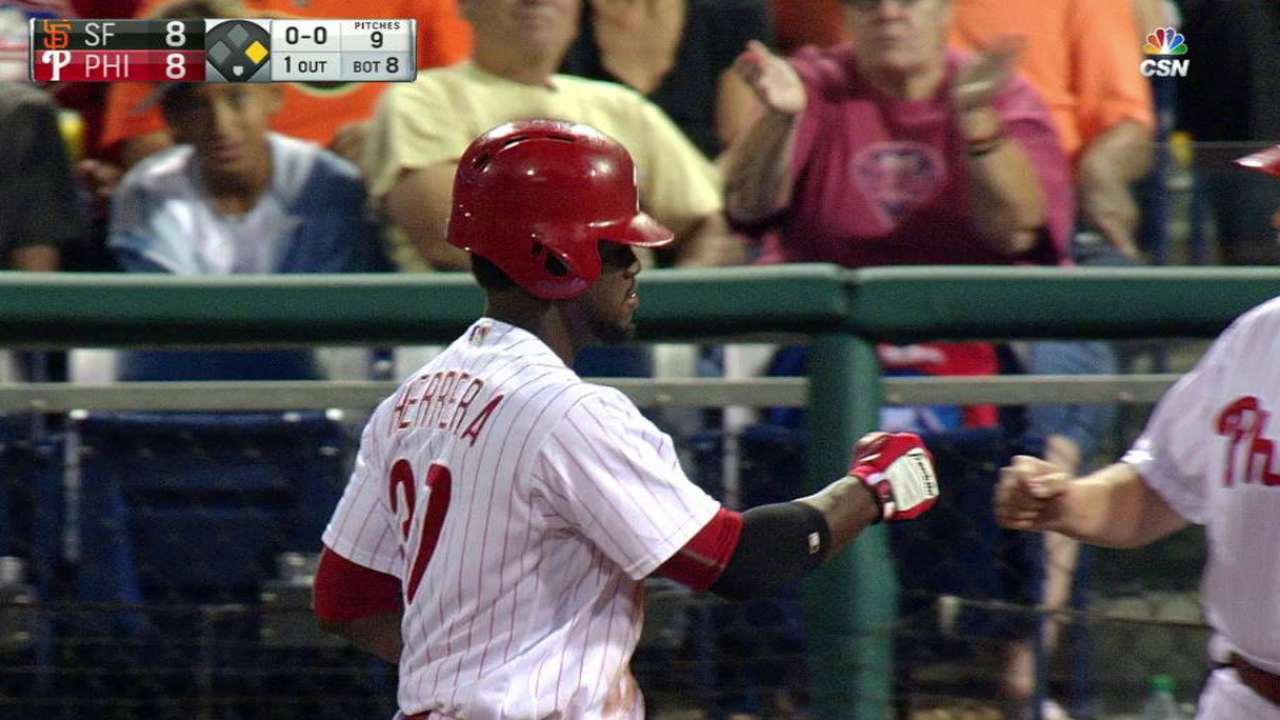 SAN DIEGO -- The Phillies' only All-Star has been hard to find lately.
Phillies manager Pete Mackanin has put Odubel Herrera on the bench in three of the past four games, including Friday night's series opener against the Padres at Petco Park. The Phillies faced left-handers in each those three games, but Herrera's spot on the bench is not only a matchup issue. After all, he started 17 of the team's first 21 games against left-handers this year.
Mackanin seems to be sending Herrera a message.
"He doesn't look like the same guy right now," Mackanin said. "I'm giving him a little bit of a reprieve here just to back off a little bit and maybe he'll come in and ask me how come he's not playing or maybe he'll take advantage of the time off to clear his head and get back to where he was before."
Herrera is hitting .211 (19-for-90) with two doubles, one home run, eight RBIs and a .598 OPS in 24 games since July 6. He has walked eight times and struck out 20 times in that stretch. He hit .305 (96-for-315) with 10 doubles, two triples, 10 home runs, 33 RBIs and an .834 OPS in his first 85 games. He walked 43 times and struck out 65 times in that span.
"He's a little less disciplined than he was earlier," Mackanin said. "He's swinging at too many bad pitches."
Mackanin said Herrera's struggles could be a focus issue.
"It's such a long season and a long grind," Mackanin said. "You've got to be special to be up and post up for every game and some guys can do that and others need a little time. I don't feel players get physically tired at the end of the season; I think they get mentally tired."
Todd Zolecki has covered the Phillies since 2003, and for MLB.com since 2009. Read his Phillies blog The Zo Zone, follow him on Twitter and listen to his podcast. This story was not subject to the approval of Major League Baseball or its clubs.