Thompson grateful for chance to make debut
Phillies righty being promoted to take Nola's spot in rotation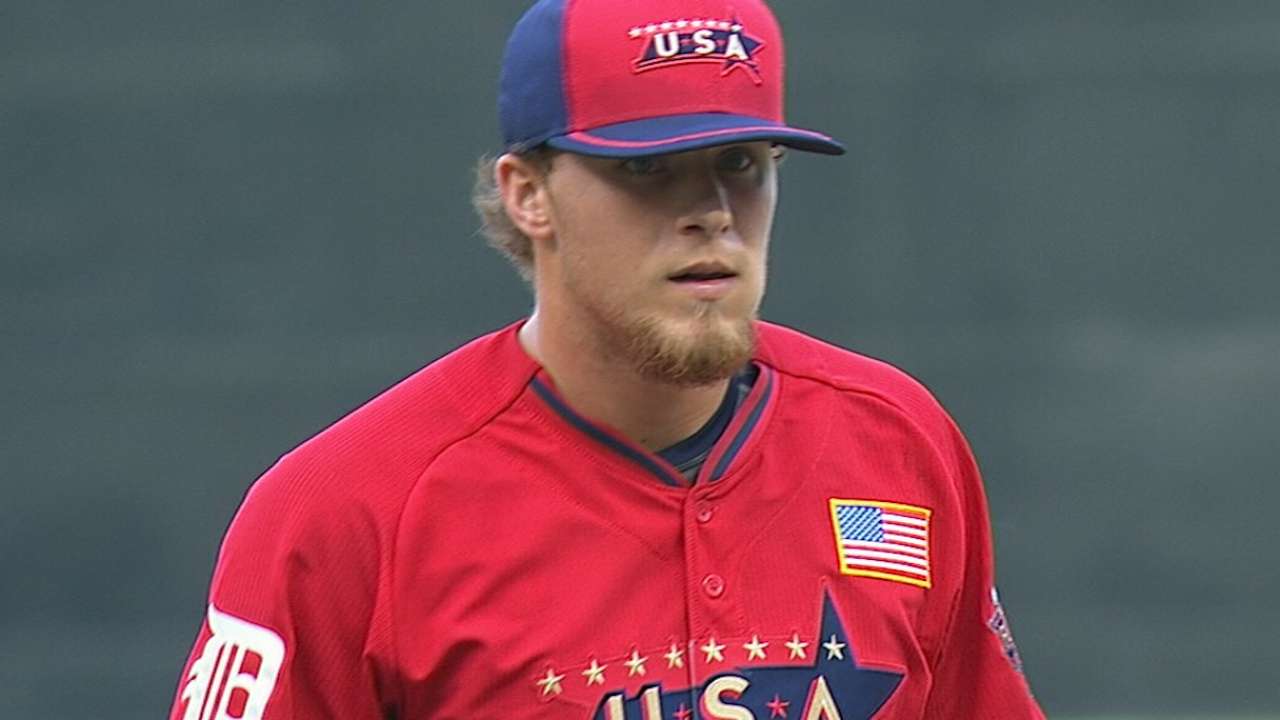 SAN DIEGO -- Jake Thompson followed the Trade Deadline like most people followed it. He monitored everything on TV and Twitter.
Of course, he had particular interest in the speculation because much of it involved him. Most believed that if the Phillies traded a pitcher before Monday's deadline that Thompson would be promoted from Triple-A Lehigh Valley. But the Phillies traded nobody, so Thompson stopped thinking about it.
But then Phillies right-hander Aaron Nola landed on the 15-day disabled list Wednesday. Phil Klein started in his place Wednesday night, but Thompson got the news that same night that he would take Nola's spot in the rotation for the foreseeable future. Thompson will make his big league debut Saturday night against the Padres at Petco Park.
"It was awesome," Thompson said about the promotion. "Pretty satisfying. I had a different route than most guys my age to be called up having been traded a couple of times, few different stops. But, yeah, it was a really satisfying moment for me."
Detroit selected Thompson in the second round of the 2012 Draft. The Tigers traded him to Texas in July 2014 in the Joakim Soria trade. The Rangers traded him to Philadelphia in July 2015 in the Cole Hamels deal.
The trade is looking pretty good for both teams. Hamels has pitched well in Texas, while Jerad Eickhoff has fared well in the Phillies' rotation and three of the prospects (Thompson, Nick Williams and Jorge Alfaro) are among the top 100 prospects in baseball. Right-hander Alec Asher had been pitching well at Double-A Reading and Triple-A before being suspended for testing positive for a performance-enhancing substance.
"I sure hope it is," Thompson said about the trade being a difference-maker for the organization. "There's a lot of different things that can happen. But looking at the talent they got back in [the trade], they got a lot of young talented guys in it. Hopefully everybody makes it up and sticks and has a long successful career."
Thompson is the No. 70 prospect in baseball, according to MLBPipeline.com. He went 11-5 with a 2.50 ERA in 21 starts this season with Lehigh Valley. He went 8-0 with a 1.21 ERA in his last 11 starts.
He feels he is ready to go.
"Really after the first month in Triple-A, I had a few starts go my way and I started to build that comfort," Thompson said. "About a month ago, I really started feeling comfortable pitching, regardless of the level. I was really comfortable with myself.
"I'll sleep well [Friday night]. [Saturday] I might get a little jittery, but it's still the same game. I have to control the things I can control, keep the ball down in the zone."
Todd Zolecki has covered the Phillies since 2003, and for MLB.com since 2009. Read his Phillies blog The Zo Zone, follow him on Twitter and listen to his podcast. This story was not subject to the approval of Major League Baseball or its clubs.