Eibner showcases power with homer in A's debut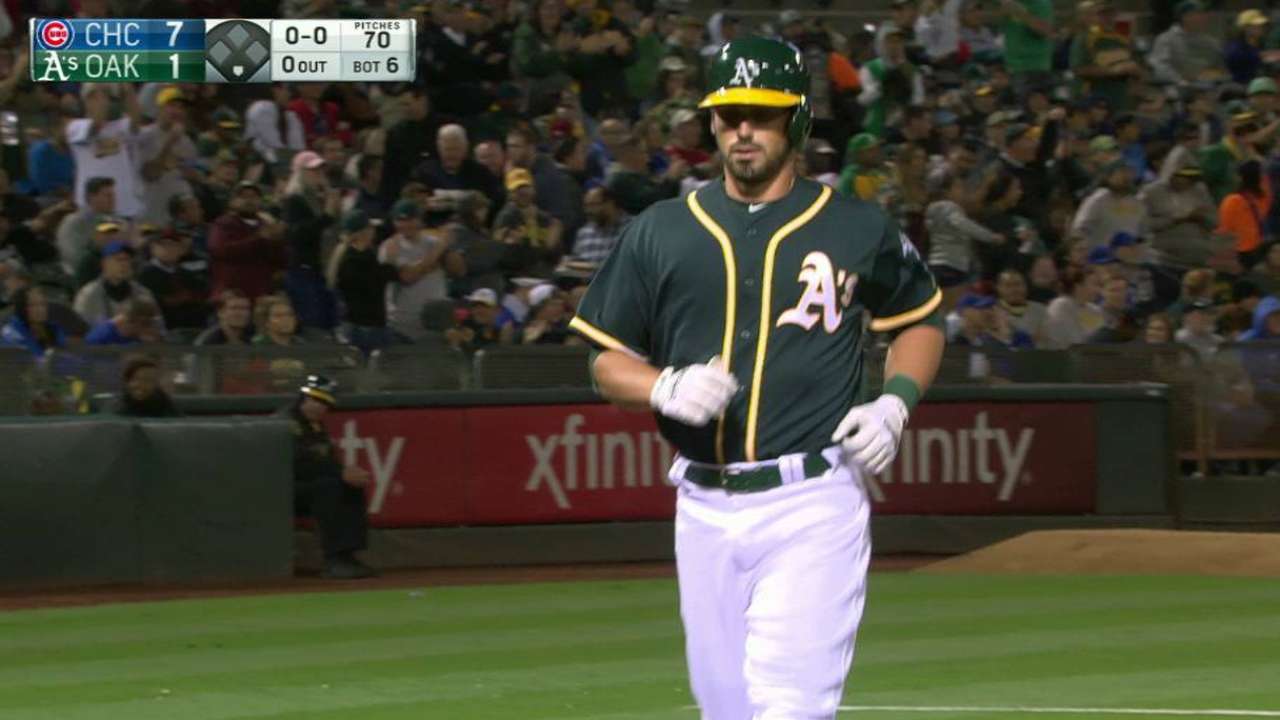 OAKLAND -- It didn't take outfielder Brett Eibner long to showcase what the A's believe may be his biggest strength.
Eibner homered in his A's debut off the Cubs' Jon Lester in the sixth inning on Friday night, erasing Lester's shutout bid in a 7-2 loss. The lefty had retired 14 of the first 15 batters he faced before Eibner's homer sparked a two-run surge.
While it wasn't nearly enough for the A's to overcome an early thumping from Chicago's offense, Eibner's homer was a strong start to his Oakland career.
"You're watching in batting practice and he's hitting the ball a long way," A's manager Bob Melvin said. "The power is probably the biggest tool, as far as offensively."
Oakland traded outfielder Billy Burns to the Royals in exchange for Eibner on July 30 and assigned him to Triple-A Nashville. He played four games for the Sounds, going 4-for-13 (.308) with a homer and two doubles, before being recalled Friday and slotted in the lineup.
The A's believe the 27-year-old can play all three outfield positions, but Melvin didn't commit to Eibner playing every day, saying prior to Friday's game he expects Eibner to gain regular at-bats against left-handed pitchers. He had a similar role in Kansas City this year, hitting .231 with three homers in 26 games over two stints.
"I'm just trying to stay ready no matter what the situation is," Eibner said. "It's definitely different when you don't play every day. You have to come up with a routine and keep yourself prepared for any situation."
After striking out looking against Lester in his first at-bat, Eibner swung at the first pitch of his at-bat in the sixth, lifting his fourth homer of the season to right. He's hitting .324 against lefties this season, compared to .170 against righties.
Eibner said prior to Friday's game that he was unsure of his immediate role on the team, adding he's comfortable at any of the three outfield spots, and the transition to a new organization has been smooth. It helps that he's familiar with at least a few faces, having played with Sean Manaea and Billy Butler at various points during his Royals tenure, and training at the same facility as Ryon Healy in the offseason.
"It was a complete surprise," Eibner said of the trade. "I know this is a business and players get traded all the time. I loved my time in Kansas City and the opportunity they gave me, but I'm looking forward to this."
The A's place high value on versatility, especially from their reserves and depth at Triple-A, with Melvin adding they're eager to watch him first-hand over Oakland's upcoming stretch.
Mark Chiarelli is a reporter for MLB.com based in the Bay Area. This story was not subject to the approval of Major League Baseball or its clubs.