6-run 1st lifts Mariners to win over Halos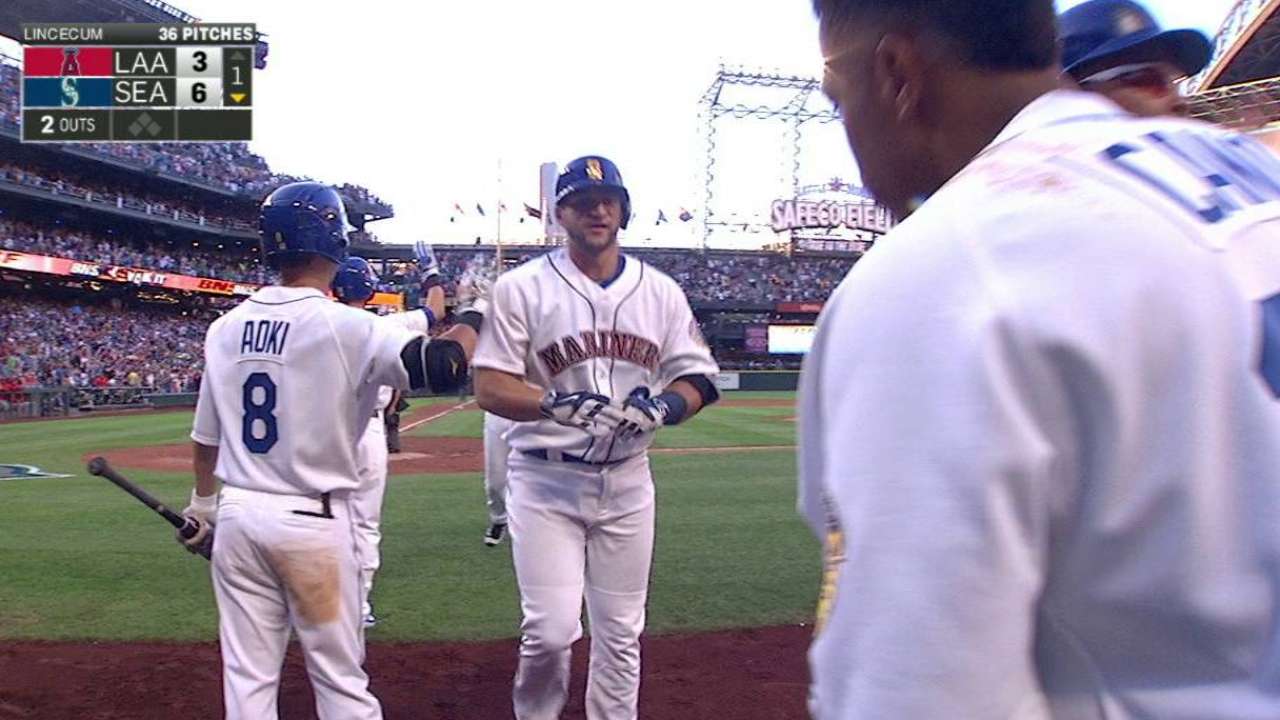 SEATTLE -- Felix Hernandez overcame a horrendous start to out-pitch fellow former Cy Young Award winner Tim Lincecum as the Mariners kicked off Ken Griffey Jr. weekend with a 6-4 win over the Angels in Friday's series opener at Safeco Field.
Hernandez fell behind 3-0 after three batters as Mike Trout unloaded a three-run blast in the first inning. But after the Mariners responded with six runs in the bottom of the first off Lincecum, Hernandez settled in and wound up allowing just one more hit -- a Jett Bandy homer -- over the next seven innings.
"I made better pitches," Hernandez said after correcting course. "It was a changeup up and Trout's got my number. He put a pretty good swing on it. It was deep. After that, I was down consistently and throwing to both sides of the plate and had a better changeup."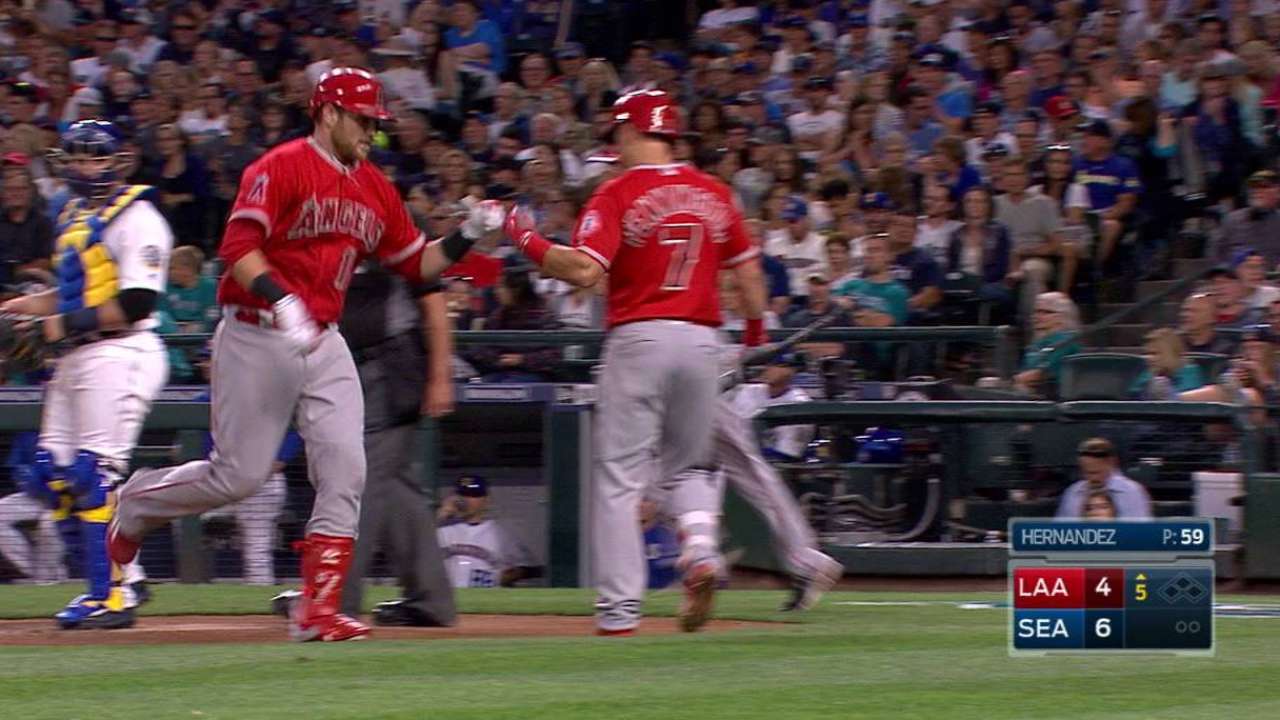 The Mariners ace finished with three hits and four runs allowed in eight frames as he improved to 6-4 with a 3.55 ERA on the season, while rookie Edwin Diaz struck out the side in the ninth to rack up his third save since replacing Steve Cishek. Hernandez is 2-0 with a 5.26 ERA in four starts since returning from a seven-week stint on the disabled list with a strained right calf.
Lincecum's struggles continued as he fell to 2-6 with a 9.16 ERA in nine starts since signing with the Angels. The 32-year-old from nearby Renton, Wash., gave up nine hits and six runs while needing 86 pitches to get through 3 1/3 innings.
"It's just another thing about going out and making the adjustment, and I just didn't make one," Lincecum said. "I think these guys were kind of sitting soft on me and I didn't go to my fastball enough. It seemed to happen pretty fast."
MOMENTS THAT MATTERED
From A to Zunino: The Mariners batted around in the first against Lincecum while racking up six runs on seven hits, capped by Mike Zunino's three-run blast that gave Seattle a 6-3 lead. Zunino fell behind 0-2, but worked back to a full count and then drove a changeup over the left-field fence. Of Zunino's 11 hits since he was recalled from Triple-A Tacoma, six have been home runs and he's batting .268 (11-for-41) in 14 games while taking over the primary catching chores from Chris Iannetta.
"The pitch he hit was a tough pitch," manager Scott Servais said. "The fact he hit that ball out of the park is pretty crazy and shows you how talented and strong he is. It was really good. He's had a few of those lately where he just grinds and grinds. Sometimes he gets a hit and sometimes he doesn't but it's good to see. He's on the right path."
Small Time Timmy Jim: Lincecum allowed six runs before recording three outs and failed to complete six innings for the eighth consecutive start, inflating his ERA to 9.16 by the time that he was finished. Lincecum allowed seven of the first nine batters he faced to reach base. The 32-year-old right-hander has allowed five runs or more in five of his first nine starts since coming back from hip surgery. Angels manager Mike Scioscia was non-committal as to whether Lincecum would remain in the rotation.
"We haven't really digested some things," Scioscia said. "We have to see what avenue it is to get him where he needs to be. So, if you ask me right now, I could say yes but obviously we have to sit down, review his video, see where the positives were, and see where we are." More >
King's Court still in session: While Hernandez struggled as well in the first inning, the Mariners ace steadied himself and after giving up three runs to the first three batters faced, proceeded to retire 12 of the next 13, with just a walk interrupting that stretch. And after that leadoff walk to Albert Pujols in the fourth, Hernandez struck out Andrelton Simmons, Ji-Man Choi and Jefry Marte to end that frame. He finished with six strikeouts, including two of Trout, to the delight of the 40,354 in attendance. More >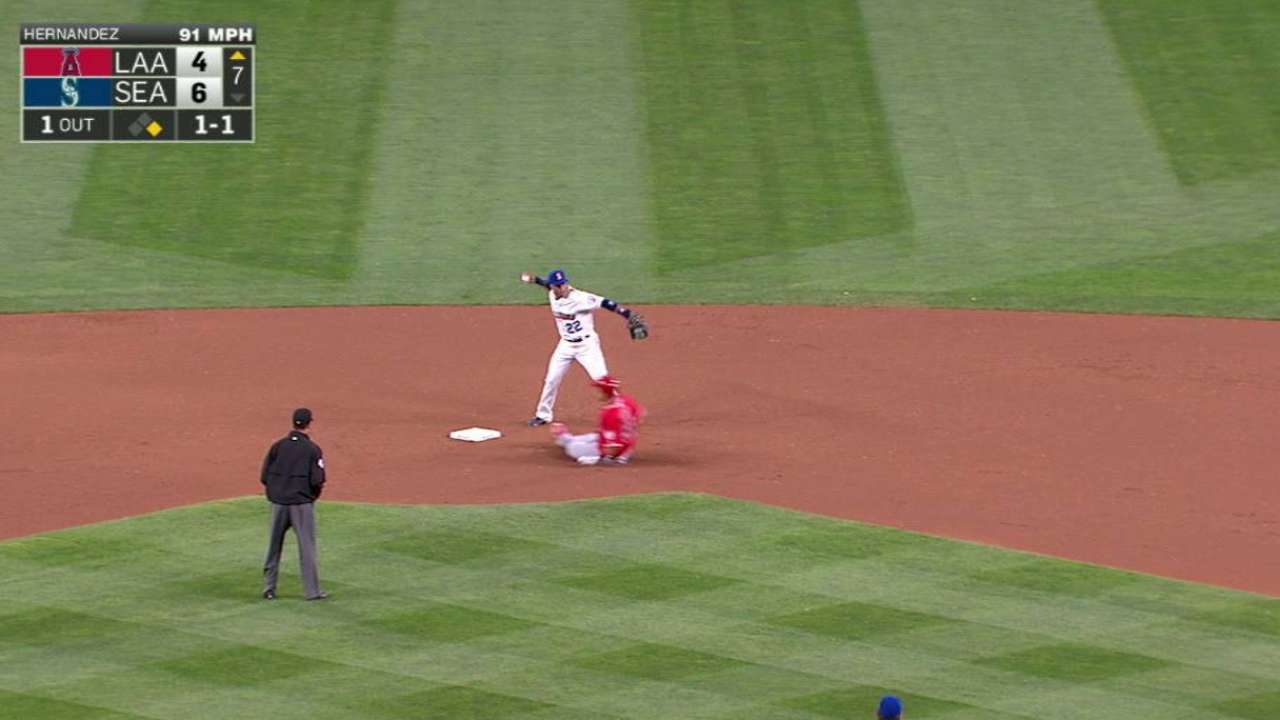 Just another casualty: Trout's first-inning home run against Hernandez was his sixth against the Mariners' ace, tying him with Mark Teixeira for the most against Hernandez. It was also Trout's 12th extra-base hit against Hernandez, and it pushed his batting average to .373 against him. Trout is now one of four American League players with five seasons of 20 or more home runs before his age-25 season, along with Mickey Mantle, Tony Conigliaro, Alex Rodriguez and Ken Griffey Jr.
QUOTABLE
"It's quite frankly very concerning. There's many times I've stood at this podium after that kind of game where we don't win it. The other team has chances to come back where we don't create more distance or separation by adding on a few runs. We're going to address a few things tomorrow. Our baserunning has to get better, reading the ball off bat, scoring from second base, it's not good." -- Servais, on his team's failure to add on after the six-run first
SOUND SMART WITH YOUR FRIENDS
Diaz, the Mariners' 22-year-old rookie, now has 56 strikeouts in 28 innings after setting down Trout, Pujols and Simmons in the ninth and leads the Majors with his 18.0 strikeouts per nine innings.
"He's got great stuff," said Trout, who struck out against Diaz in the ninth. "You don't know what you're looking for." More >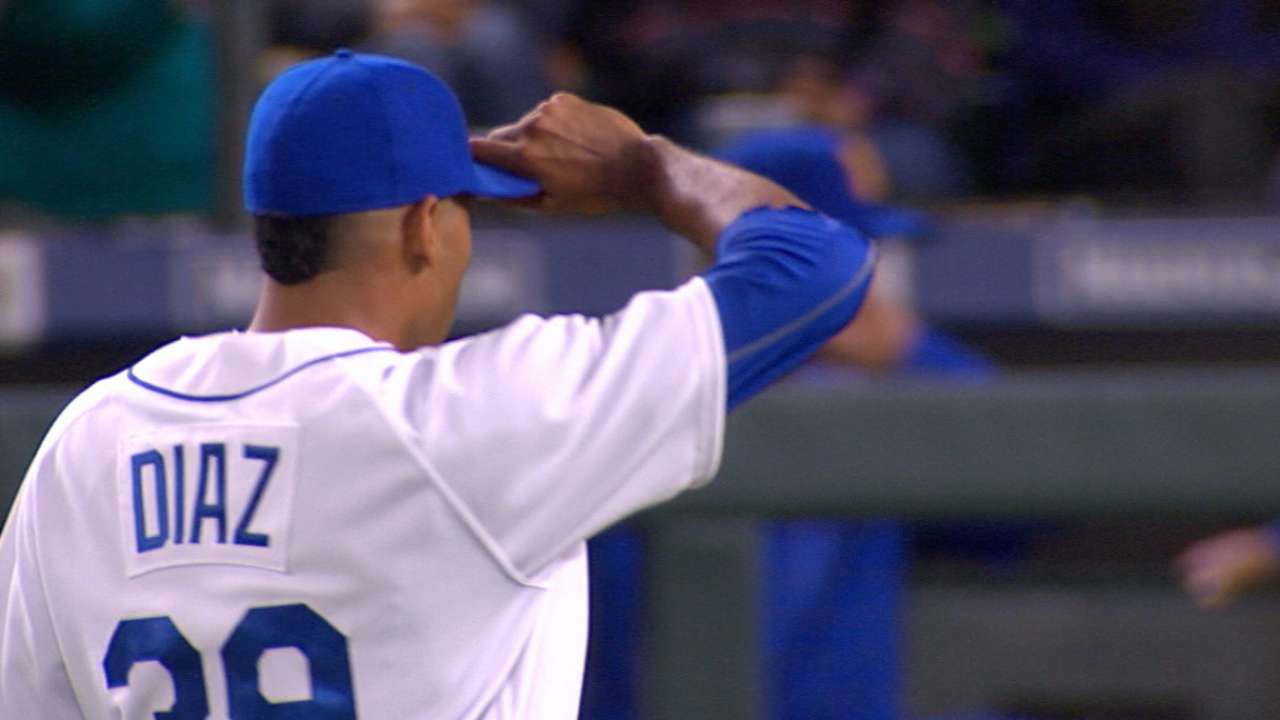 UPON FURTHER REVIEW
Angels infielder Cliff Pennington reached when his grounder was booted by first baseman Adam Lind in the fifth, but was thrown out trying to stretch it to second by right fielder Seth Smith. The Angels challenged the play, thinking Pennington's left hand got in before Shawn O'Malley's tag. But there wasn't enough conclusive evidence to overturn the call.
WHAT'S NEXT
Angels: Tyler Skaggs (1-0, 0.00 ERA) makes his third start since returning from August 2014 Tommy John surgery in the second of a three-game series and will hope to keep his scoreless-innings streak intact. Skaggs has thrown 12 1/3 scoreless innings against the Royals and Red Sox, giving up seven hits and three walks while striking out 13.
Mariners: Taijuan Walker (4-7, 3.66 ERA) will come off a month-long stint on the disabled list with tendinitis in his right arch to pitch Saturday's 6:40 p.m. PT game. Walker is 2-1 with a 3.79 ERA in three starts against the Angels. Gates will open at 3:40 p.m., with Griffey's number retirement pregame ceremony beginning at 5:30 p.m.
Watch every out-of-market regular-season game live on MLB.TV.
Greg Johns has covered the Mariners since 1997, and for MLB.com since 2011.

Alden Gonzalez has covered the Angels for MLB.com since 2012. This story was not subject to the approval of Major League Baseball or its clubs.