Gee delivers with first quality start for Royals
Right-hander goes 6 solid frames in opener against Blue Jays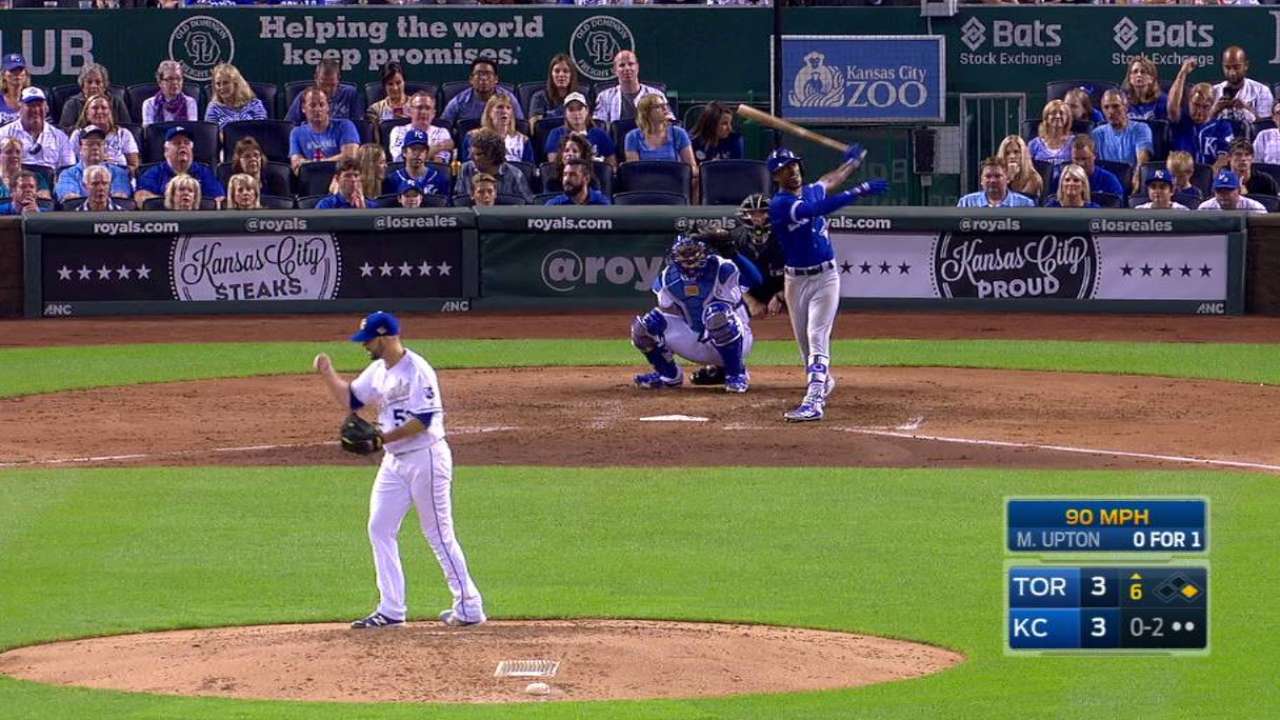 KANSAS CITY -- Little by little, Royals right-hander Dillon Gee is showing he can anchor the No. 5 spot in the rotation.
After throwing a season-high six innings in his previous outing, Gee built on that with his first quality start in the Royals' 4-3 loss to the Blue Jays on Friday night.
Gee gave up three runs and four hits through six innings in his eighth start for Kansas City.
"He was really good," manager Ned Yost said. "He gave up four hits and four walks, but the walks all came in the 2-3-4 part of the lineup and that's the most potent of any portion of any lineup in baseball."
Gee agreed, saying he didn't mind the walks at all.
"Yeah, they're a great lineup," Gee said. "I was just trying to give us a chance to win. I was able to do that. I didn't feel great tonight. It was a battle for sure.
"The slider felt pretty good. I walked a couple of guys on it. But for the most part it was sharp. The walks -- it's just being careful. It's just not giving in. I don't want to give in to this lineup. It's too good. They can hurt you real bad. I just tried to stay within our plan and if I walked a guy, go get the next guy."
Gee gave up four runs in his previous start, but is giving the Royals exactly what Yost wants out of the fifth starter -- at least six innings and four or fewer runs.
"I've always been very routine oriented," Gee said. "I think the more I keep getting starts the more I get my routine down and the more consistent I'll be. That's the way I've always been."
Asked when he thought he got his last quality start, Gee said he didn't know. It was April 2015 against the Marlins when he was with the Mets.
"It's been a while, for sure," Gee said. "Hopefully, I'll have some more."
Jeffrey Flanagan has covered the Royals since 1991, and for MLB.com since 2015. Follow him on Twitter @FlannyMLB. This story was not subject to the approval of Major League Baseball or its clubs.