After return to SD, Rea to undergo TJ surgery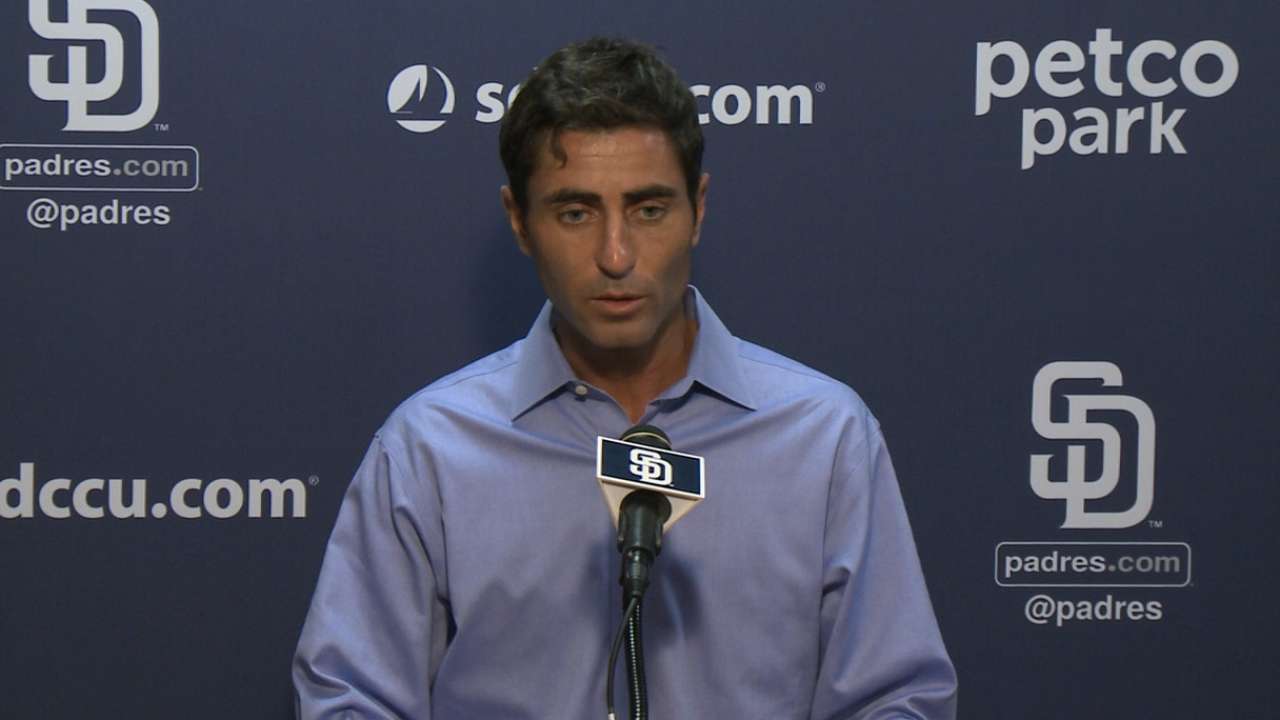 SAN DIEGO -- Padres right-hander Colin Rea will undergo Tommy John surgery after an MRI revealed that the 26-year-old has a torn ulnar collateral ligament in his right elbow.
Rea was traded to the Marlins on July 29 in a deal that also sent Andrew Cashner to Miami, but left his only start with the Fish after just 3 1/3 innings, where Rea said his velocity dipped to the lowest point of the entire year.
"That day it just gradually got worse and worse throughout the start," Rea said. "And it got to the point where I just wasn't able to throw anymore. … So I knew something wasn't right. So yeah, it wasn't like a certain pitch or anything like that, it was just a gradual decline."
Rea was re-acquired by San Diego after that start, and is expected to rehab into next season.
"[We're] disappointed, but all the while he still fits very much into our plans and we have every anticipation of getting him back in, fully healthy and ready to go," said Padres manager Andy Green. "I think he was kind of resigned to the fact that this was possibly the case.
"And I think he's fully committed to rehabbing as quickly as possible. He's one of the harder workers I've been around so there's no doubt he's going to be back and be fully what he was before. And probably even a step better."
Rea, who posted a 4.82 ERA in 102 2/3 innings this season, is looking forward to getting the surgery over with and getting started with the rehab process, which he is hopeful about. Other pitchers on the club can help guide him through it. Newly acquired reliever Carter Capps -- whom the Padres traded for in the first deal that sent Rea to Miami -- and Robbie Erlin are both rehabbing from Tommy John surgeries of their own.
"It's a good thing and a bad thing; we have players who have gone through it before so you can talk to them," Rea said. "What's the best thing to do? What worked for them?"
"I know everyone kind of deals in their own way, but the biggest thing I've been told is just work really hard through the rehab process and most of the time it comes out in your favor… In the end it will be good."
Odds and ends
• The Padres and the El Paso Chihuahuas agreed Thursday to extend their player development contract through the 2018 season.
• San Diego claimed Patrick Kivlehan off of waivers from the Mariners Thursday, and optioned the 26-year-old utility player to Triple-A El Paso. Kivlehan has hit .242/.291/.399 in the Pacific Coast League this season with the Rangers and Mariners organizations, playing at first base, third base and in the outfield.
Carlos Collazo is a reporter for MLB.com based in San Diego. Follow him on Twitter @CarlosACollazo. This story was not subject to the approval of Major League Baseball or its clubs.