Sano dials in, delivers three-hit performance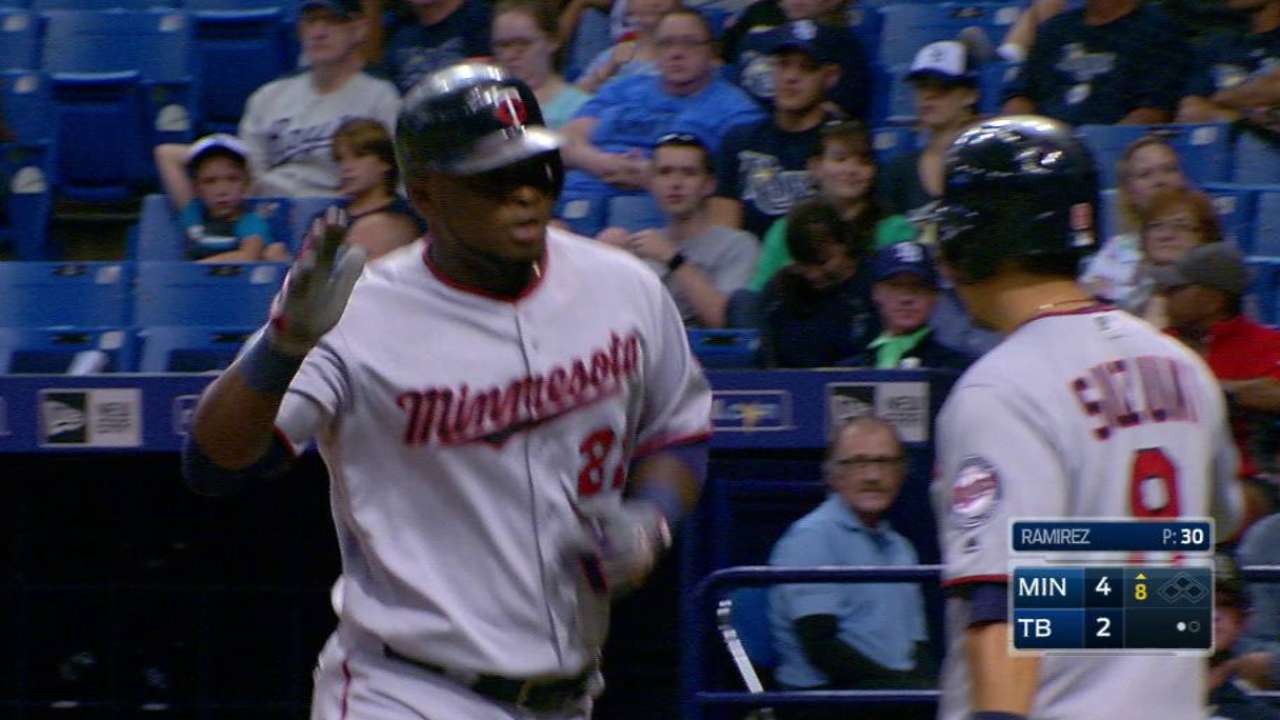 ST. PETERSBURG -- It's been impossible for Miguel Sano to ignore the buzz around the Twins' clubhouse. With Trevor Plouffe preparing to return from a month-long stint on the disabled list, Sano could be the one optioned to Triple-A Rochester.
His Friday evening began the way that most of his last week went. He batted just .152 with 16 strikeouts in his previous eight games. In two at-bats in St. Petersburg, he hit his two-strikeout quota.
But in the sixth inning, it all flipped. Sano rifled a single to left field with one out. Two innings later, he blasted a home run over the left-field fence for the fourth run in Minnesota's 6-2 win against the Rays. He added another single in the ninth. Suddenly, the former top prospect's position on the Twins' roster seemed to clarify.
"Two weeks ago, I was struggling. Today didn't start out really good," Sano said through an interpreter. "I got comfortable and started doing my thing."
Sano hadn't had a three-hit day or a homer since doing both on July 23 in Boston. After that game, his batting average was .251 -- the highest it had been since May 3. By Friday, his batting average had dipped to .239. Plus, his defense had regressed at third and at least one Minnesota coach was outwardly concerned about the second-year star's work ethic.
Twins manager Paul Molitor had a different tune after the series-opening win. He still didn't guarantee Sano a continued spot on the roster, but he did say, "These things kind of play themselves out every once in a while.
"He's been working. As many young guys as we have, you're going to see the ups and downs," he said. "These guys are still learning, but it's good to see them putting the work in when they get rewarded."
Sano's reward could be a continued place on a team threatening to climb out of the American League cellar. The third baseman and outfielder is still a foundational piece of a young organization, and he's still managed an .801 OPS. Although it's more than 100 points lower than last year's .916, Sano has already had more at-bats in 2016.
He insists the chatter wasn't in his mind when he took the field at the Trop. If it was, he responded about as well as Minnesota could have hoped.
"I'm just playing baseball," Sano said. "I'm focused, I'm doing my job, I'm working hard and I'm here to play baseball. That's what it all comes to."
David Wilson is a contributor to MLB.com based in St. Petersburg. This story was not subject to the approval of Major League Baseball or its clubs.