Blue Jays look to gain momentum vs. Royals
Pillar says club wants to atone for last year's loss to KC in ALCS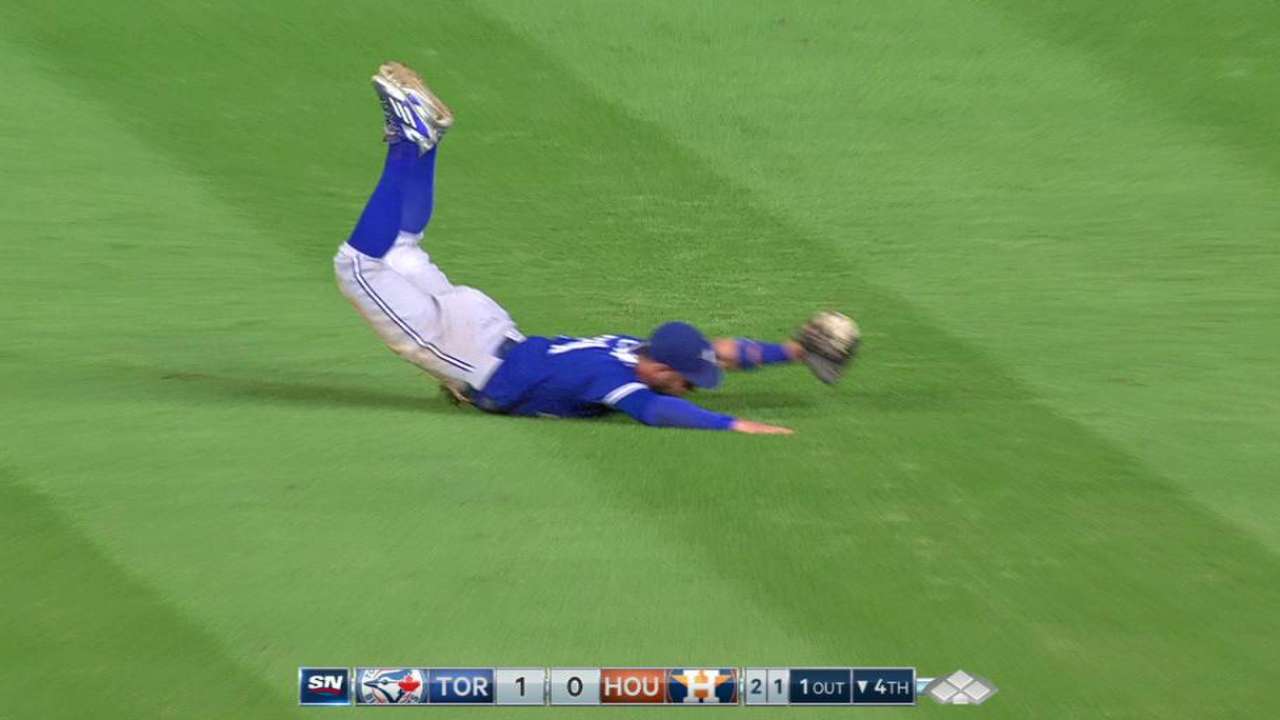 KANSAS CITY -- The Blue Jays' 2015 season ended here at Kauffman Stadium. This year, they're hoping to use the same venue as a stepping stone.
After dropping a heartbreaking Game 6 to the Royals in the American League Championship Series, the Blue Jays are back for the start of a three-game series. And while the teams have already faced off since last year's slugfest, outfielder Kevin Pillar acknowledged there is something to exorcising the demons of the past before being able to truly move forward.
"The last time we were in this clubhouse, the feeling was a lot different. The season was over," Pillar said before Friday's game. "The magical season that we had came to an end. Nothing is ever going to be able to heal what we felt, but to come back here and get a chance to play them again ... is just going to help us get to where we want to [be] this year."
This series won't carry the same meaning as last year's ALCS. Likewise, Pillar acknowledged the Royals aren't quite the same team as last year, especially given the key injuries sustained by the World Series champions. However, Pillar noted that there's still an important distinction in the matchup that represents where the Blue Jays hope to be at the end of the season.
"Until this season is over, they're still the defending champs," Pillar said. "I know they've been going through some injuries and they're not quite the same team they were the year before ... but they're still the champs, and it's still a time for us to prove that we can beat them."
While Toronto, which entered Friday in a virtual tie with Baltimore atop the AL East, marches into Kansas City fresh off an impressive series win over the Astros, the Blue Jays reached the point in the season where players start to wear down.
Blue Jays manager John Gibbons acknowledged on Friday that he'd seen a few guys who could use a day off. For that, he's made various moves to try to sprinkle guys in and out of the lineup to keep them rested.
"It's that time of year. It gets late in the season. They're beaten up," Gibbons said. "Sometimes, one day will do them wonders."
And if the Blue Jays are going to continue to keep everyone as fresh as possible, it will likely have something to do with staying flexible. Whether it's using a five- or six-man rotation or whether Toronto will use a shortened bench vs. a limited bullpen while there are six starters, there are endless possibilities for how they can manage the roster moving forward. For that, there's really only one certainty, and it's the nature of the sport, according to Gibbons.
"That's baseball ... a game of adjustments," he said with a smile. "We can do anything we want, whether you like it or not."
Scott Chasen is a reporter for MLB.com based in Kansas City and covered the Blue Jays on Friday. This story was not subject to the approval of Major League Baseball or its clubs.