Cuthbert looking to stick with Royals in 2017
Rookie third baseman willing to play another position when Moose returns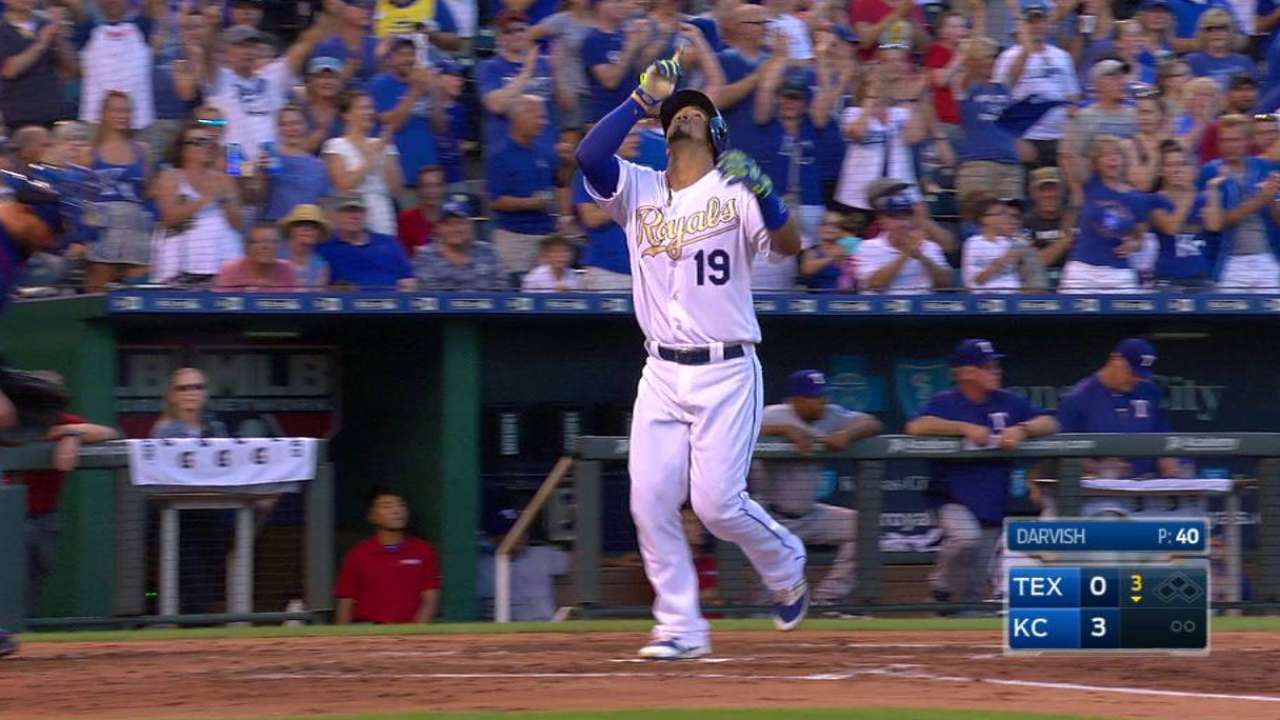 KANSAS CITY -- Royals rookie third baseman Cheslor Cuthbert not only has stepped in for the injured Mike Moustakas, but Cuthbert likely has proven he belongs in the big leagues for good.
The question becomes: What happens to Cuthbert once Moustakas, who is on the disabled list and out for this season with a torn ACL, reclaims his position in 2017?
It is a decision the Royals will huddle over this offseason. And included in that decision-making will be what to do with another third baseman, prospect Hunter Dozier, who is having a breakthrough season. Combined between Double-A and Triple-A, Dozier, ranked as the club's No. 2 prospect by MLBPipeline.com, is hitting .308 with 21 homers and 59 RBIs.
"Those are baseball decisions that we'll have to make," Royals general manager Dayton Moore said. "We'll analyze it. We're fortunate that those guys you mentioned are athletic enough to play multiple positions.
"We have the DH slot in the American League. There are ways to utilize those players in an effective way. You can never have too many good players."
Cuthbert was hitting .293 with a .331 on-base percentage entering Friday's series opener against the Blue Jays. He also has thoroughly impressed manager Ned Yost and the coaching staff defensively.
"We knew he could handle things defensively," Yost said. "He has a terrific arm and he can play. We didn't know about him offensively at this level but he has performed there pretty well, too."
Cuthbert knows the third-base job belongs to Moustakas, an All-Star last season who has more pop in his bat than Cuthbert.
"Yeah, Moose already has a few years of experience and I'm just in my first year," Cuthbert said. "I don't know what the team is thinking about with the future.
"I can't really say what will happen. I'm just focusing on what is happening now and play hard and have fun."
Cuthbert knows if he wants to stay in the big leagues, he may have to learn to play another position such as second base or outfield.
"I'm ready to learn whatever they tell me to do if it means staying up here," Cuthbert said, smiling. "And yes, I could DH. It's not easy, but if it means staying in the big leagues, yes, I'd want to do it."
Dozier's emergence this season presents another pleasant problem for the Royals.
Moore said the organization already is preparing Dozier to be versatile. He has played 14 games in the outfield in the Minors, and lately has been playing mostly right field.
"He's playing right field now," Moore said. "When we drafted him, he was a shortstop. He can play third, first and outfield. So we know he's athletic enough.
"The bottom line is once a player's bat comes close to being Major League ready, you have to look for opportunities for him on the big league team."
And that's where the Royals will be with Cuthbert in 2017.
"Cuth is a good enough athlete to bounce around, too," Moore said.
Jeffrey Flanagan has covered the Royals since 1991, and for MLB.com since 2015. Follow him on Twitter @FlannyMLB. This story was not subject to the approval of Major League Baseball or its clubs.