After Tex: Bird, Austin could battle for 1st in '17
'We feel that we have options in-house,' Girardi says
NEW YORK -- Mark Teixeira never required much of a primer on the Yankees' rich history at first base, having grown up admiring Don Mattingly's all-around excellence from afar. In recent decades, that job title was handed from "Donnie Baseball" to Tino Martinez and then Jason Giambi.
It is about to be passed on once again, with Teixeira announcing on Friday that he will retire at the conclusion of the 2016 season. Manager Joe Girardi said that the Yankees' next first baseman may already be in the system, suggesting that Tyler Austin and Greg Bird could be battling for the job next spring.
"I think there's going to be a really good competition next year, and I think it'll bring out the best in both of them," Girardi said.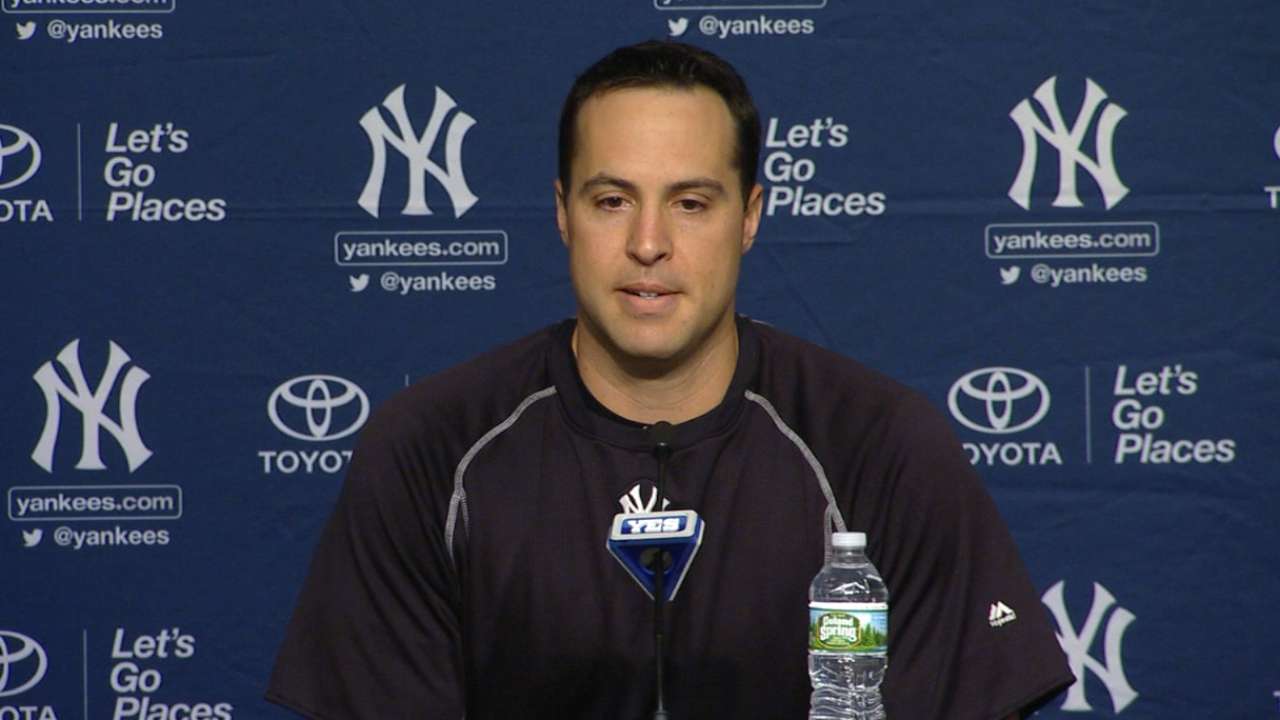 Bird, 23, showed last season that he was not intimidated by the big league stage. The left-handed-hitting slugger connected for 11 home runs in 46 games after Teixeira was lost for the year to injury, helping the Yanks reach the American League Wild Card Game against the Astros.
In February, Bird had season-ending surgery to repair a torn labrum in his right shoulder. He has been working out at the Yankees' complex in Tampa, Fla., swinging and throwing. Girardi said that Bird is preparing for a possible stint in the Arizona Fall League.
"We've always believed in him," Girardi said. "I think that he has to prove that he's healthy. That's probably the most important thing, and then you go from there."
In the more immediate future, Yankees fans are likely to get a look at the 24-year-old Austin, who has put himself back on the prospect map with a strong year at Triple-A Scranton/Wilkes-Barre. The right-handed-hitting Austin is slashing .319/.417/.638 with 13 home runs and 47 RBIs in 52 International League games after beginning his season with Double-A Trenton.
"This is another guy that we feel can come up and possibly really impact this team," Girardi said. "I think we're all excited about what we're seeing from Tyler Austin. You look at his numbers in Triple-A; they're off the charts.
"… Tyler Austin was a big prospect for us. He went through some injuries, some wrist injuries. I think because of that, sometimes you change things. He's healthy. He's playing extremely well. It's someone we're definitely going to take a look at."
Girardi said that he plans to play Teixeira as much as possible over the final two months of the season, though his balky right knee ensures that utility-man-in-training Rob Refsnyder should continue to see playing time at first base.
Refsnyder has played 25 games (21 starts) at first base, despite never having played the position professionally prior to this season. He said that Teixeira has helped him on both sides of the ball, which leaves big shoes to fill for whoever eventually inherits the position.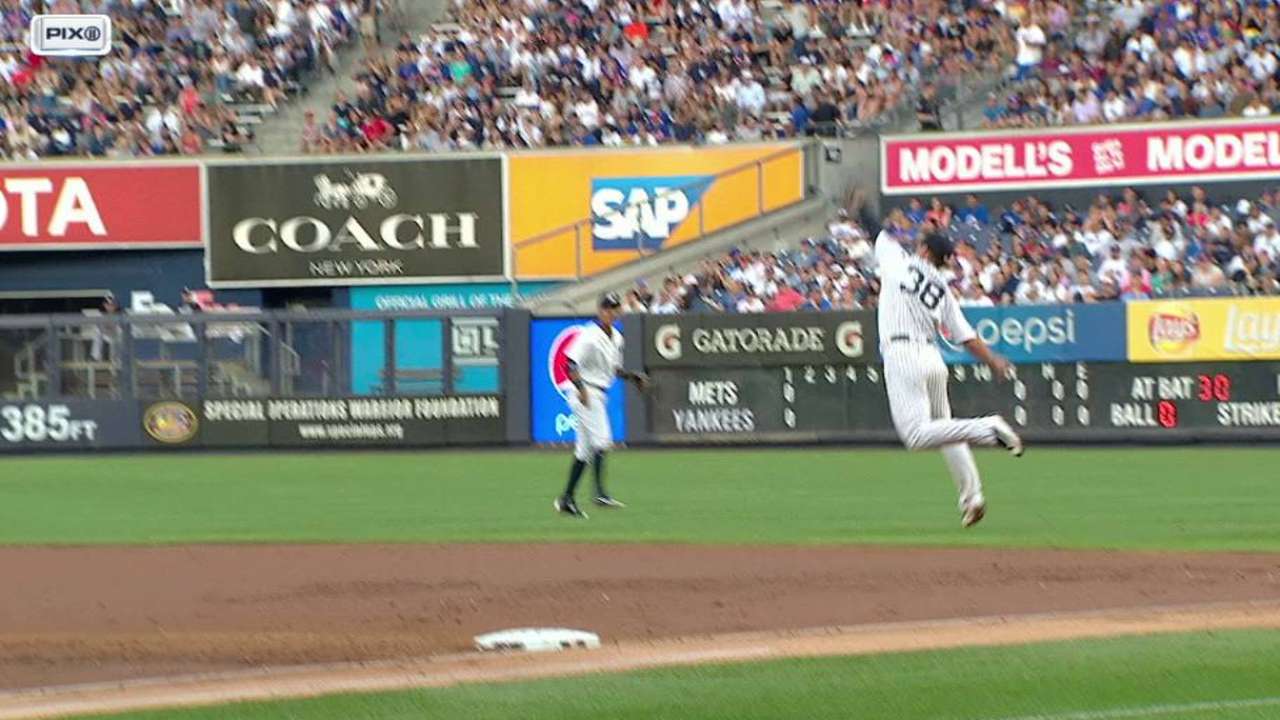 "You look at guys like that, and you don't know how they're going to be," Refsnyder said. "He's always been great to me. He's come out of his way to give me advice my first week at first base. Even before that, hitting advice. I think the biggest thing fans don't see -- I think he's had the same routine in the cage hitting his whole career. Great player, but even a better teammate and person."
Teixeira's retirement will free approximately $23.125 million from the Yankees' books. If they so desired, the free-agent crop of first basemen for 2016-17 includes Edwin Encarnacion, Logan Morrison, Brandon Moss, Mike Napoli and Steve Pearce, though on this day, Girardi sounded more enthused about the idea of an Austin-Bird battle.
"We feel that we have options in-house," Girardi said.
Bryan Hoch has covered the Yankees for MLB.com since 2007. Follow him on Twitter @bryanhoch, on Facebook and read his MLBlog, Bombers Beat. This story was not subject to the approval of Major League Baseball or its clubs.