Zimmermann's MRI reveals no major lat injury
Determination on DL stint to come after Sunday bullpen session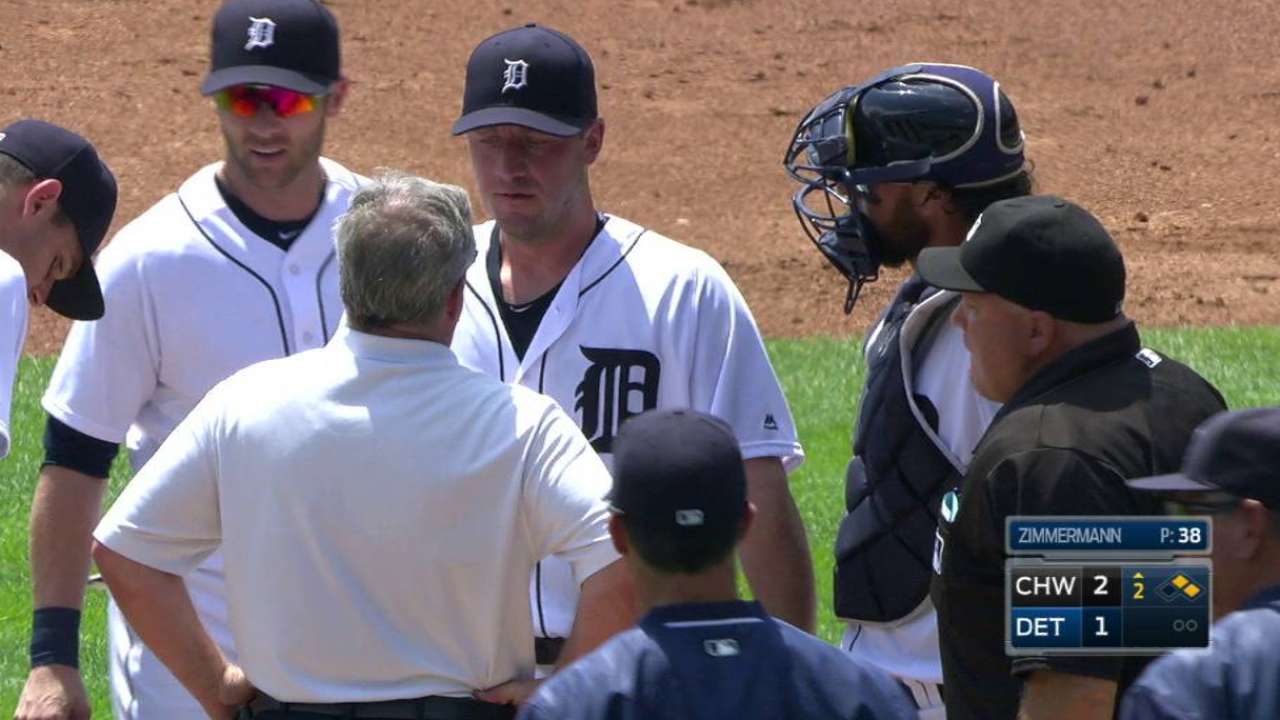 DETROIT -- The Tigers got good news on Jordan Zimmermann's MRI results: He doesn't have a major injury to his right lat, which bothered him throughout Thursday's outing. However, they do not yet know whether Zimmermann will avoid a stint on the disabled list.
"At least until Sunday," manager Brad Ausmus said.
That's when Zimmermann will throw his normal between-starts bullpen session off the mound, testing the lat to see if the tightness that left him unable to fully extend his arm on pitches flares up again. If it does, it's highly unlikely the Tigers would let him start again on turn Tuesday at Seattle, forcing Detroit to go with a fill-in starter.
"He'll throw on Sunday, and we'll go from there," Ausmus said.
Zimmermann had tightness -- not pain -- when he threw on Thursday in his return from a neck strain that sidelined him for a month, according to Ausmus. That's key, since pain would signify damage much more than tightness. Still, the Tigers felt it was worth having the MRI exam just in case.
Even if it's not technically an injury, it's clearly a concern, given how Zimmermann struggled to pitch to his normal standards in Thursday's 6-3 loss to the Whie Sox. His velocity was down a tick, he struggled to find finish on his pitches and he didn't have his usual command. The result was just five outs in 14 batters faced, and a bullpen taxed to the point that the Tigers called up left-hander Blaine Hardy from Triple-A Toledo afterwards to have a fresh arm for Friday.
Whether or not Zimmermann is injured, the Tigers can't afford to have another outing like that. The tricky part is that with Tuesday's game in Seattle, the Tigers can't wait and call up a starter on the spot, like they could if they were in Detroit and Triple-A Toledo was playing at home. If Zimmermann became a last-minute scratch, the Tigers would have to string together relievers to fill his start. If the Tigers decide Sunday or Monday, they can make a move.
Left-hander Daniel Norris is on turn at Toledo and, judging from his seven innings of one-run ball with seven strikeouts on Thursday night for the Mud Hens, pitching effectively again after returning from an oblique injury.
The good news for the Tigers is that they can backdate a DL stint on Zimmermann if needed, meaning he'd be eligible to return two weeks from Saturday whether the Tigers made a move Sunday, Monday or Tuesday.
Worth noting
• Center fielder Cameron Maybin missed his second consecutive game on Friday with a bruised left thumb, and he could miss Saturday's game as well.
"There's still some swelling in there," Ausmus said, "so we'll give him another day. It could be two days."
• Hardy returns to the Tigers' bullpen for the first time since mid-June, replacing the optioned Kyle Ryan. He held opponents to five runs on 18 hits over 27 1/3 innings with the Mud Hens, walking four and striking out 16.
"He was the guy that they recommended," Ausmus said. "I know the numbers were very good. He needs to do it here."
• The Tigers announced their second Australian signing in as many months, signing amateur free agent Ulrich Bojarski. Like fellow Tigers signee Jack O'Laughlin, Bojarski was part of the MLB Australian Academy program and took part in a Spring Training exhibition tour of Florida, where he went 3-for-4 with a double and a home run against a Tigers Minor League squad.
• Nate Schierholtz, a non-roster invitee to Tigers camp this past spring who played for six weeks at Triple-A Toledo, received an 80-game suspension from Major League Baseball on Friday after testing positive for Ibutamoren, a performance-enhancing substance. Schierholtz hit .246 (29-for-118) with three homers and 13 RBIs for the Mud Hens before he was released in May. The suspension would begin if and when he signs with another club.
Jason Beck has covered the Tigers for MLB.com since 2002. Read Beck's Blog, follow him on Twitter @beckjason and listen to his podcast. This story was not subject to the approval of Major League Baseball or its clubs.