Nova given leeway to sculpt pitching persona
Hurdle: Pirates won't impose organizational philosophy on new hurler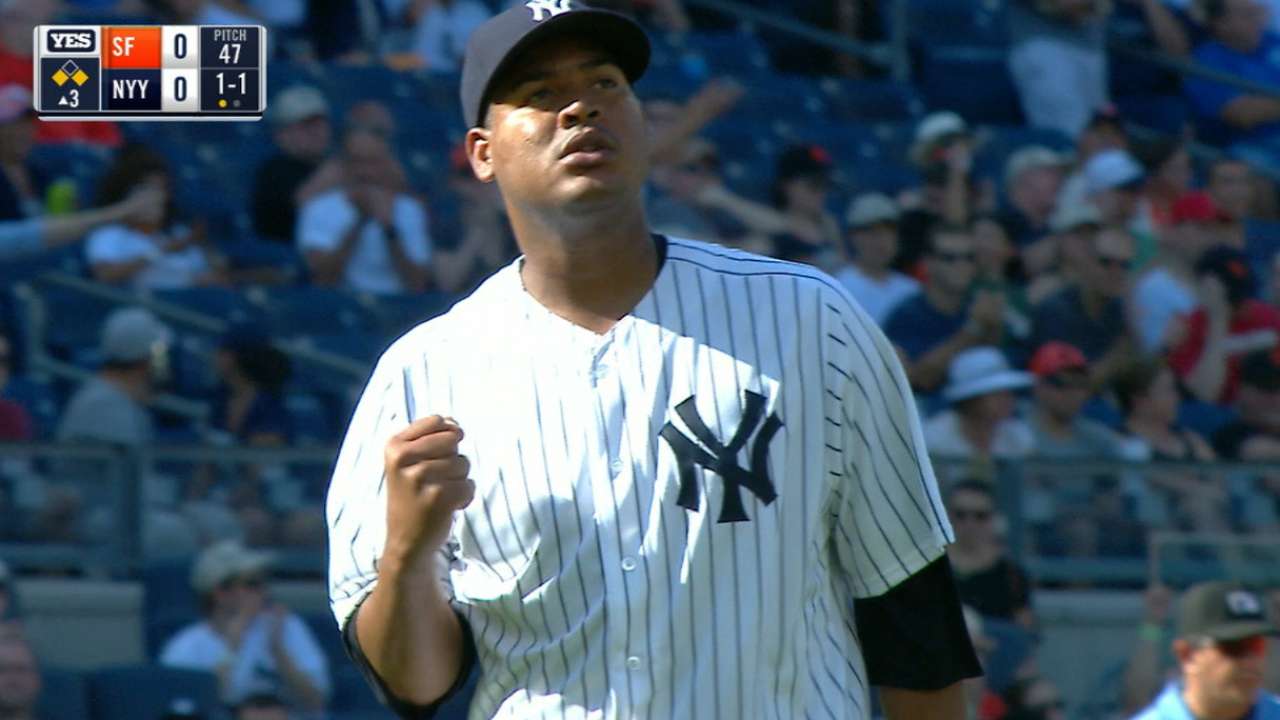 PITTSBURGH -- You only get one chance to make a first impression, as manager Clint Hurdle often says. But for the Pirates, the first impression isn't always a lasting one.
Right-hander Ivan Nova will make his Pittsburgh debut on Saturday after joining the club in a Trade Deadline deal with the Yankees. The Pirates believe Nova, effectively replacing Francisco Liriano, will help their rotation down the stretch.
They believe Nova's sinker will play better with catchers Francisco Cervelli and Chris Stewart, familiar faces from New York, behind the plate. They believe he will benefit from getting away from the American League East's tough lineups and hitter-friendly ballparks.
But they don't believe in jumping to conclusions or making changes before a pitcher gets a chance to prove himself, so they'll first let Nova acclimate to his new surroundings.
"We've got some thoughts going in, but we need him to show us and tell us," Hurdle said. "We did share our organizational philosophy of pitching ... and now, we said, 'We want you to go out and pitch with confidence and scheme the game plan with Cervelli, and we'll continue to paint the picture together moving forward based on what we see.'"
That feeling-out period was evident after last year's Deadline. Left-hander J.A. Happ allowed four runs in 4 1/3 innings, a disappointing debut that led for some calls that he be removed from the rotation.
Then, pitching coach Ray Searage began working closely with Happ and the Pirates pushed back his next start. Since then, Happ is 22-4 with a 2.57 ERA in 196 innings over 32 starts between Pittsburgh and Toronto.
"What we've come to experience here is you ask them to tell you the story first," Hurdle said. "What's worked for you, what have you had challenges with, what do you like to do, what have we struggled with?"
Since joining the team on Tuesday, Nova has taken a crash-course on Pirates pitching, but he hasn't talked to Searage about making any mechanical changes.
"I don't think I have any mechanical problems," Nova said. "My job is to go out there and execute my pitches."
Around the horn
• Right fielder Gregory Polanco was out of the starting lineup on Friday vs. the Reds due to left shoulder discomfort, though he entered as a pinch-hitter in the eighth and was intentionally walked.
• Cervelli, who was hit in the helmet by a pitch earlier this week, returned to the starting lineup on Friday. Catcher Elias Diaz, who was in Atlanta as a taxi-squad backup, returned to Triple-A Indianapolis.
• Right-hander Tyler Glasnow (15-day disabled list, right shoulder discomfort) is scheduled to throw all of his pitches in a bullpen session on Saturday.
• Friday was Stand Up To Cancer Night at PNC Park. Special ticket packages were sold, with each ticket including a donation to SU2C. In a pregame ceremony, the Pirates recognized fans and organizations supporting the fight against cancer.
Fans sign the special @SU2C Banner that will be displayed inside PNC Park for the remainder of the season. pic.twitter.com/P1h8S6zkfN

— Pirates (@Pirates) August 5, 2016
Adam Berry has covered the Pirates for MLB.com since 2015. Follow him on Twitter at @adamdberry. This story was not subject to the approval of Major League Baseball or its clubs.