MLB.com Columnist
Alyson Footer
HOF Tour lets Brett travel back in time
'We Are Baseball' traveling exhibit, now in KC, has virtual reality, 'History Selfies'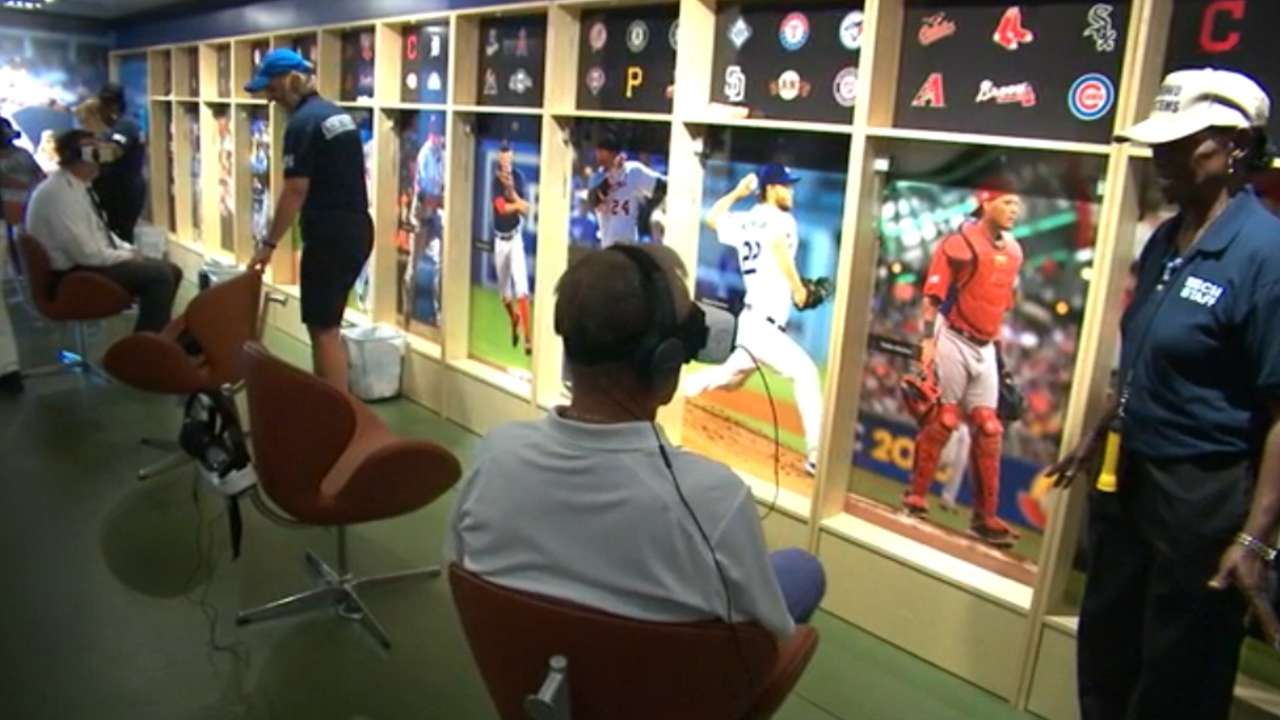 KANSAS CITY -- Hall of Famer George Brett had a variety of choices while deciding which historical moment he wanted to insert himself into. The infamous Pine Tar Game was one of them, but the Royals great went another direction, opting instead to pose with Babe Ruth, Lou Gehrig and the Waner brothers.
"I'm pretty excited to do this," Brett said, admiring the finished product.
"History Selfies" are sure to be a big hit at Lot A at Kauffman Stadium, site of the "We Are Baseball" traveling Hall of Fame Tour that has made its way to Kansas City. Brett may have declined to place himself back in the midst of the Pine Tar Game that continues to be so tied to his legacy, but that particular moment in history is sure to be a big hit in Kansas City, where Brett played for all 21 years of his Hall of Fame career.
Instead of just watching footage of umpire Tim McClelland call Brett out, here, fans can insert themselves into that very moment. All it takes is a quick pose in front of a screen, and then watch the magic happen.
It's enough to make even the greatest player in Royals history feel like a kid again.
"All this stuff makes you giddy," Brett said. "I've said this before, the saddest day of my life was when I had to retire. I made the decision, and it was one of the toughest decisions I've ever made in my life. It's fun to come back and relive these moments. That's why these things are so cool."
The word "interactive" is a key element of the "We Are Baseball" tour. It's about more than just looking at famous artifacts from the greatest players in history, although that is part of it, too. But this exhibit is unique in that it invites fans inside, where they can insert themselves into great moments, as if they were happening now.
The exhibit includes an IMAX theater and five trailers filled with exhibits that circle a covered stage. Fans are encouraged to move from room to room at their leisure.
The IMAX film features a look at the game in present times as well as in the past, with a focus on the youth game. It also explains the difference between trying to hit a 100 mph fastball as compared to one thrown at 92 mph. The one thrown at 100 reaches the plate in 396 milliseconds.
"You blink?" former outfielder Torii Hunter says. "[It's] by you."
In one trailer, touchscreen videos tell the story of an artifact before revealing the artifact itself. Fans can browse through the plaques of every Hall of Famer, and custom design one of themselves. In another trailer, "History Selfies" are the main attraction. There is also a virtual reality exhibit that puts fans right in the middle of the action: in the dugout as the Royals receive their World Series rings, at the cage as Mike Trout takes batting practice and behind the plate as the Blue Jays' Marcus Stroman throws a breaking ball.
"It's going to be special," Brett said of the traveling tour. "Especially stuff like the virtual reality. To look at Yogi Berra's glove and Babe Ruth's bat, not many people get to see things like that. I hope they take advantage of it."
In addition to Brett, Royals greats Frank White and Amos Otis were on hand to take the tour. Both gave the exhibits an enthusiastic approval.
"You get in there and you sort of put yourself in that posture of Willie Mays making a great catch," White said. "You can do your own Hall of Fame plaque. You can throw peanuts and popcorn across the stadium to each other. It's a great idea. I'm glad they came here, and the fans are going to be able to enjoy for a while."
Added Otis: "This is amazing. I wish we had something like this years ago."
The tour will be in Kansas City through Aug. 21. The complex, located at Lot A at Kauffman Stadium, will be open from 10 a.m. - 7 p.m. CT most days. For a complete schedule and ticket prices, visit mlb.com/hall-of-fame-tour.
After Kansas City, the tour moves on to Busch Stadium in St. Louis from Aug. 26-Sept. 11; Mall of America in Bloomington, Minn., from Sept. 16-29; and the Las Vegas Convention Center from Oct. 7-23. The 2017 schedule is still being set.
Alyson Footer is a national correspondent for MLB.com. Follow her on Twitter @alysonfooter. This story was not subject to the approval of Major League Baseball or its clubs.