Beltran eyes ring, has no desire to retire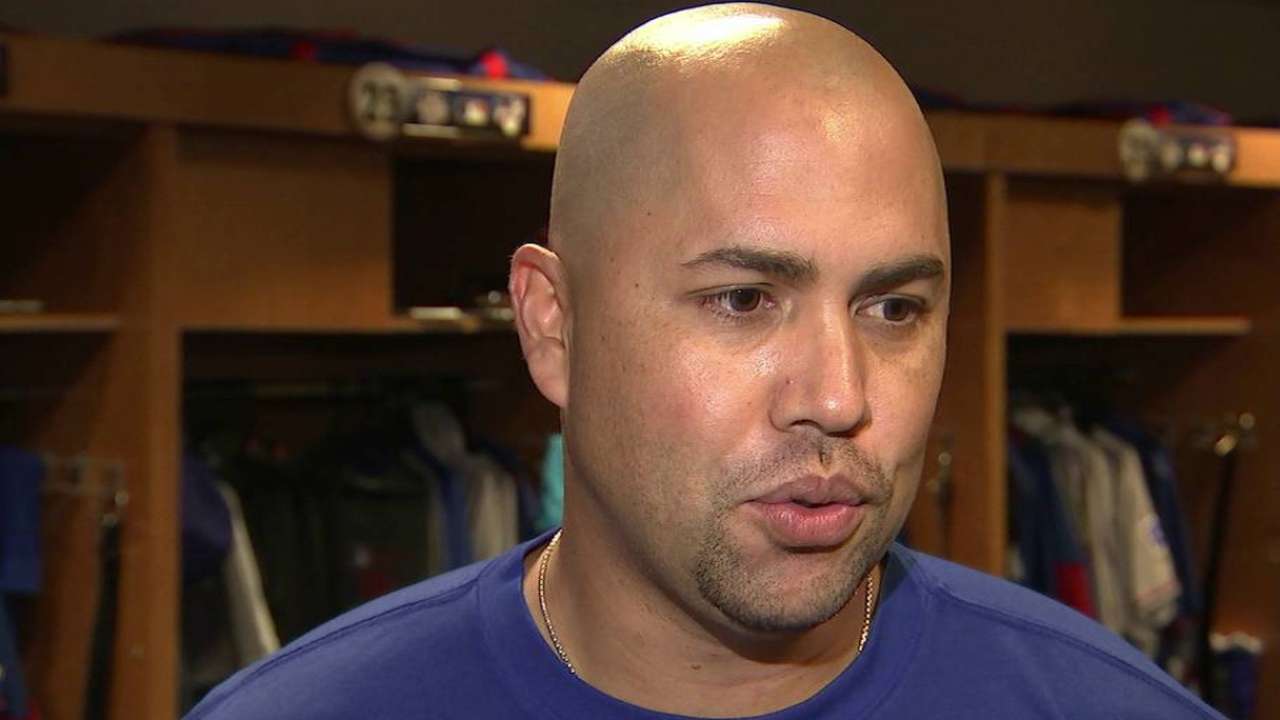 HOUSTON -- Rangers designated hitter Carlos Beltran -- just like Adrian Beltre -- is finding out the benefits of continuing to play well in the latter years of his career.
Beltran had a run-scoring single in the fifth inning of Thursday's 5-3 victory over the Orioles, giving him 1,509 RBIs for his career. That tied him for 55th all-time with Hall of Famer Mickey Mantle. They are also tied for third among switch-hitters.
"This year has been the year of little things like that," Beltran said. "Mickey Mantle is one of the greats in baseball. I feel like tying or passing him is a great accomplishment. I'm proud of my career and I am proud of what I put into it. There have been a lot of ups and downs, but I'm still competing in this game I love."
Beltran, 39, isn't ready to stop now, even though the Rangers have him under contract only through this season. He may not be back with the club in 2017, but he certainly isn't ready to hang it up.
"This is the game I love and I have a passion for it," Beltran said. "I love baseball. I don't know when I am going to retire, but as long as I can contribute and help the team, I want to be a part of it."
Beltran has played in 2,409 games, the fourth most among active players. Beltre is second with 2,669.
Beltran and Beltre both made their Major League debuts in 1998. They also have one more thing in common. Both are still looking for their first world championship ring, something that continues to drive Beltre and why Beltran is glad to be with the Rangers.
"I have been in one World Series [with the Astros in 2005] and lost it," Beltre said. "I have been in a couple of playoffs. That's what we all want to do. That's why we work hard in the offseason, Spring Training and the regular season.
"I have looked at the history of baseball and there are a lot of great players who have never won a World Series. It's not going to dictate my career as a baseball player, but it's something I want to experience this year or before I retire."
Beltran does have a tendency to shine in the postseason. His career .332 batting average in 52 postseason games is the second highest in Major League history among players who have appeared in at least 50 games. His .674 slugging percentage is the highest.
That's one of the reasons why the Rangers were willing to give up three prospects, including pitcher Dillon Tate, the fourth overall pick in the 2015 Draft. The Rangers got Beltran for the postseason just as much as the regular season. General manager Jon Daniels spoke of the "big moments" they were looking forward to from Beltran.
"When you get into those games, sometimes you can let the hype get you out of your game plan," Beltran said. "That doesn't happen to me. I stay level-headed, and that allows me to continue to contribute in the playoffs."
The Rangers acquired Beltran from the Yankees on Monday, and he was in the lineup for the fourth straight game on Friday as the designated hitter. But Beltran said he talked with manager Jeff Banister on Thursday in Baltimore and made it clear he still hopes to play some in the outfield.
"I want to give him some flexibility in the DH spot," Beltran said. "I want him to have value so he can use it to give other guys rest. I think I'll look at one point where I have to consider this my full-time position, but right now, I don't see me as a full-time DH. I love being in the outfield."
Banister said Beltran will start in right field on Saturday.
"I know he is not the center fielder I saw when he was 19," Banister said, "but I also watched him in right field against us in New York and Arlington. He's a good outfielder. He may not have the range, but he is still a solid outfielder."
T.R. Sullivan has covered the Rangers since 1989, and for MLB.com since 2006. Follow him on Twitter @Sullivan_Ranger and listen to his podcast. This story was not subject to the approval of Major League Baseball or its clubs.