Holland hopes to return by Aug. 20
Lewis traveling with team, throwing long toss without pain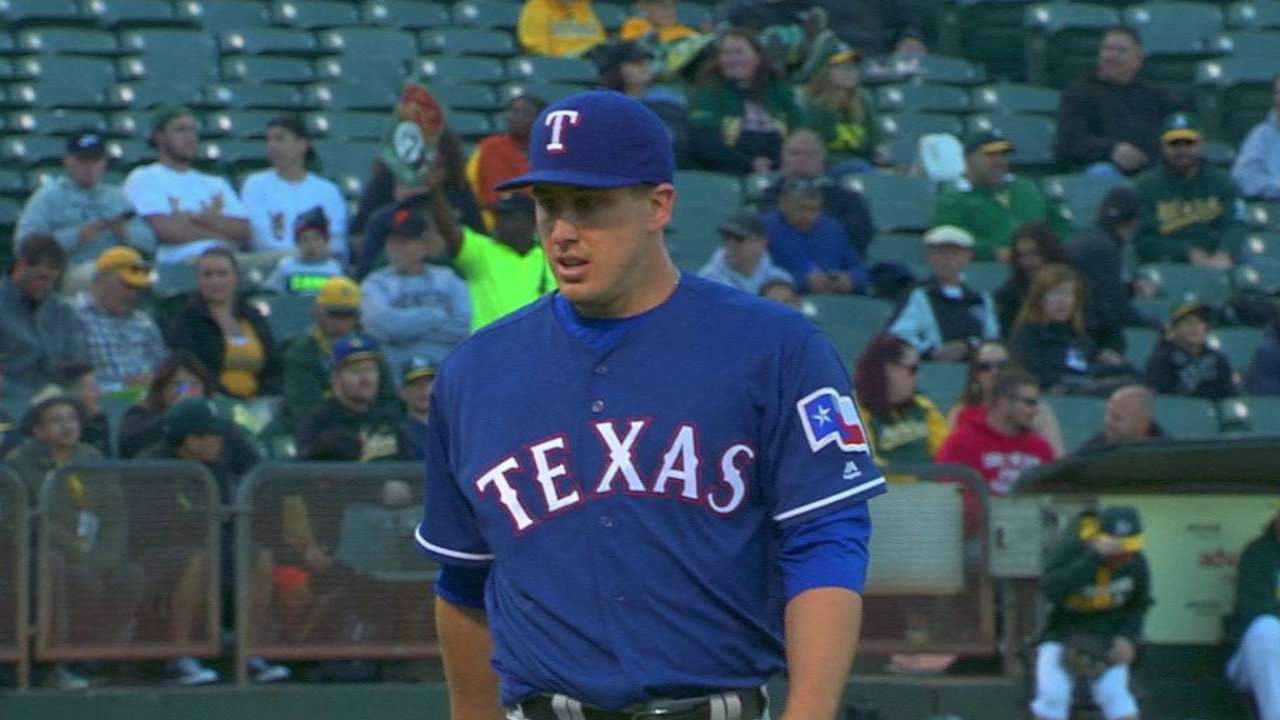 HOUSTON -- Rangers pitcher Derek Holland began his medical rehabilitation assignment on Friday night with Triple-A Frisco in the hope of being ready by Aug. 20.
Holland's first start went well at Oklahoma City. Pitching against the Dodgers' Triple-A affiliate, Holland threw two scoreless innings while allowing a hit and a walk with two strikeouts. He threw 28 pitches.
Colby Lewis, also on the 60-day disabled list because of a strained muscle in the back of the right shoulder, is hoping he'll be right behind Holland. Lewis is traveling with the Rangers and is throwing long toss from 105 to 120 feet without any pain.
Lewis is hoping to throw off a mound at some point next week, although it will probably be after getting another MRI when the Rangers return to Arlington on Wednesday. Lewis is eligible to come off the disabled list on Aug. 21, although it may be closer to September.
"I feel really good," Lewis said. "As long as I continue to feel good, I'll come back when they want. I want to be back sooner than later."
Holland's start on Friday for Round Rock will be the first of at least three starts before he is eligible to come off the disabled list. Holland is on the disabled list because of left shoulder inflammation, and he has had no setbacks to this point. Manager Jeff Banister said Holland will be evaluated start to start before determining what the next step will be.
"We'll see how he builds on each outing," Banister said.
Chirinos back at catcher
Banister is not going to forget about catcher Robinson Chirinos after the Rangers acquired Jonathan Lucroy from the Brewers on Monday. Lucroy started the three games in Baltimore, but Chirinos was behind the plate on Friday night.
Banister wanted Chirinos to work with Martin Perez while giving Lucroy a chance to "decompress" after the trade and starting all three games in Baltimore. Banister said Lucroy is the primary catcher but Chirinos will get one to two starts per week.
"That's a fair assessment," Banister said.
Worth noting
• Reliever Jeremy Jeffress, also acquired from the Brewers on Monday, made his debut for the Rangers on Thursday night with a scoreless inning against the Orioles. He was the 29th pitcher used by the club this season, the most in the Major Leagues.
• Lucroy hit his first home run for the Rangers on Thursday, the 19th player to do so for the club. That's the most by any American League team.
• Converted outfielder James Jones made his first professional pitching appearance on Thursday, throwing a scoreless inning for the Arizona Rookie League Rangers. Jones was acquired as an outfielder from the Mariners, but he has been switched to pitcher. That was his position in college at Long Island University.
T.R. Sullivan has covered the Rangers since 1989, and for MLB.com since 2006. Follow him on Twitter @Sullivan_Ranger and listen to his podcast. This story was not subject to the approval of Major League Baseball or its clubs.