Jankowski's speed puts charge into Padres
Center fielder's dirty uniforms becoming trademark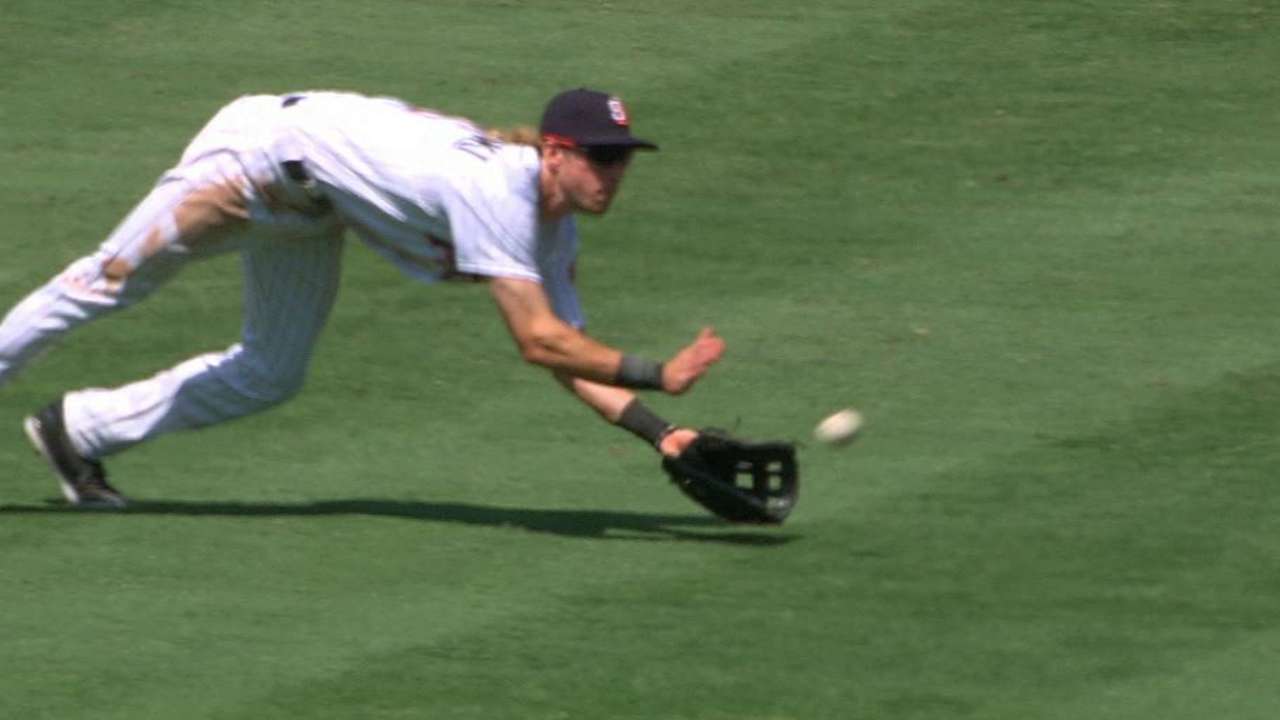 Bill Center, longtime sportswriter for U-T San Diego, is an employee of the Padres.
Usually, there is a veteran player who sets the tone for a Major League team through his play and/or leadership. But on the rebuilding Padres, the player creating the tempo is swift 25-year-old center fielder Travis Jankowski.
"Jankowski is wreaking havoc," Padres manager Andy Green said on Wednesday afternoon after the center fielder completed a three-game blitz of the Milwaukee Brewers at Petco Park. "Travis is dynamic right now."
How does a 6-foot-2, 185-pound speedster with flowing golden locks "wreak havoc"?
With his legs.
Jankowski was 6-for-11 against the Brewers, with four infield hits and a double. He also drew three walks. And Jankowski was just getting started when he reached base. He stole five bases in the three games, including a steal of home.
Jankowski also made two exceptional catches in the three-game series won by the Padres.
Since getting a chance to start every day with the arm fracture that sidelined Jon Jay on June 28 and the July 24 trade that dispatched Melvin Upton Jr. to Toronto, Jankowski has become a force as the Padres' leadoff hitter.
Jankowski has become very popular with Padres fans who love his unbridled hustle and delight in his full-speed ground-clutching slides. Is it too soon for a "Travis Jankowski dirty jersey" giveaway?
Jankowski is 7-for-15 in a four-game hitting streak, with three walks, six steals, a double and six runs scored. He has boosted his batting average from .220 to .242 during the streak.
More importantly, Jankowski has a .362 on-base percentage. He has drawn 29 walks in 198 plate appearances -- a very healthy 15 percent walk rate, which translates to 88 walks over a 600-plate appearance season.
"He's making the most of his chance to play," said Green of Jankowski. "He's jump-started us with the excitement he brings to the top of the order. He'll do anything he can to get on base. And once on base, he's an instant threat to be on second or third."
Jankowski leads all Major League rookies with 23 steals.
Notes from the scorebook
• Third baseman Yangervis Solarte was 3-for-5 with a double, a homer, three RBIs and four runs scored Wednesday. The four runs were the most scored by a Padre in a single game this season. Solarte is hitting .326 (46-for-140) with 11 doubles, seven homers, 25 RBIs and 22 runs scored over his last 35 games since June 18.
• Right fielder Jabari Blash is 4-for-12 with three walks, his first career homer, a steal, two RBIs and two runs scored since returning to the Padres from Triple-A El Paso to replace the traded Matt Kemp. Blash was 3-for-25 with 13 strikeouts in his first tour with the Padres as a Rule 5 Draft pick.
• First baseman Wil Myers was 5-for-12 with a double, two walks, two steals and three RBIs in the three-game series against Milwaukee. Before that, Myers was 9-for-53 (.170) with two doubles and a home run with four RBIs in 15 games since the All-Star break.
• Second baseman Ryan Schimpf, the National League Rookie of the Month for July, is 4-for-15 over the past four games, with two doubles and a triple with two RBIs and two runs scored. Schimpf had been in a 1-for-17 slump.