Kimbrel 'sharpest he's looked all year' in win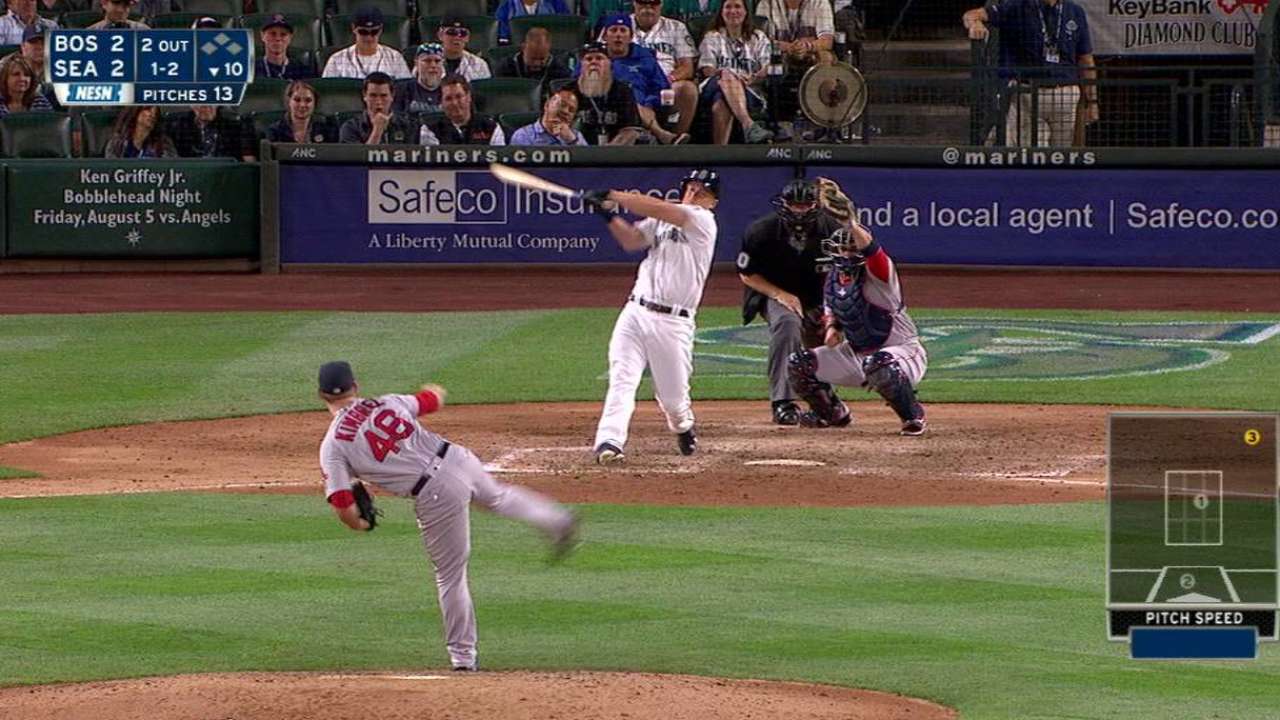 SEATTLE -- With yet another tight game unfolding in what has been a tense road trip for the Red Sox, manager John Farrell wasn't in the mood to take any chances on Thursday night at Safeco Field.
There were two on and two outs in a tie game in the bottom of the ninth, and the ever-dangerous Robinson Cano was at the plate.
This isn't the conventional way to use your closer on the road, but Farrell didn't much care. He wanted a win, and he got one, with Kimbrel serving as perhaps the key figure in a 3-2 win over the Mariners in 11 innings.
"That might have been the sharpest he's looked all year," said Farrell, who enjoyed celebrating his 54th birthday with a win. "Just powerful stuff, curveball for strikes. Our bullpen did an outstanding job, and we found a way to manufacture a run late."
First, Kimbrel induced Cano into a groundout on the second pitch to end the ninth. And in the 10th, the closer was overpowering, striking out three straight batters (Nelson Cruz, Adam Lind and Kyle Seager) on 12 pitches.
"It felt good. My fastball had some good life to it, my breaking ball was sharp," said Kimbrel. "I was able to throw it for strikes. I feel like anytime I can get it over for a strike or just show one or two I can throw for strikes, I can get guys swinging a little bit. That's what happened tonight."
With their offense in a slump, the Red Sox know that they need to scratch for runs and prevent the opposition from scoring them at a time they are two games back in the American League East and tied with the Tigers for the second Wild Card spot.
After Kimbrel's dominance, Travis Shaw led off the 11th with a single. Sandy Leon sacrificed him over with a bunt. And Brock Holt, who came off the bench in the seventh inning, wound up with the go-ahead hit, an RBI single up the middle.
But the Red Sox needed another three outs, and that's when they had the luxury of turning to another pitcher with plenty of closing experience in Brad Ziegler.
The side-winder opened the final inning in a way you never want to -- with a walk. But from there, he got the job done, even as the potential tying run was able to move to third in Luis Sardinas.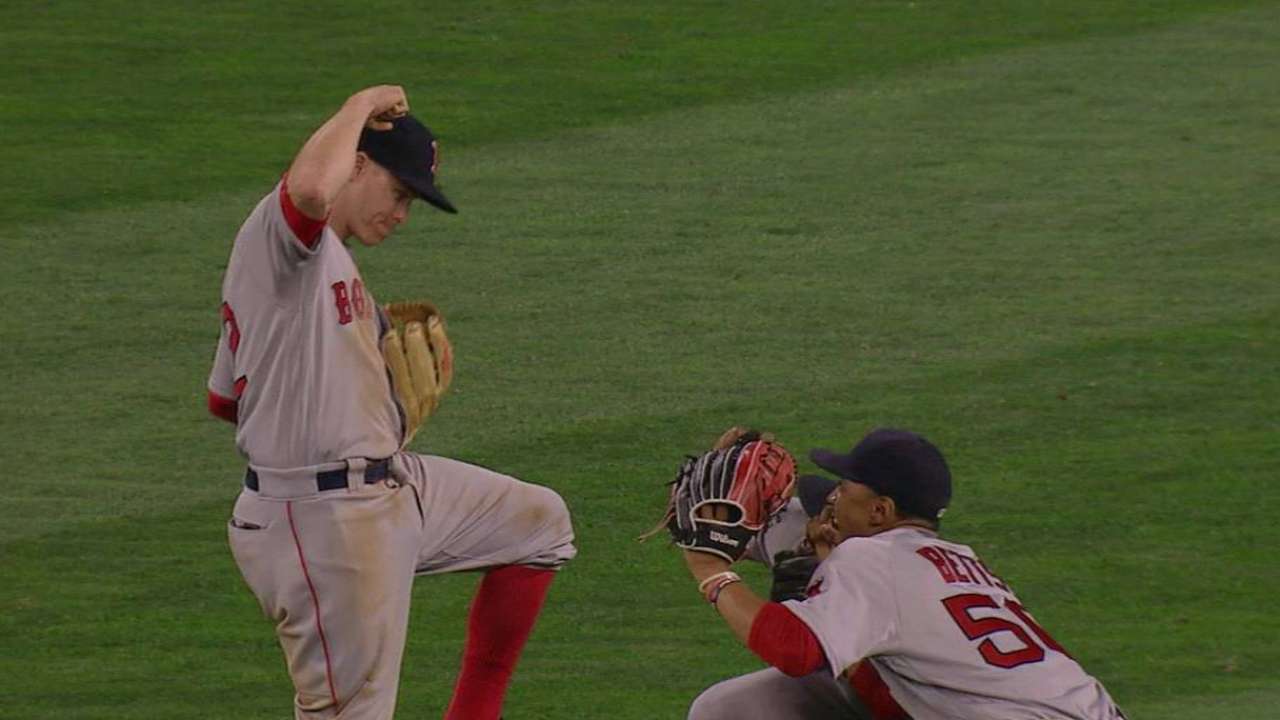 As Ziegler was working to record the final out, Sardinas was taking outrageous leads from third to expose the overshift the Red Sox had with the left-handed Seth Smith at the plate. But Ziegler didn't get unnerved, and coolly struck out Smith swinging on a 3-2 changeup to end the ballgame.
"I really didn't feel that nervous. I just wanted to make sure he wasn't going to run," said Ziegler. "And I don't throw the hardest to get it to home really quick. So the first time when I took off after him I just wanted to see if he would maybe slip and fall or something and then I could beat him to the bag. Other than that I was pretty focused on pitches I needed to make. Just wanted to make sure they didn't steal a cheap run there."
In the first eight games of this 11-game West Coast swing, the Red Sox have played to a split, with six of the games being decided by two runs or fewer.
Inspired by the way Kimbrel did his job, Ziegler wanted to make sure to hold up his end of the bargain while notching his 84th career save, and third since joining the Red Sox last month.
"He was pretty spectacular tonight," said Ziegler. "That's a tough role, when you have a guy that's closed all his life, to pitch in a tie game on the road is not something he's used to doing. Just the mentality of flipping that switch and not have anything change is pretty impressive. He's in the meat of the order with a Hall of Fame hitter up and a winning run on second base. It was spectacular. It's what we needed tonight. We needed to turn this thing around."
Ian Browne is a reporter for MLB.com. Read his blog, Brownie Points, and follow him on Twitter @IanMBrowne. This story was not subject to the approval of Major League Baseball or its clubs.