Miranda's debut a positive for Mariners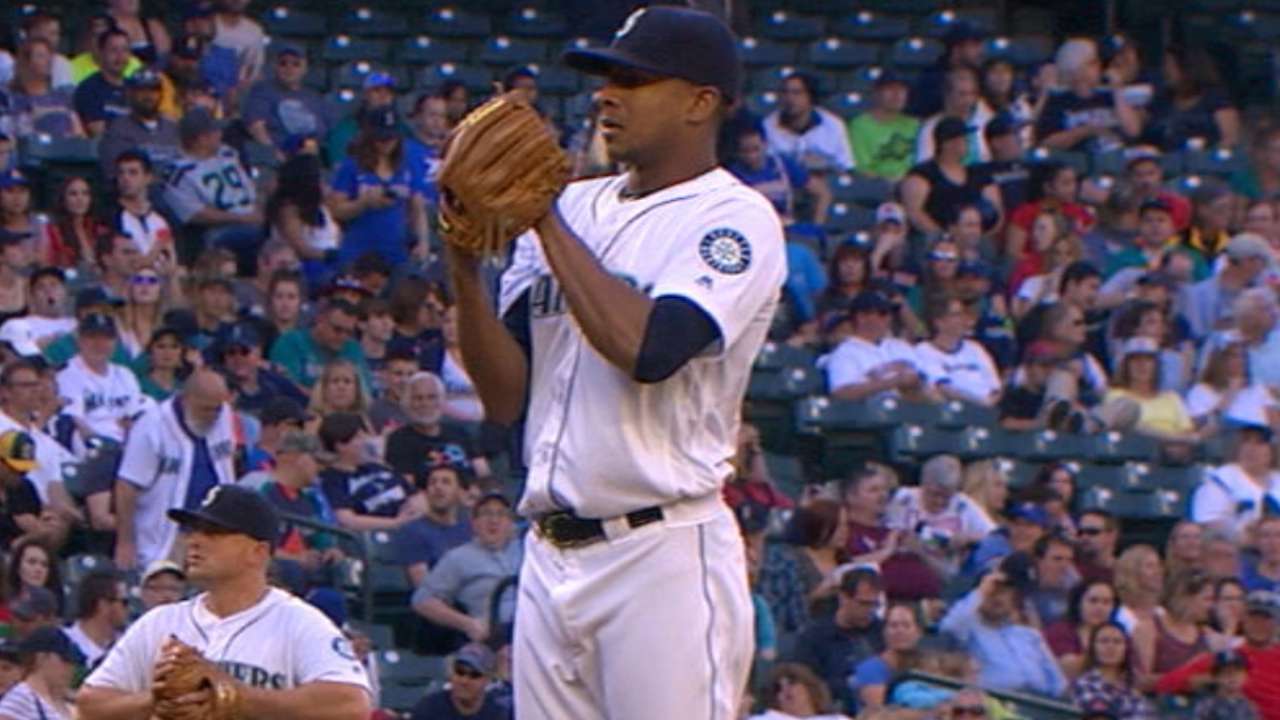 SEATTLE -- Four batters into his first Major League start, Ariel Miranda was in a jam. He had put three runners on base and only gotten one out. Veteran second baseman Robinson Cano went to the mound to talk to him.
All Cano said, according to Miranda, was, "Let's get this last out and go back to the dugout."
And that did it. Miranda settled in and retired the next two batters in order. The lefty went on to log a quality start in his Mariners debut, allowing two earned runs in six innings on eight hits in the Mariners' 3-2 loss to the Red Sox. Miranda struck out five and walked one.
"The key was controlling the secondary pitches," Miranda said through translator Fernando Alcala. "After the first inning I was able to calm down a little bit and focus on controlling those."
Seattle acquired Miranda in a trade with the Orioles on Sunday in exchange for left-hander Wade Miley. Miranda went 4-7 with a 3.93 ERA over 19 starts for Triple-A Norfolk. He had a more impressive past seven starts when he went 3-0 with a 1.93 ERA.
After the first inning, Miranda got himself out of a couple more tough spots. He gave up a leadoff home run in the second to Travis Shaw, but then struck out the next three batters. In the fifth, he gave up two doubles before getting the next three out on fly balls.
"I thought the fastball has a lot of life to it," Mariners manager Scott Servais said. "It gets on guys. It's a good, clean delivery. The ball comes out good. I think secondary pitch-wise, his changeup was really effective. He threw some really good ones, good arm speed. I certainly felt it was a plus changeup tonight. The breaking ball is a work in progress, that's probably his third pitch. But I like the way he competed. He didn't back off at all."
Miranda had pitched in Seattle before. In his Major League debut with the Orioles on July 3, he threw two innings against the Mariners. The rookie allowed three runs on four hits in two innings. That was his only other Major League appearance before Thursday.
"It helps a little with the confidence," Miranda said of being at Safeco Field. "And I have a lot of confidence in the pitches as well, so everything went well from here."
Servais said he could see Miranda performing well as both a starter and a reliever.
"He could do either one," Servais said. "Obviously he threw a lot of strikes tonight. We'll have to see where we're at, but it's nice to have a guy that can do that. We didn't really know what to expect, but good job by our scouts and people to recognized somebody like that who can certainly help us out."
Maddie Lee is a reporter for MLB.com based in Seattle. This story was not subject to the approval of Major League Baseball or its clubs.