Not taking easy out proves costly for Eovaldi
Yanks righty allows 2 homers in fifth, gives Mets extra out with mental mistake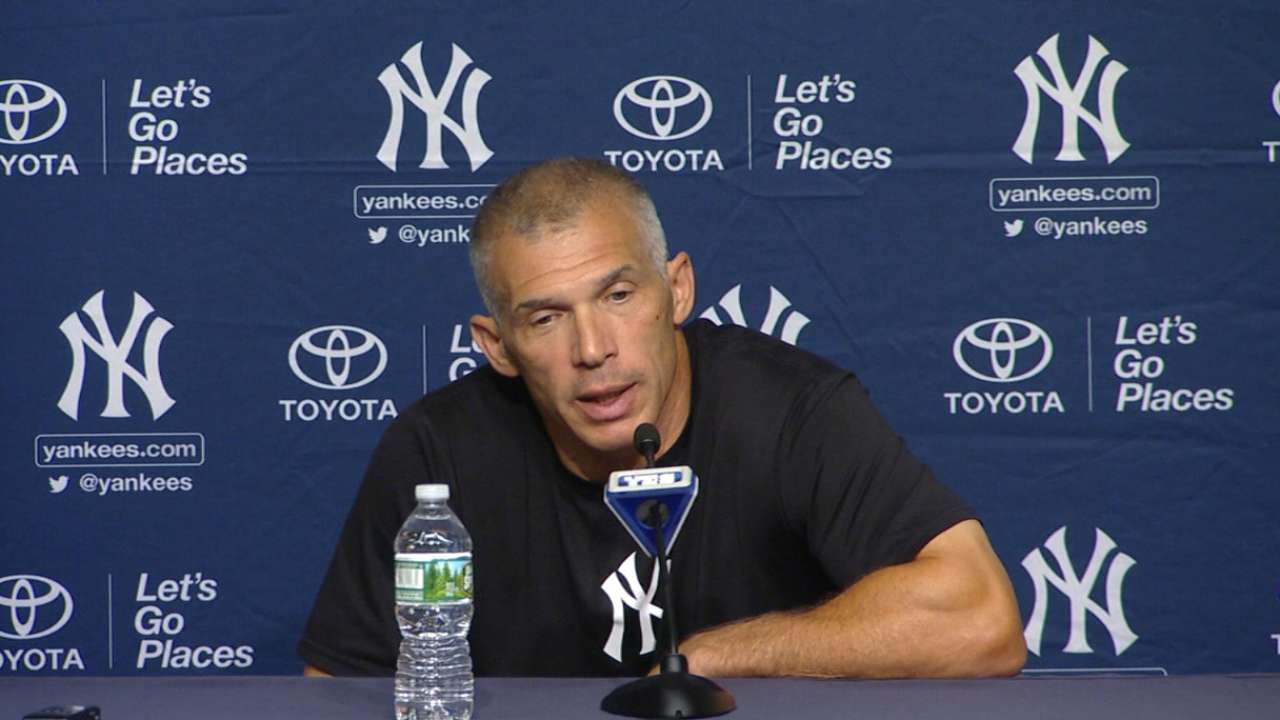 NEW YORK -- Sometimes the second out is even more important than the third.
Take the fifth inning of the Yankees' 4-1 loss to the Mets on Thursday night, for example. Starter Nathan Eovaldi, who up to that point had allowed one run, matched up against Alejandro De Aza with one out and Curtis Granderson standing on second base. De Aza dribbled a ground ball back to Eovaldi, who fielded it cleanly and turned to second to check Granderson.
Granderson had a slight lean toward third, and Eovaldi thought he could get him so he fired to second. Apparently the lean wasn't big enough. Granderson got back safely, and by the time the Yankees got the ball to first, De Aza was also safe.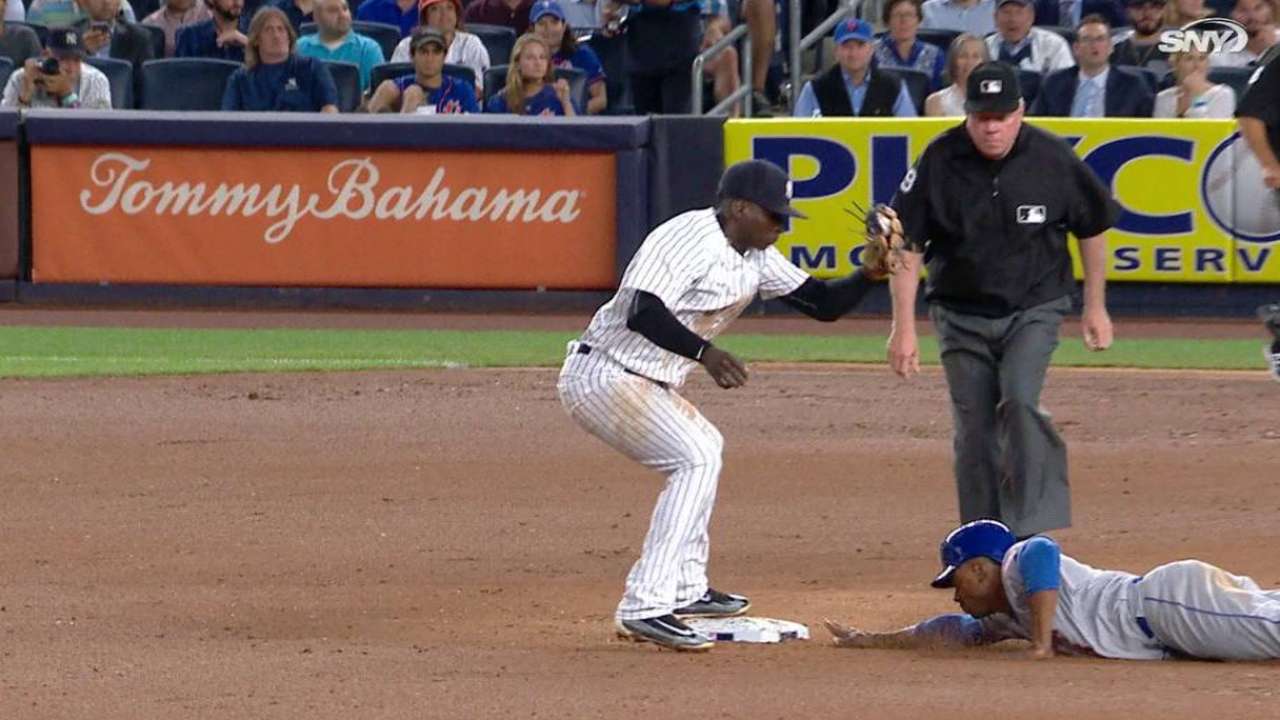 Two batters later, Jay Bruce mashed a three-run home run, the difference in the game.
"I think I should've just gone to first in that situation," Eovaldi said. "I already have one out. If there's no outs, I understand a little bit more going to second base. But with one out, I've got to get a for-sure out at first base, and then I have two outs and I'm one out away from getting out of that inning instead of two."
Sure, there's no guarantee that Eovaldi would've approached Neil Walker, the batter in between De Aza and Bruce, the same way he did with one out if he had two outs. Eovaldi said he would've "attacked Walker differently" if he had gotten the sure out. But revisionist history being what it is, both Eovaldi and Yankees manager Joe Girardi couldn't help but wonder what could've been had Eovaldi made the easy play.
In Girardi's mind, the alternate timeline could've been just as bad for the Yankees. But that doesn't mean the possibility isn't on his mind.
"We had some missed opportunities a couple of different times and then you look at the extra out we gave them," Girardi said. "Maybe Bruce hits a home run the next inning and we lose, 2-1, but we had some opportunities."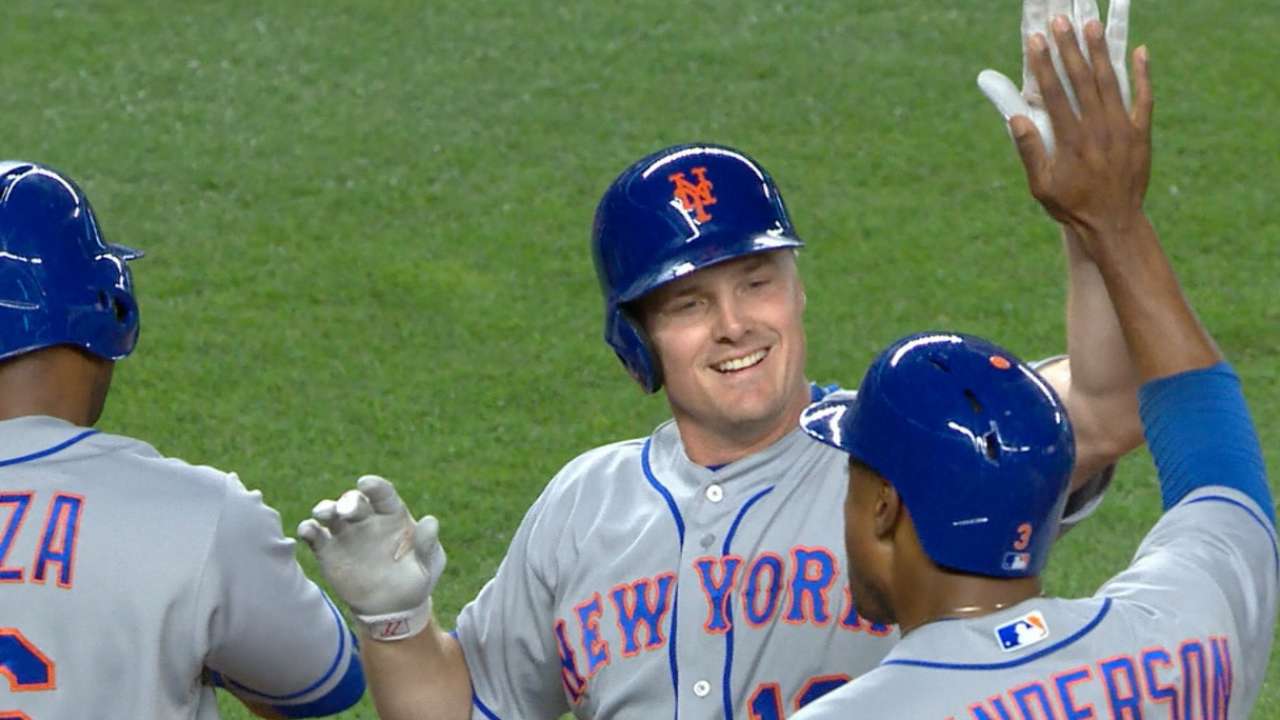 File Eovaldi's night as a whole under that missed opportunities tab, along with the seven men the Yankees left on base and the game-ending double play with the tying run at the plate. Eovaldi's other six innings of work were admirable enough. The right-hander allowed just two hits and two walks in all innings other than the fifth, and he retired the last seven batters he faced to end his night.
But just as the offense lamented leaving a few too many men on base, Eovaldi couldn't help but reflect on the bad inning and his mistake.
"I thought that I threw the ball really well tonight, and it was just that one inning that I kind of fell apart," Eovaldi said. "[Kelly] Johnson got that leadoff home run, and I thought I threw a good pitch to Granderson and he got that base hit. And then after that, Bruce finished it."
Nick Suss is a reporter for MLB.com based in New York. This story was not subject to the approval of Major League Baseball or its clubs.