Alonso flips script from goat to hero in A's win
ANAHEIM -- The miscue at first base in the eighth inning was a big one.
The booming go-ahead RBI double in the 10th inning to right field was even bigger as the A's beat the Angels, 8-6, on Thursday.
"To be honest I prayed to God that I would get an opportunity to redeem myself and help my team win,'' Yonder Alonso said. "And I was fortunate to have that opportunity.''
Alonso was a goat in the eighth when he had trouble with a potential bases-loaded double-play ball. Johnny Giavotella smoked a grounder to Alonso which had a befuddling spin on it. The ball plopped out of Alonso's glove and by the time he retrieved it and threw home to Bruce Maxwell, everyone was safe. That allowed the Angels to tie the game, 6-6.
"I was obviously very disappointed in making that blunder right there,'' Alonso said. "It cost us for a second there; I take a lot of pride in my defense.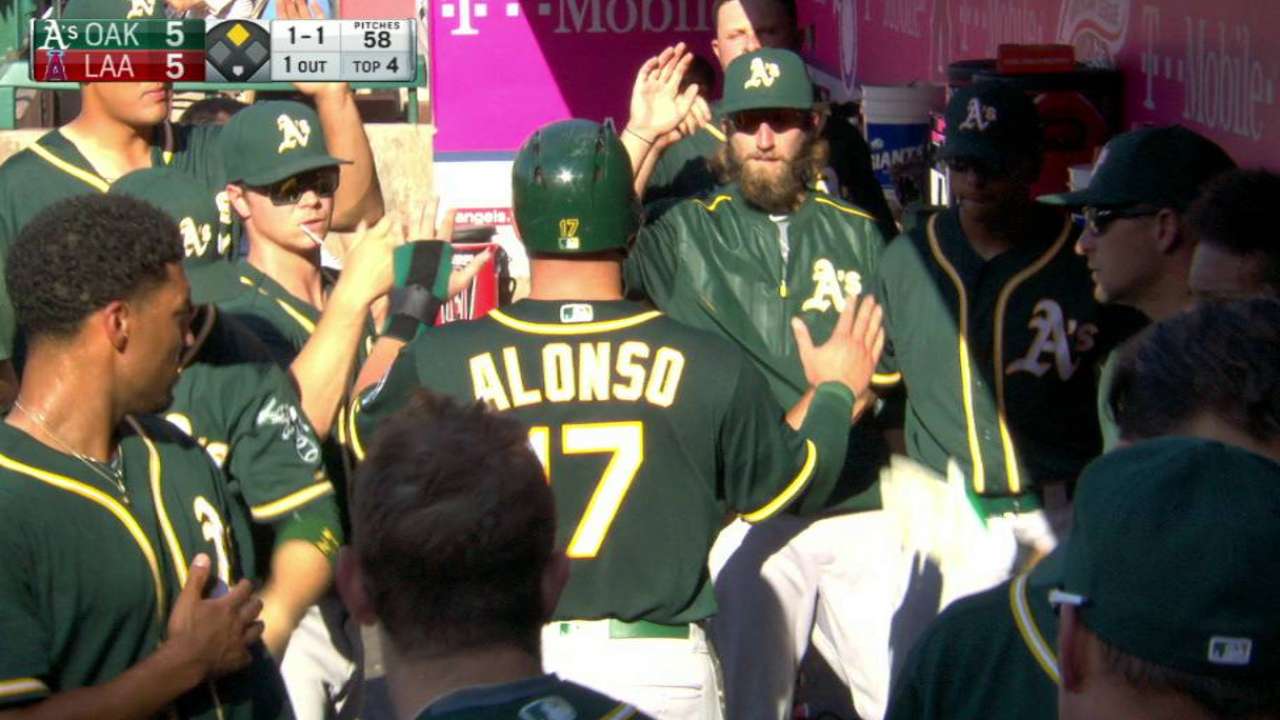 "Every time a righty hits those balls to my left side, they are coming in hot. But I should have made the play and it should have been a double play, I felt, if I field the ball cleanly.''
Manager Bob Melvin noted after a player messes up, he wants to get up at the plate and do right by this team.
Alonso followed that script with his double in the 10th that put the A's in front for good and prevented the Angels from a three-game sweep.
While stepping into the box, he was cognizant that Angels reliever Mike Morin had a fastball that sat in the low-to-mid 90s and a killer changeup.
Morin went with a fastball and Alonso turned on it quickly. His double chased in Danny Valencia and the A's would eventually hold on.
"I was just trying to relax and get a good pitch to hit,'' Alonso said. "I was making sure I was calm and to give the most professional at-bat that I could. I redeemed myself.''
Jay Paris is a contributor for MLB.com based in San Diego. He covered the A's on Thursday. This story was not subject to the approval of Major League Baseball or its clubs.