Nolasco struggles in first start with Angels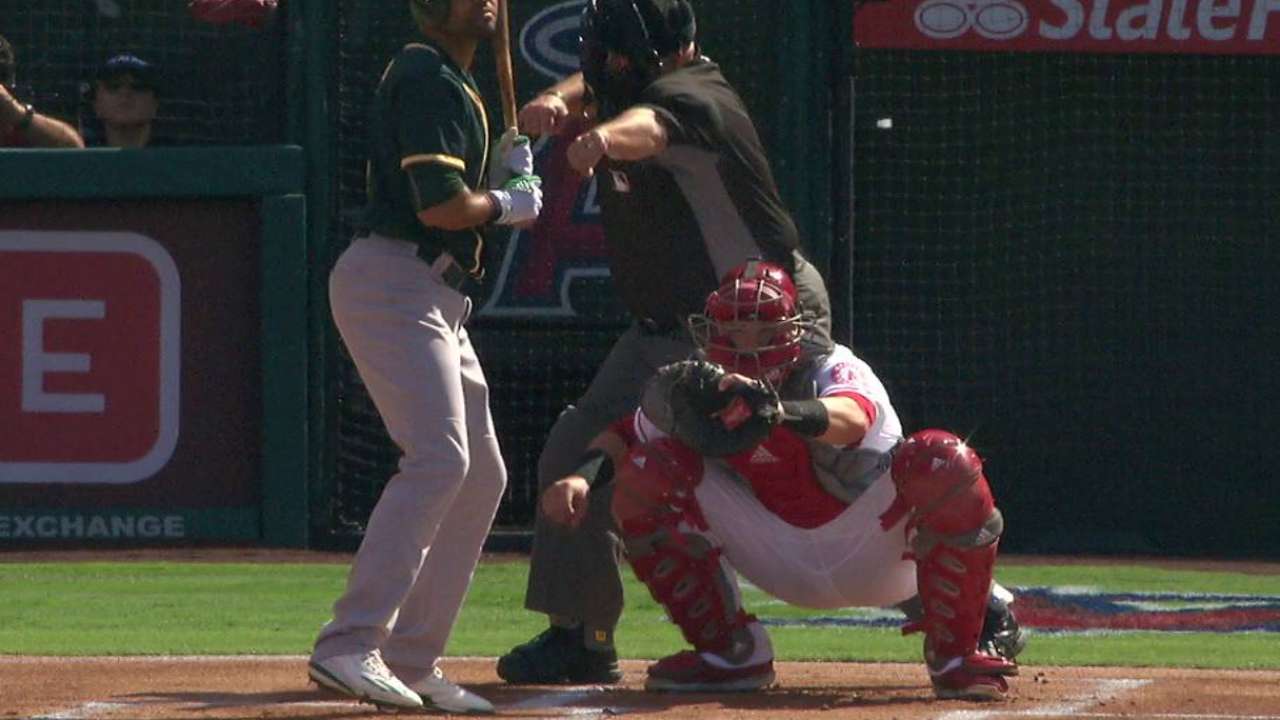 ANAHEIM -- Angels right-hander Ricky Nolasco's homecoming was far from ideal on Thursday afternoon.
Making his debut with the club in his native Southern California, Nolasco gave up a home run on just his seventh pitch of the game to Oakland's Max Muncy. He would give up two more, allowing an early lead to slip away as his new team eventually fell, 8-6, to the A's in 10 innings.
Nolasco was acquired Monday in a four-player deal that sent left-hander Hector Santiago to the Twins and the team inserted the veteran right-hander into Santiago's slot in the starting rotation.
Nolasco quickly found himself in a couple deficits after the Muncy homer and another from third baseman Ryon Healy in the third, but came out for the fourth inning with a 5-2 lead and a chance to settle in and pick up his first win in Angels red.
Things continued to fall apart from there, as he gave up a leadoff homer to right fielder Danny Valencia to cut the lead to 5-3. The A's pounded him for back-to-back hits, with another run coming across on a Marcus Semien grounder. Nolasco would give up the tying run on a wild pitch.
"At the end of the day, I let them back in the game and that's pretty frustrating," Nolasco said.
Nolasco called the four-run fourth inning "ugly," bouncing back to a perfect fifth and sixth innings as his family watched from the stands, even with the sourness of the outing too much to overcome.
"I don't care who you are, when you're on a new team you want to make a good impression," Nolasco said. "Got that one out of the way and was able to get decently far into the game. It's frustrating, but at the same time, I got a little rhythm going on and that's what I'm going to concentrate on the next five days."
Nolasco's debut as an Angel continues a frustrating season for him, as he currently sits at 4-8 with a 5.23 ERA through 22 starts. Manager Mike Scioscia said he still sees promise from the man who once won 15 games with the Marlins as a 25-year-old.
"Ricky's pitched in some good games, and he has that ability to make some good pitches and get through a tough lineup. Those mistakes he made, those guys didn't miss. He finished strong, and hopefully it'll get him on a roll for his next start."
Fabian Ardaya is a reporter for MLB.com based in Anaheim. This story was not subject to the approval of Major League Baseball or its clubs.