Choi powers up for 1st career multi-hit game
Left fielder nearly became third Korean-born player to hit three homers in one game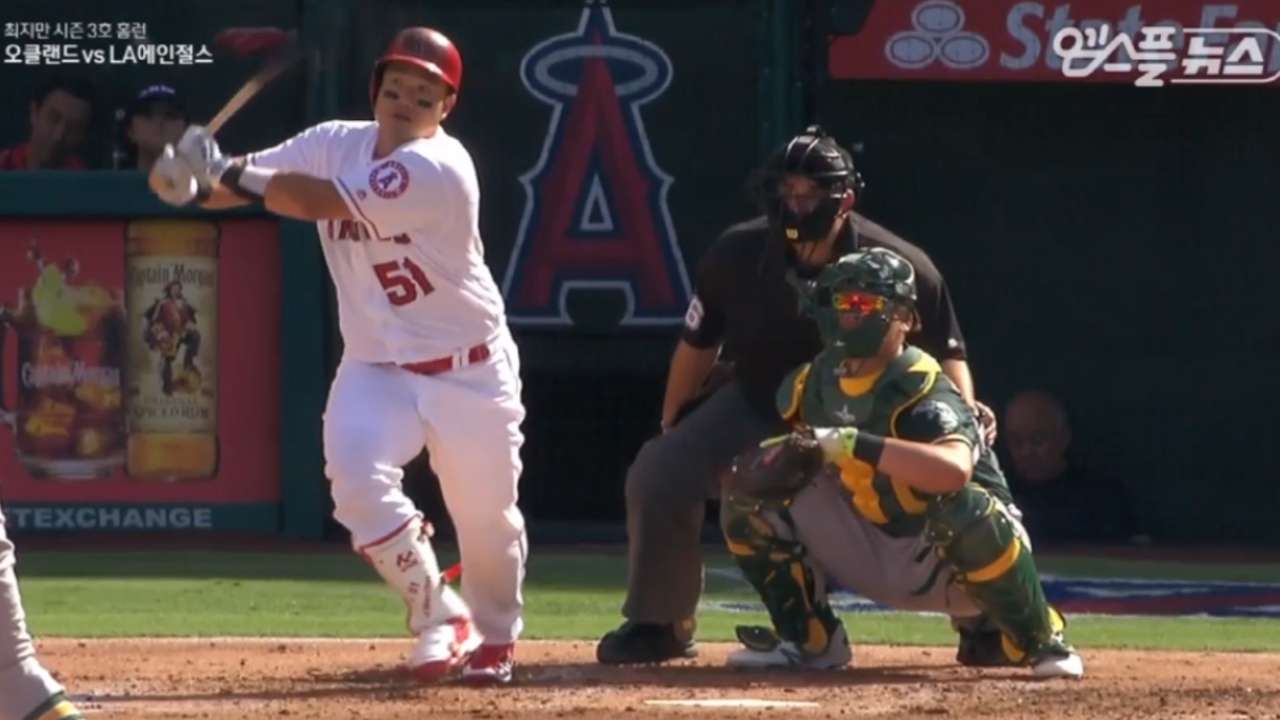 ANAHEIM -- As he sat with his family Wednesday night following an 0-for-2 performance and two walks, something frustrated Angels first baseman and outfielder Ji-Man Choi -- to this point in his big league career, he'd never had a multi-hit game.
Choi accomplished the feat, and then some, against Oakland on Thursday afternoon, smacking a pair of home runs for his first career multi-homer game in the Angels' eventual 8-6, 10-inning loss.
"Yesterday, my family came from Korea and watched the game," Choi said through an interpreter. "I really wanted a multi-hit game because I kept having these one-hit games and I just wanted my first multi-hit game. It wound up being a multi-home run game. I'm very pleased."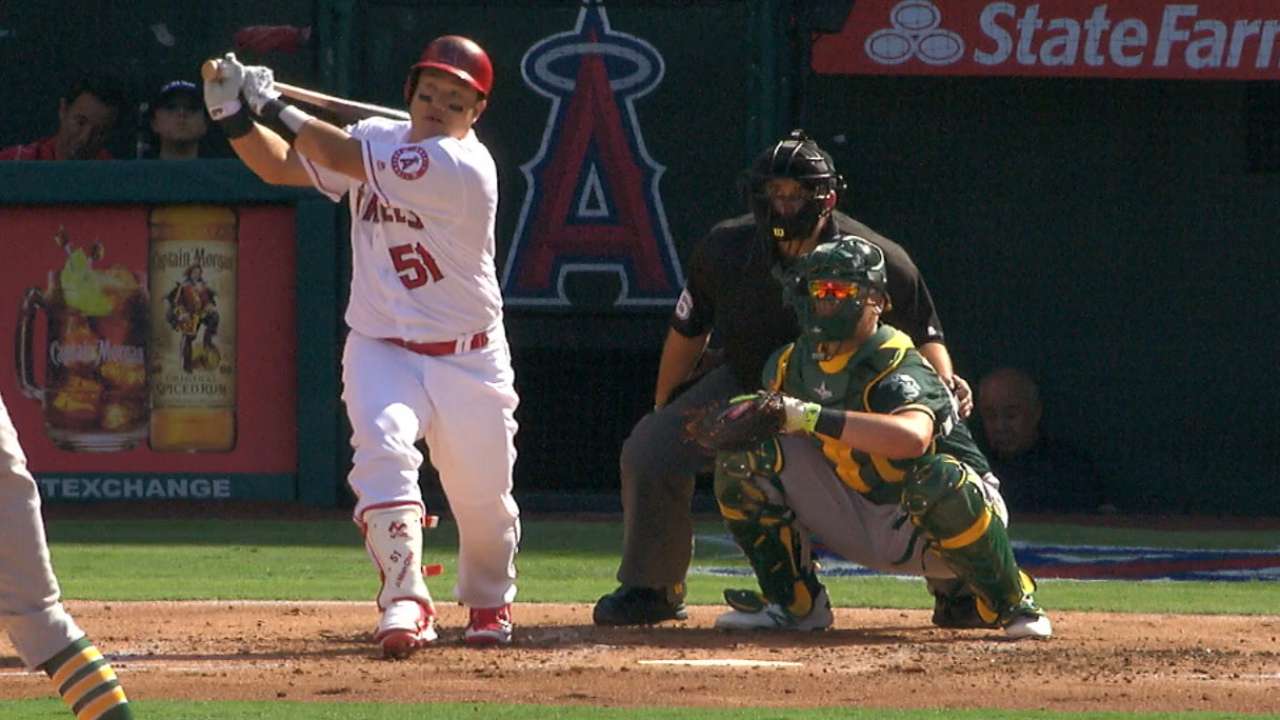 Choi first flashed his power in the second inning, turning on a 95.8-mph fastball from A's starter Jesse Hahn and driving it over the high wall in right field to open the scoring for the Angels. Facing Hahn again in the third with a pair on, Choi again turned on an inside pitch and curled it around the right-field foul pole to give the Angels a 5-2 lead.
"Ji-Man can hit the ball a long way, though his basic approach is more up the middle and he'll use the whole field," Angels manager Mike Scioscia said. "He had some balls and hit them hard today, and he almost had a third one down there. It was good to see."
It was the fourth time this season a Korean-born player had put together a multi-homer game in the Majors, and Choi nearly had his third in his next at-bat. With Oakland reliever Zach Neal on the mound, Choi took a pitch the other way, carrying near the short fence in left field before A's left fielder Coco Crisp leaped into the stands to rob the homer.
"It was really hit hard, but I couldn't see where the ball was going so I didn't know if it was a home run or an out, but I give credit to Crisp for making a good play," Choi said.
Had the ball gone out, Choi would have been just the third Korean-born player ever to hit three homers in a game, joining the Dodgers' Hee-Seop Choi in 2006 (no relation) and the Indians' Shin-Soo Choo in 2010.
Such a performance as the one Choi had Thursday evening was almost unimaginable in early May when, as a Rule 5 selection, he had gone 1-for-18 to open his Major League career and looked lost. He was subsequently sent down to Triple-A Salt Lake, where he found his swing and hit .327/.411/.485 with four homers and 27 RBIs and earned his second call-up on July 9 when C.J. Cron when down with a fractured hand.
He's looked more comfortable since his return to the Majors, hitting an improved .220 in 59 at-bats since. The power is also picking up, as after Thursday's performance, eight of his last 13 hits have gone for extra bases (four doubles, four homers).
"There's no doubt that the at-bats he got in Triple-A were critical. He made the most of them and he swung the bat well, and he's done quite well since he's come back up here," Scioscia said.
Fabian Ardaya is a reporter for MLB.com based in Anaheim. This story was not subject to the approval of Major League Baseball or its clubs.