Numbers don't tell whole story of Miley's debut
New Orioles lefty shows toughness, has some soft hits fall in during five-inning start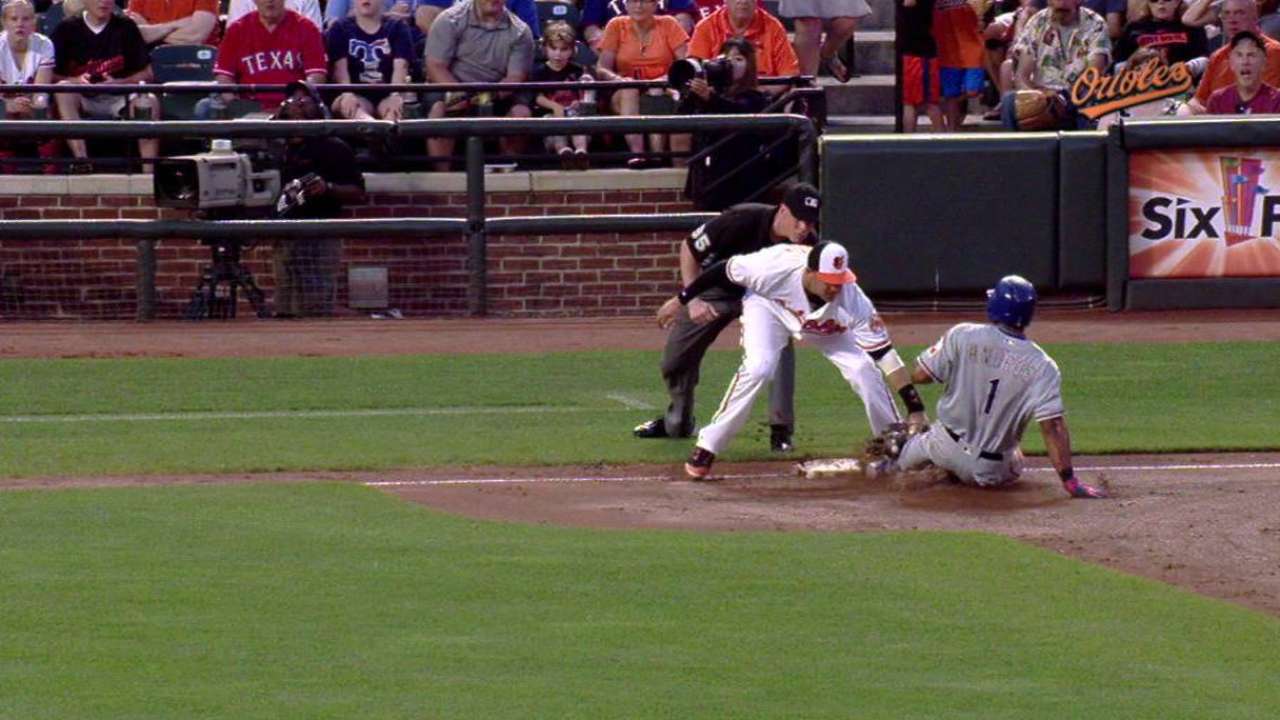 BALTIMORE -- In the fifth inning of his Orioles' debut Thursday night, Wade Miley was hit in the left calf on a sharp grounder by the Rangers' Rougned Odor.
After a 5-3 loss to Texas, Miley said he was glad that happened because it likely saved a run. While Miley admittedly had an uneven performance, it's that type of toughness that should make the left-hander a valuable part of the Orioles' rotation.
"I didn't have very good command at all," Miley said. "Had to battle to make some pitches. It happens. It's baseball. Overall, it's not exactly how I wanted to go out and throw, but at the same time, it's baseball. You're never going to do your best every time out, but I was able to make some pitches in some jams and get out of some stuff. But it's something to build on and get the first one out of the way."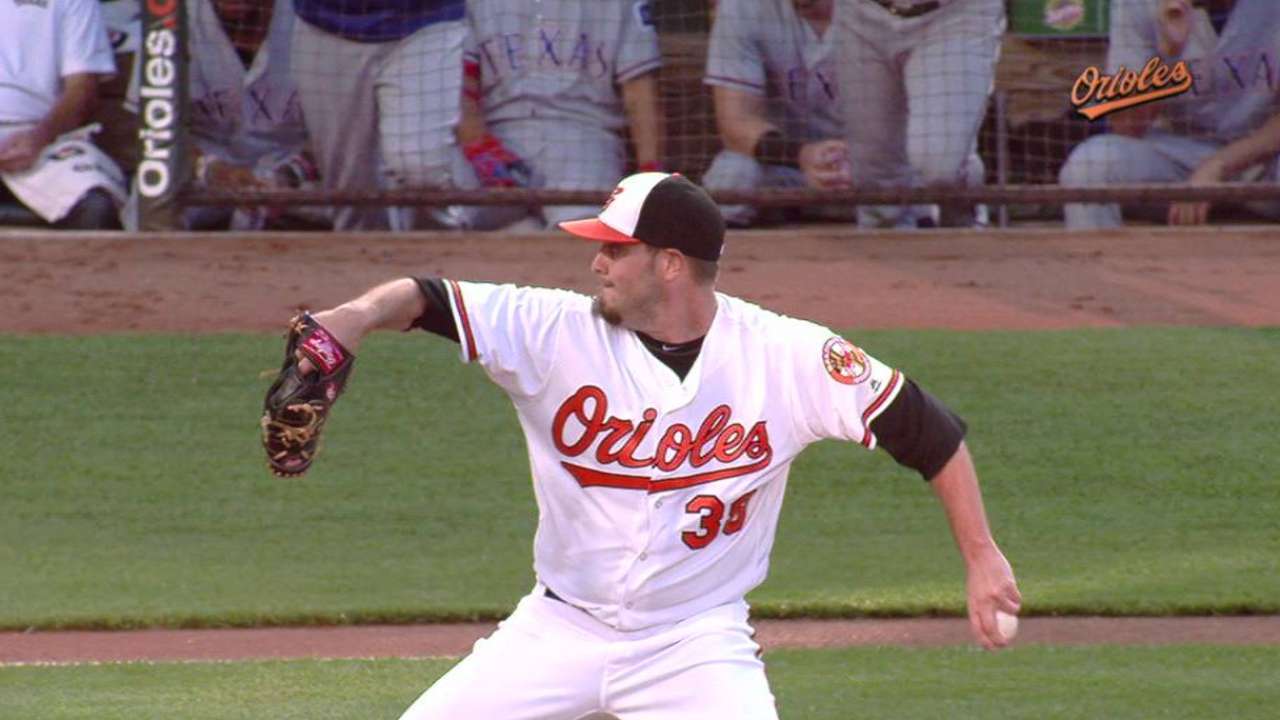 Miley allowed four runs on eight hits with five strikeouts over five innings. However, he endured some hard luck when when a soft grounder by Ian Desmond got by first baseman Chris Davis on a ball shielded by Shin-Soo Choo, leading to a run. One batter later, Carlos Beltran hit a blooper that second baseman Jonathan Schoop couldn't handle in shallow right that gave the Rangers a 4-0 lead.
Orioles manager Buck Showalter was impressed by Miley's performance. He said the final stats didn't tell the true story.
"I thought it was competitive," Showalter said. "Plays we normally make we didn't make. The runner did a great job of shielding Chris on the one, and some ground balls snuck through. But I liked what I saw."
After the game, Miley was not concerned about his calf. He confirmed that no X-rays were going to be needed, and he would be ready for his next start.
"It was in the lower calf, tightened up a little bit, but it's fine," Miley said. "It's going to be fine. I don't think it's a big concern at all. It's one of those things. I'm glad it hit me; would've been one more run if it didn't hit me. So it worked out good."
In the end, Miley was glad to have gotten through his first start with a new team. As the only left-handed pitcher in Baltimore's rotation, he will likely play a key role in the team's stretch run.
"Obviously, I wish the results would have been a little better," Miley said. "But I did, I had some jitters. After the first inning, everything kind of went away, just baseball. I just really didn't have good command tonight."
Todd Karpovich is a contributor to MLB.com and covered the Orioles on Thursday. This story was not subject to the approval of Major League Baseball or its clubs.