Adonis a model of aggressive baserunning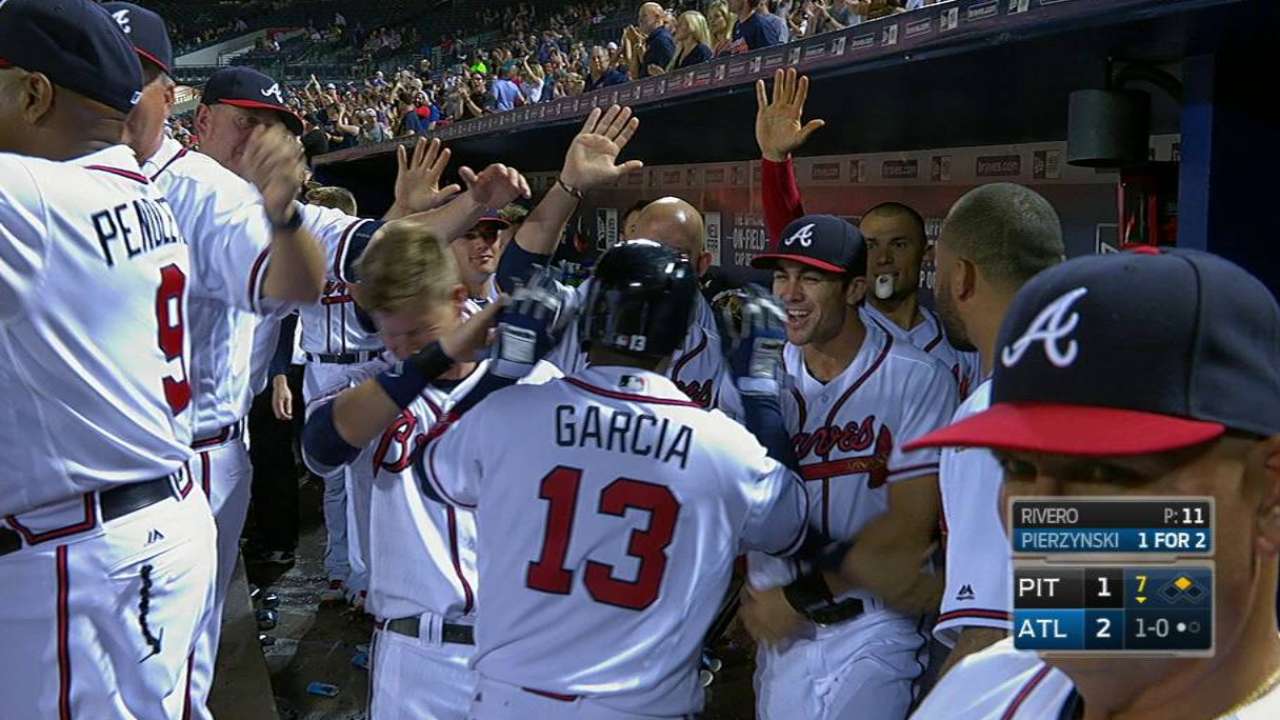 ATLANTA -- Though Braves manager Brian Snitker jokingly said he might have found a new play to add to the playbook, he's more apt to use what Adonis Garcia did during the seventh inning of Thursday's 5-2 win over the Pirates as an example of what not to do as a baserunner, especially when speed is not your primary attribute.
But with that being said, the aggressive and alert reaction Garcia made when he took off for third base personified the approach Snitker wants all of his players to maintain in an effort to compensate for the fact that his team does not have the luxury to rely on the instant offense created by the long ball.
"I think we realize we need to [be aggressive]," Braves outfielder Jeff Francoeur said. "We've seen we can score more runs doing that. It's OK to get thrown out every once in a while by taking a chance to go. A lot of times, it's worked out for us."
Such was the case on Thursday night when the Braves put runners at first and second base with one out and the scored tied, 1-1. Given that Garcia had just three previous stolen base attempts in his career, there was certainly no reason to anticipate what he did when he suddenly took off for third base when left-handed reliever Felipe Rivero came set from the stretch.
"I just noticed on some previous pitches, [Rivero] was taking one look back and settling before he made the pitch," Garcia said through an interpreter. "So I just tried to take advantage of that. As far as when the ball got away from the third baseman, I figured he would have to make a perfect play to make it there on time. So I figured I'd take the chance to try to get there and, thankfully, it worked out."
Rivero stepped off the rubber and made a shoulder-high throw that would have easily resulted in an out had the ball not hit off third baseman Jung Ho Kang's glove and deflected toward left field, allowing Garcia to score in uncontested fashion.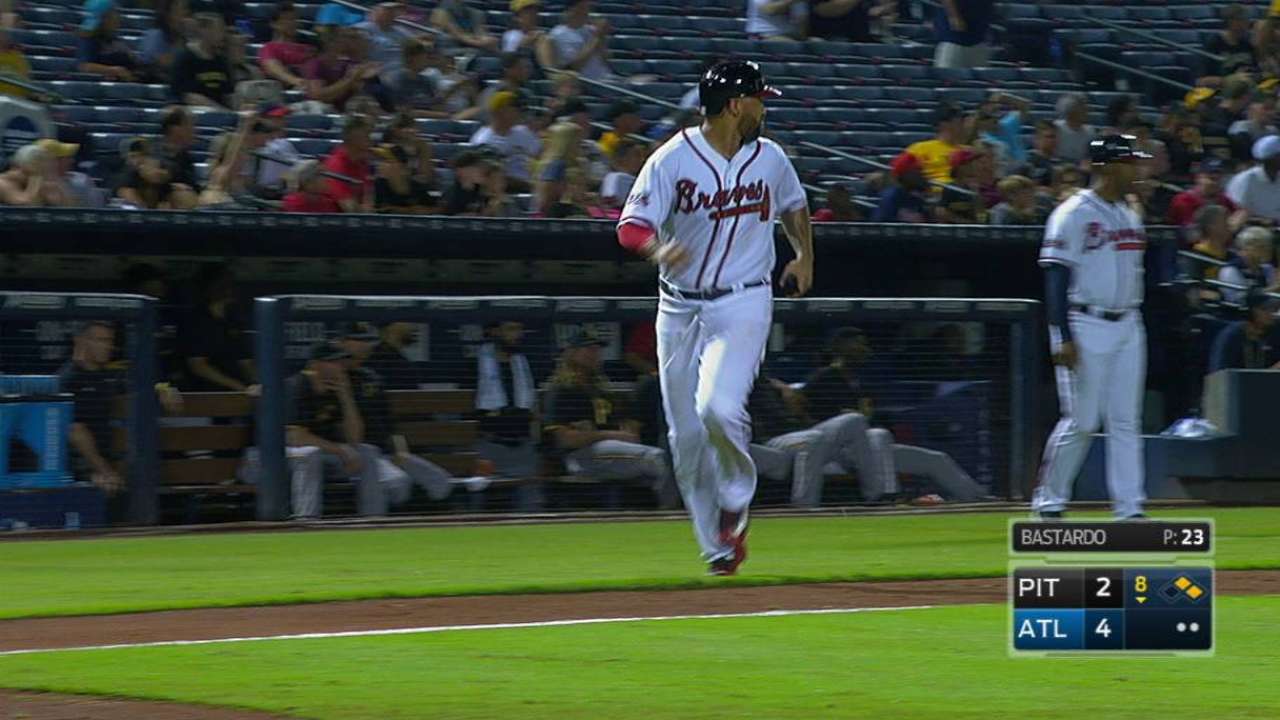 "I don't think we had that in our playbook," Snitker said. "Maybe it just stunned him when he was running right there when he was literally looking at him. It worked. Maybe we'll put that in during Spring Training and see if it does work.
"He's alert and not scared. That's the biggest thing. You can't be scared to make a mistake. Good for him. Be the aggressor and make them make a play. That's probably not something we need to make a steady diet of, but it worked tonight, because it was kind of out there a little bit."
After Garcia crossed the plate with a go-ahead run, Francoeur delivered a decisive two-out RBI single to cap the two-run seventh for the Braves, who have won six of their past nine games.
Garcia has proven to be one of Atlanta's top offensive performers over the past month, hitting .371/.411/.596 dating back to July 6. His eighth-inning RBI double on Thursday created an insurance run and also provided him a hit in 14 of his past 15 games.
Mark Bowman is a reporter for MLB.com. Listen to his podcast. This story was not subject to the approval of Major League Baseball or its clubs.